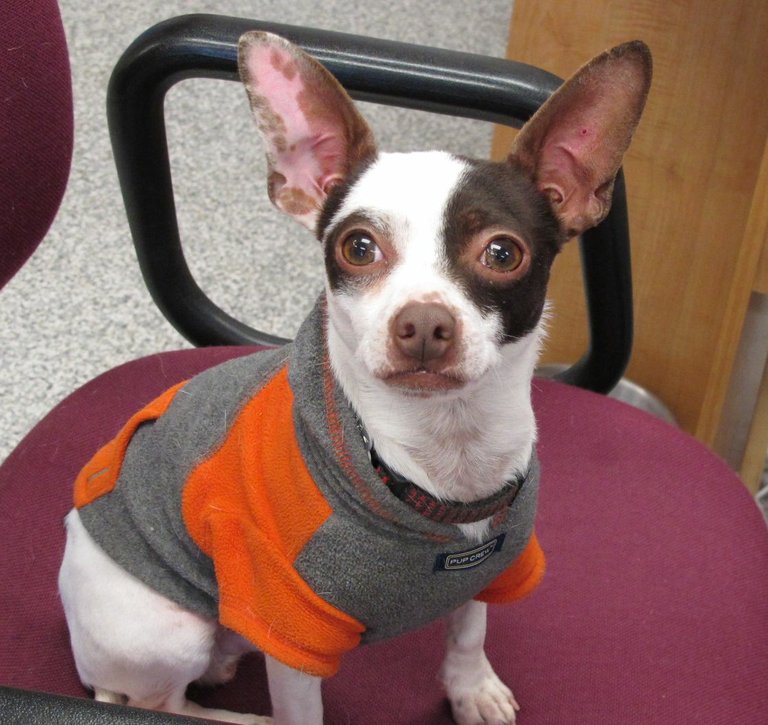 Wednesday, December 18, 2013
This week volunteers at Adopt A Dog have selected McGraw as the program's adoptable pet of the week. They describe him as follows:
"McGraw is about 2 years old, and probably a ChiWeenie. He weighs in at about 10 pounds plus-or-minus, and is one super-sweet, irresistible dog.
"McGraw is an easy-going dog; he doesn't need a lot of exercise or play time, so long as he is getting lots of cuddle time with his favorite peeps — which is really anyone who is willing to let him follow them around and help himself to some lap time!
"McGraw seems to always be in the right place when a hug is on the way, and he's at the ready to be carried anywhere you want to take him — or he's happy to trot along behind you and keep you company.
"McGraw also loves other dogs and likes to join in with a game of — well, anything! He would love to find his new home ASAP, where he can cuddle and help his people stay warm and toasty."
McGraw is current on shots, microchipped and neutered. His adoption fee is $165. The fee to adopt is charged to recoup standard veterinary expenses.
Since many of AAD's dogs are in foster care, please call ahead to meet McGraw at the Hukari Animal Shelter, 3910 Heron Drive, Odell; 541-354-1083. Adoption hours are Wednesdays from 5-7 p.m. and Saturdays from 9-11 a.m. Applications may be downloaded at hoodriveradoptadog.org and faxed to 877-833-7166.
The Adopt A Dog program offers 24PetWatch microchips, which include free registration into the 24PetWatch pet recovery service. (For more information visit 24petwatch.com or call 866-597-2424.)