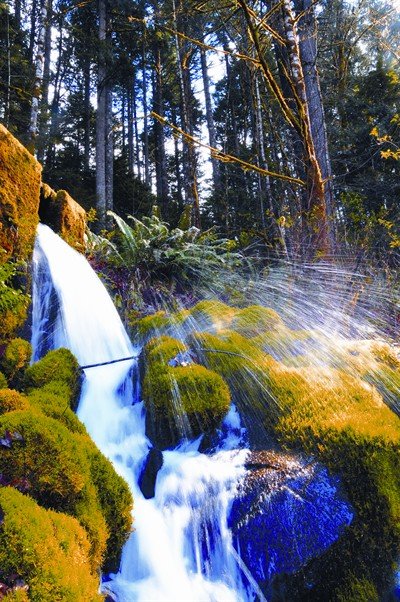 Wednesday, December 18, 2013
Nestlé's proposed water bottling plant in Cascade Locks may still be years away, but last week a state ruling helped Nestlé over one of multiple legal hurdles it must clear before the 250,000-square-foot plant can be built.
The state's Office of Administrative Hearings issued a proposed order on Dec. 10 that struck down a legal challenge filed by environmental groups asking for the partial cancellation of Oregon Department of Fish and Wildlife's water right to Little Herman Creek, which is used by the Oxbow Hatchery in Cascade Locks for fish-rearing purposes.
ODFW is currently in the process of setting up an exchange with the city of Cascade Locks that would allow a gallon-per-gallon trade of a portion of the Oxbow Springs water for a portion of Cascade Locks well water, which ODFW would use to enhance fish-rearing during low-flow periods. Nestlé would then purchase the Oxbow Springs water from the city of Cascade Locks and bottle it, ship it, and sell it.
The proposal has drawn criticism from environmental watchdog groups BARK, based in Portland, and Food and Water Watch, based in Washington, D.C. In a story that ran in September about the bottling plant, Alex P. Brown, executive director for BARK, said he was concerned "about the consequences of giving away what is currently public water to a private corporation," as well as the environmental impacts of bottled water in general.
In June 2012, BARK and Food and Water Watch filed with the Oregon Water Resources Department for the partial cancellation of the hatchery's water right, hoping to stop the water exchange between ODFW and the city and throw a monkey wrench into Nestlé's proposal.
According to the proposed order authored by Senior Administrative Law Judge Joe L. Allen, proponents alleged the hatchery, which is allowed by its water right to draw water out of Little Herman Creek, had "forfeited 5.76 cfs of the water right at issue because it had drawn water from another source (Oxbow Springs) for a period in excess of five successive years."
However, Allen noted that though Oxbow Springs was an unauthorized point of diversion for the hatchery, the waters of Oxbow Springs also comprise the waters of Little Herman Creek.
"The water flowing from Oxbow Springs, together with seasonal precipitation runoff, provides the headwaters of Little Herman Creek," he wrote in the order and added that "the evidence demonstrated Little Herman Creek has no other point of origin." Allen continued that since BARK and Food and Water Watch had "failed to demonstrate water from Oxbow Springs is distinct from those of Little Herman Creek, the argument that ODFW has forfeited a portion of the water right at issue by favoring water from an alternate source is without merit."
The ruling is a bit of welcome news for Nestlé, which has been eying Cascade Locks for more than five years as a site for a new bottling facility.
"The proposed order is an important step closer toward an exchange of water between ODFW and the City of Cascade Locks," said Dave Palais, natural resource manager for Nestlé Waters North America. "The next step will be for ODFW to formally change their water rights to include Oxbow Springs as an authorized point of diversion. This in turn will allow ODFW and the City of Cascade Locks to move forward with plans for the water exchange."
Despite the positive movement, Nestlé isn't celebrating quite yet as more legal challenges for the project loom on the horizon.
"While the (administrative law judge's) ruling allows for the proposed project to move forward, we expect additional appeals and delays," Palais said. "Project opponents have publically indicated that their strategy is to delay the project, and we expect they will take advantage of procedural opportunities to file exceptions or appeals. Additional litigation and appeals are expected as the water transfer and exchange processes move forward."
Brown confirmed as much in a written statement issued Monday regarding the decision.
"Bark is committed to protecting public water resources from Mt. Hood National Forest," he wrote. "The preliminary proposed order issued last week is just one small step in a series of legal actions we believe are necessary to maintain the integrity of our public water and ensure this resource is used with the greatest public interest in mind. After the water resources director issues the final order, we will … evaluate whether we plan to file an appeal."
Julia DeGraw, Northwest organizer for Food and Water Watch, also stated her agency would continue the fight against the Nestlé bottling plant.
"Food and Water (Watch) is deeply disappointed in the proposed order that puts ODFW one step closer to allowing Nestlé to bottle public water," she said in a written statement. "We will continue to ensure that the voices of tens of thousands of Oregonians who oppose Nestlé's water bottling proposal are heard and will continue to call on ODFW Director Roy Elicker to stop the water exchange that would open up the doors to Nestlé's first water bottling plant in the Northwest."
Those wishing to challenge the proposed order have 30 days to file exceptions with the OWRD. BARK has stated on its website that it may appeal the final order if it is "substantially the same as the proposed order."