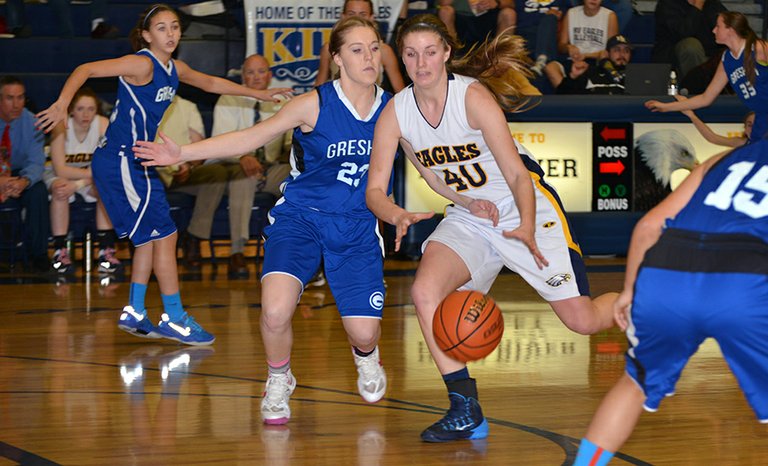 Saturday, December 21, 2013
Two games in two nights with two-point margins both times.
That sums up the encouraging, and dramatic, start of the Hood River Valley Eagles' girls basketball season.
Juniors Kelsey Wells and Jestena Mattson led the Eagles in scoring for both games, the first a home win Tuesday over Gresham, 45-43, followed by Wednesday's win on the road at St. Helens, 43-41 (a make-up date). At St. Helens the Eagles got down by seven in the third quarter but rallied.
"The girls were persistent. They kept their heads and their focus after they got down in the third," assistant coach Devon Wells said.
Against Gresham, the Eagles built a 17-point second quarter lead but let a 26-17 halftime edge dwindle, and hung on in the final minute.
The squad travels to Madison Friday (too late for press time) and then waits until Dec.26-27 for the Gresham tournament.
Wells had 16 points and 12 rebounds Tuesday and 15 points and 16 rebounds Wednesday, while Jestena Mattson tallied 14 points both nights and pulled in six and then eight boards. The Eagles shot 63 percent from the line at St. Helens, after managing just 50 percent in the first win.
"I think we build on the things we did well," first-year head coach Scott Walker said after the Gresham win. "When we had our heads up and we were moving and passing, we looked pretty good. When we dribbled with our head down and we quit cutting we got into trouble. We always have to work on blocking out."
HRVHS dominated the first three quarters, repelling small Gresham runs, but in the last three minutes of the game Gresham looked poised to complete the comeback, behind quick inside moves by Irene Medina and Bailey Allen, who had her own eight-minute solo rally in the fourth. Ali Rojas made it 41-36 for the Gophers' smallest deficit since the first quarter. HRV committed two straight turnovers, and Medina hit two free throws for a 41-38 score. Medina got loose underneath to make it 43-40, and HRV followed with a turnover. Then the Gophers and Eagles traded turnovers and Wells fouled Rojas at 59 seconds. Rojas made one of two. HRV turned it over at 38 seconds, and Rojas attempted a fake and traveled. Davidson was fouled at mid court on a double team after HRV broke the press, and made one free throw to stretch the lead to 44-41. Allen missed another attempt, and Kassidy Davidson, grabbing her eighth rebound, fed Wells who was fouled. Wells made one free throw to make it 45-41, and Allen missed a three-pointer with seven seconds left, the Eagles wisely avoiding a foul on the attempt.
Medina put in a layup at the buzzer, but it was not enough.
Davidson played strict defense and chased down eight rebounds as the Eagles made key baskets in the fourth when they needed them the most.
"They were tough but we pulled through," Davidson said of Gresham. "We just had to stay with our girls and not let them shoot and hustle back."
Mattson added the team's only three-pointers of the game, one coming at the third-quarter buzzer to stave off some Gopher momentum. Those three points proved critical given the Gophers' dominant fourth quarter, in which senior guard Allen (14 points) went on an eight-point solo rally to bring Gresham to within three points. But poor shooting and turnovers, combined with three offensive fouls, proved to be the Gophers' counterweights to the rally. Rojas added 13, but only two in the second half.