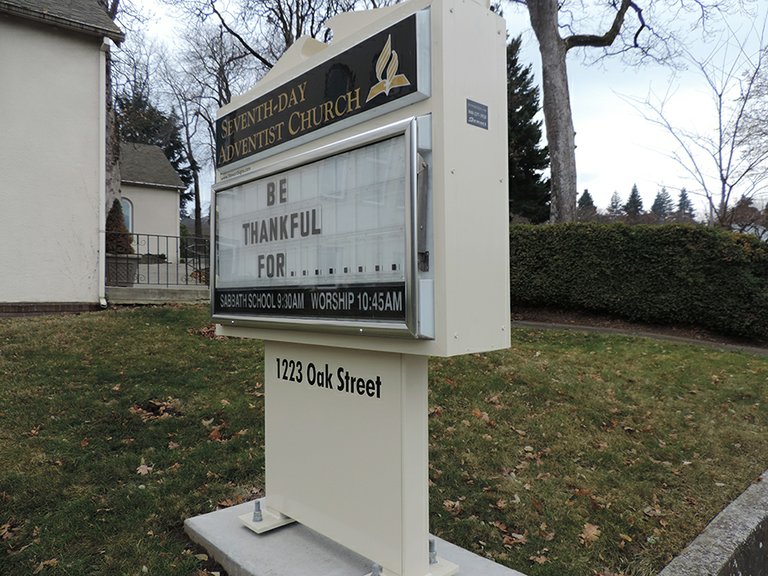 Tuesday, December 24, 2013
Our annual celebration of roadside spiritual (and other) messages this year adds a new contributor: Hood River Seventh-Day Adventist Church installed a signboard in September.
This is the 12th annual "Readerboard Year" list (in keeping with 12 Days of Christmas) making it a good time to recap the source material.
The Adventists' sign brings to 12 the number of local (Hood River County and White Salmon) churches with signs that allow changeable messages. Eleven are of the classic metal-letter static variety, with letter sizes varying from 3 to 12 inches. These require a person to physically go outside once a week or so, open up a Plexiglas door, and change the letters.
Special note:
A reader showed us a clipping in his wallet that reads: "Churches are hospitals for sinners, not museums for saints."
Some churches, including River of Life, rarely change the sign, using the sign to post worship, music and Bible study times.
Immanuel Lutheran employs a wide variety of vinyl banners, notably the one in December reading "Give Presence."
(This is a good moment to mention the bear sculpture, with its changing messages, across Ninth from the Lutheran church, at the home of Pastor Jeff Mueller. While not precisely a church message "bearer," the now-famous bruin frequently has a spiritual side. Look for more on Jeff and the bear in early 2014.)
Truth Tabernacle on Tucker Road owns a large electronic sign, but while its messages are variable the church rarely makes changes to the messages of English and Servicio Espanol worship times.
Hood River Valley Christian Church has no changeable sign, but for years it has kept a sign in the foyer — over the exit — reading "Servants' Entrance."
Seventh-Day Adventist Church
God so loved the world that he did not send a committee
God plus one is always a majority
Adventures begin when we dare to do the impossible with God
There is no right way to do the wrong thing
God expects spiritual fruit, not religious nuts
Never give the devil a ride, he always wants to drive
Don't try to grow an oak in a flower pot
A mighty oak was once a little nut who stood his ground
Life is more fun if you don't keep score
A good conscience is a continual feast
If you think you are perfect, try walking on water
Be thankful for …
There are some questions that can't be answered by Google
God gave us the gift of 84,400 seconds. Have you used one to thank him?
Tucker Road Baptist
Jesus is the eternal light
We're solar powered by the Son
Celebrate the resurrection
Don't change God's word; let God's word change you
Many books can inform you but only the Bible can transform you
Autumn Leaves, Jesus Doesn't
God gets the stains out that others leave behind
The best Thanksgiving is Thanksliving
Church of Christ
Our strength lies in our dependence upon God
You can't walk with God and run with the devil
Salvation found nowhere except God
Whoever serves me must follow me (John 12:26)
Commit yourself to the Lord. Let him deliver ...
Return Unto Me For I have Redeemed Thee
Never Lego of God (VBS)
He is my refuge my fortress, my God in whom I trust
Unto us a savior is born
Belmont Drive Missionary Baptist Church
A Godly Father's Life Is His Child's Copybook
Have You Hugged Your Dad Today?
No man is so free as he who is bound to Christ
Blessed is the Nation whose God is the Lord
God's love still stands when all else has fallen
God tries our faith so we may try his faithfulness
The joy of living comes from a heart of Thanksgiving
Let us ever remember our veterans and those in the military, God bless them
Odell United Methodist Church
Have a Blessed 2013
For every storm there is a rainbow
Walmart is not the only saving place
Eternal life insurance, free Sunday morning. Are you in good hands?
Remember! The Reason for the Season!
Parkdale Church of the Nazarene
Want exercise? Walk with Jesus
An idol is anything that takes God's rightful place
Come in today and pray
Beat the Christmas Rush
Cascade Locks Community Church
The star of Bethlehem will never set
Wise men still seek him
Beat the Easter rush, come to church this Sunday
Don't worry about tomorrow: God is there
Count your blessings
In Thanksgiving let us praise him
Cascade Locks Bible Fellowship
Happy New Year: What if it's your last?
Forgiveness and redemption? The offer expires when you do
Want to be courageous? Honor begins at home
The Place of God Bringing Hope to Cascade Locks
Can an offense blind you to the spirit? Take Jesus to heart
Give Thanks to the Lord
Maker of Heaven and Earth
Riverside Community Church
God calls the unqualified and qualifies the called
Leave us not in temptation
Holy Hearing Aid
Holey information … Wholly … Holy Wisdom
Go!
What's missing in ch ch? (UR)
New Beginnings Church, White Salmon
You can't grow strong without resistance.
Other reader boards
West Side Fire Department (Tucker Road)
"If you see an emergency vehicle with its lights on, please pull over."
"We wish you all a Happy Thanksgiving"— Good News Gardening
Charburger, Hood River
"Juiciest burger for 24,191 miles"
"Pull over and try our pulled pork"
"Polar Exp" eats here
Mt. Hood Pullout
"What's Going to Happen?"— January at soon-to-open eatery
Saw Tooth Roadhouse
"Happy Holidays/Season's Greetings"
Best Western Columbia Gorge:
"Merry Christmas" (west side); "Happy New Year" (east side)