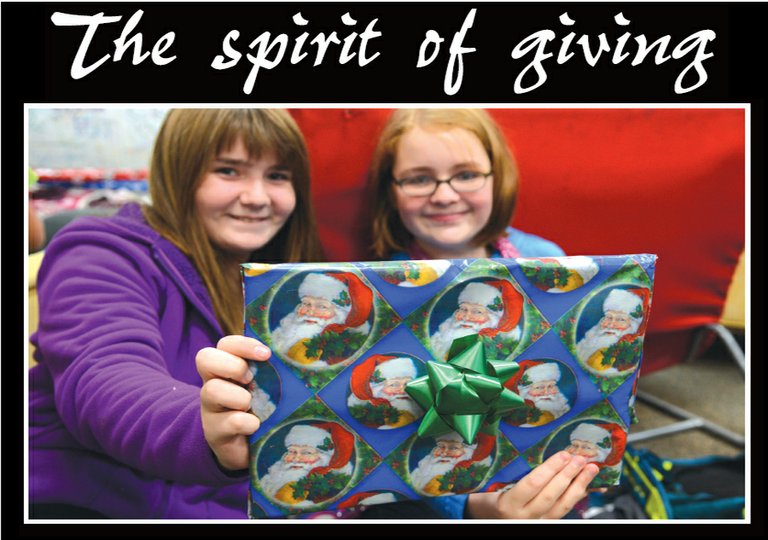 Tuesday, December 24, 2013
'I feel like I'm giving back. I sometimes feel I get so much more than other people and it feels super good to give this feeling to other people.' — Sixth-grader Reed Bauer
n
Giving can be a lesson, and a fun one.
Operation: Make A Difference completed its fifth year under teacher Tracy Norton this week.
Sixth-graders in Norton's Hood River Middle School homeroom raised money on their own, pooled it to purchase toys and gifts for needy kids, and then wrapped the presents Thursday for delivery last weekend.
"I don't know how to wrap presents," one student said. His classmates showed him how.
To raise the funds the students did lawn work, bagged horse feed, babysat, shoveled snow, sold wreaths, and helped parents at home or at work, and many other ways, in order to earn the minimum $20 each for "Operation Make A Difference." See below for details.
Document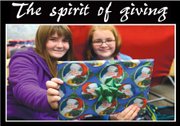 "We worked hard and set a goal of $1,200 and made a little under that ($1,121)," said one of Norton's students, Alyssa Molina. "To me it feels like I'm getting a gift to give to somebody else," she said.
The students divided up into 13 groups purchasing clothing, stockings, personal items, or toys.
"It was up to us to find what these people would need or want. We made lists but those were just the basic things we knew we should get, and if we had extra money we would get other things we thought they would like," said Reed Bauer.
Along with the FISH food drive at local schools, the Hood River Christmas Project, and other efforts of altruism, local residents of all ages got into the act of service this holiday season.
Christmas Project delivered food and gifts to 411 families and seniors on Friday and Saturday.
High school students collected the food and brought it to FISH in what is an annual culmination of the month-long food drive at Hood River Valley High School. (Donations toward the drive are still being accepted, and can be made in early January after classes reconvene.)
A total of 3,100 cans were delivered Thursday, and the high schoolers came to Mid Valley Elementary (1,200 cans) and May Street (1,490) en route to FISH food bank, where the food will be stored and distributed to families around the valley.
"Our donations are down a little this year, but many of our students are from the very families that receive help from FISH," said Principal Dennis McCauley. "Some of those kids are among those helping raise the food."
Lorinda Hoffman of Hood River FISH said they know that families that receive food often donate from their own supplies, or donate back what they might not need.
She also noted that FISH has seen a number of families enroll for help this year that might have accepted food from FISH in 2010 or 2011 but did not do so in the past year or so.
"Most people, if they don't need it, they don't ask for it," she said.
Currently 400 families are served, countywide; any eligible recipient may come to any food bank in a given week.
"This really, really helps us. It's at least a couple months' worth of food," said Hoffman.
Kym Zanmiller of the Hood River County Christmas Project said "It's gone really well this year. We had ample donations and plenty of volunteers — including some young people home from college," pointing to brother and sister Kyle and Sara Donahue, and sisters Carol and Lauren Holmson, whose father, Bruce, is the Christmas Project coordinator, a job he has done for the past five years.
Meanwhile, at Elks Lodge, Robo Wymore came home from Oregon State University for winter break and helped his parents prepare gift baskets at Elks Lodge for families that receive baskets from the lodge.
Operation: Make A Difference
This is an abridged version of the letter from sixth-grader Tracy Norton to parents, explaining Operation Make A Difference:
This holiday season we would like to teach our students the importance of "giving back." What better way to do this than to have the kids participate in a project where they have the opportunity to learn firsthand what it feels like to give to someone else. Here is the plan: Each student will be required to earn a minimum of $20 by performing community service around the house, working for friends, neighbors, etc. Once each student has earned his/her money, he/she will contribute it to our pot. We will then compile our earnings, and as a class, go shopping for needy family/families at Walmart. We will compile a list of items the family needs/wants and the students will create a budget to determine what we can afford. Each student will be in charge of purchasing specific items. Our class will purchase items for the entire family and we will wrap the items once they are purchased. I will deliver the items at the end of the project (due to privacy issues, the name of the family/families will remain anonymous). I believe this will be a very worthwhile project for the students. Not only will they learn academic skills, but valuable life skills as well. Most importantly, the students will walk away learning the importance of "giving" to others and knowing they were part of something bigger than themselves!