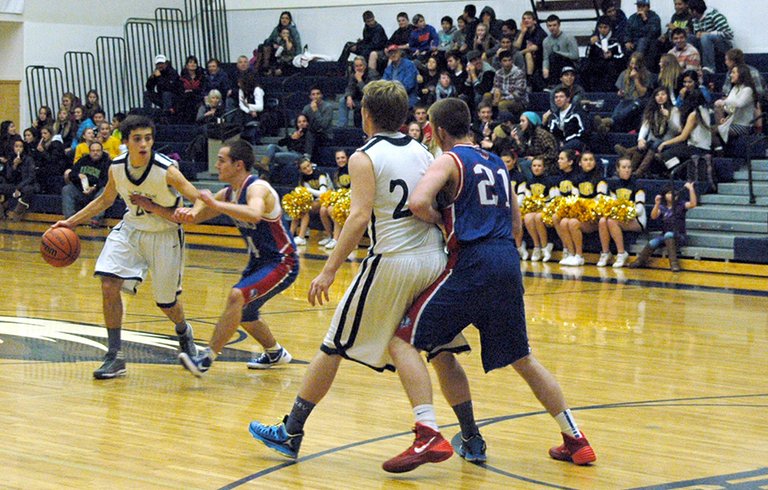 Tuesday, December 24, 2013
In its best-played game so far this season, the Hood River Valley High School varsity boys basketball team had a first win within grasp before letting it slip away in the fourth quarter of a 62-48 loss against Lebanon last Friday night at Vannet Court.
In a contest that was much closer than indicated by the final score, coach Steve Noteboom's Eagles (0-6) trailed by two at halftime and were down by just six points late in the game.
The Warriors (3-1) pulled away with a late-game rally, however, to claim the win over the home team. Despite the final result, the Eagles had reason to hold their heads high.
"Having lots of different kids make significant contributions was good to see," said Noteboom. "We played really good pressure defense and we had eight kids that scored. Everyone played pretty well and I felt real proud of the entire team."
The Eagles got off to a rough start, trailing 8-0 midway through the first quarter before their offense kicked into gear. Led by Austin Martin (team-high 10 points), Scott Ziegner (eight points) and Noah Noteboom (career-high eight points), the team rallied to outscore Lebanon 11 points to four to close out the first quarter down by one.
"I think all these tough teams we're playing in preseason is really going to be a good way to help prepare for us for league competition," said Martin, HRV's only senior who transferred to Hood River after moving here in September from Burns.
"We're a really young team; for most of the guys this is their first year playing at the varsity level. I'm just trying to help teach them what it takes to compete at an up-tempo style of varsity basketball and they're all doing a great job."
Ziegner, a 6-foot-3 junior post, drove his way through the Warriors' defense to give HRV its first lead of the game at 9-8 with about three minutes left in the opening quarter. Lebanon led 12-11 at the end of the first quarter and had a 13-2 run overlapping the first and second to take a 21-11 lead with 6:18 left until halftime.
HRV reclaimed momentum before halftime with a 10-4 run, fueled by two Martin long-range three-pointers and a last-second three by Colin Tegman to bring the score to within two.
"We had the momentum at the half, so that was kind of exciting," (coach) Noteboom said. "We talked before the game about not having mental lapses where we'll have a stretch of making bad passes, taking poor shots and then falling behind by a double-digit margin. We had one of those in the second half. I called a timeout right away and then after that, we were able to fight back and regain the momentum a little bit."
Lebanon, guided by coach Joe Williamson, came out strong in the second half, led by 6-5 junior forward Ian Smith (15 points) and 6-3 junior forward Tyler Romeo (11 points). A 9-2 Warrior run, including an impressive breakaway dunk by Romeo, put Lebanon up 38-29 with 5:05 remaining in the third.
"That was his first dunk during a game this season, but he does it a lot in practice," said Williamson. "We were hurt by foul trouble and Hood River made some key shots to make it a close game near the end.
"I was worried about how well our kids would respond since this was our longest road trip of the year (three-hour) and how they would react after a long bus ride. We played really well, though; particularly late in the game when we needed to."
Lebanon, of the Mid-Willamette Conference, extended its lead to 41-31 with 1:27 left in the third. HRV came back again though, narrowing the margin to 43-36 after three quarters.
Trailing 49-40 in the fourth, the Eagles responded to the challenge with a 5-2 run, highlighted by a three-point play by sophomore Parker Kennedy (eight points), who sank a 10-foot jumper in the lane and followed with a free throw after being fouled on the play.

"We played better than we have been, so we're definitely improving," said Kennedy, a 6-foot forward and one of just four Eagles with previous varsity level experience.
"We did most of the things that we were focusing on doing and we continue to improve, so this will help build our confidence level," he said. "Once we start league play (Jan. 23 CRC opener vs. Pendleton), I think we'll definitely be much closer to having the type of performance level that we want to have."
Lebanon took control of the game by outscoring HRV 11-3 during the final five minutes to pull out the win. The 48 points HRV scored was a season high for the team, and the 62 points allowed was a season low.
After the game the Eagles hosted the Warriors for the night in the school's wrestling room. Lebanon played Saturday at The Dalles-Wahtonka (a 58-53 Warrior win), so the team slept Friday in the HRV's wrestling room, instead of staying at a motel.
HRV has a break from action during Christmas vacation before hosting the Franklin Quakers (4-4) Dec. 30.