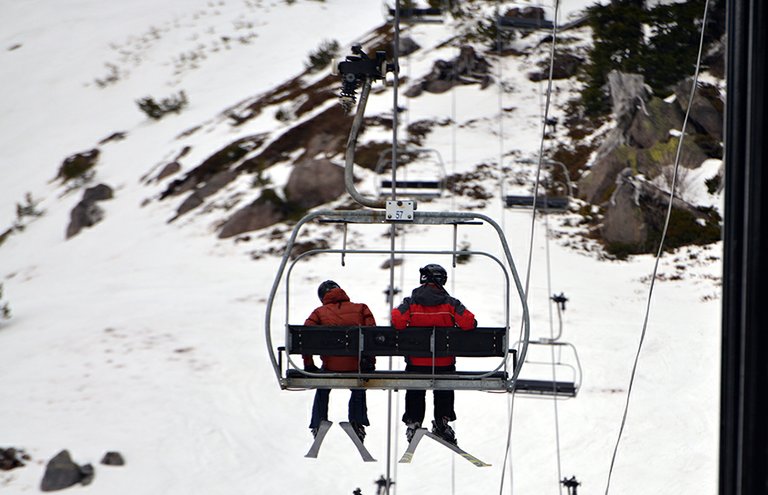 Saturday, December 28, 2013
It was sunshine, sweeping vistas and slushy, spring-like conditions at Mt. Hood Meadows Wednesday afternoon; not exactly what comes to mind when you think of Christmas on the slopes, but a pleasant treat just the same.
This week brought continued unseasonable weather to the area to wrap up what has been, to say the least, and odd start to winter. And unless forecasts change dramatically in the next few days, the western half of Oregon will finish out 2013 with one of the lowest snowpacks it has seen in recent history.
National Resource Conservation Service data shows the current Snow Water Equivalent for the Mt. Hood/Sandy/Lower Deschutes region at a mere 26 percent of normal. Statewide, all regions are well below average, although the northeastern corner of the state received a boost recently from storms around the Wallowa Mountain range.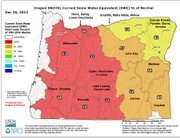 In Hood River County, NCRS has three test sites that record official daily snowpack measurements. As of Thursday, the site at Red Hill (elevation 4,410 feet) measured 4.3 inches, 27 percent of average, while the Mt. Hood Test Site (elevation 5,370) measured 10.2 inches, 44 percent of average. A third site on Mount Defiance (elevation 3,310) had just a trace of snow equal to about one percent of average for this time of year.
Despite the dismal statistics, and subsequent lack of powder days on the slopes, managers at Mt. Hood Meadows Ski Resort are positive about the season thus far, and are optimistic about what 2014 will behold. Mid-November snowfall allowed the resort to open by Thanksgiving — always a measure of a good start to the season — and despite severe rainstorms, stretches of spring-like sunshine and very little snow the entire month of December, the resort still reports 23 inches at the base and 35 inches at mid-mountain, is open seven days a week 9 a.m. to 9 p.m. through the holidays (regular hours return Jan. 6) and has a good amount of its terrain open.

"People who are coming up are pleasantly surprised," said Dave Tragethon, Mt. Hood Meadows executive director of communications. "To put it in perspective, Colorado resorts spend a lot of time in the range we're in now until they get into the later winter months. We could lament on the amount of snow we've had or we can focus on the really good conditions up here, which is what we're doing."
Tragethon acknowledged that although the resort's base of hard-core skiers looking for expert terrain and big powder days has yet to be appeased, the more family-oriented and beginner-level customers have been coming in good numbers and have been welcomed with more hospitable weather conditions than typical for late December.
"We're optimistic that we will see the big snowfall that we haven't had yet," Tragethon said. "In the meantime, we're focusing on making the most of what we have."
One way of doing that, Tragethon said, is through the use of a new snow transporting trailer the resort constructed over the summer, which has been used to haul large quantities of snow up the hill from the parking lot and down from above to fill-in bare spots and cover high-traffic pathways. The resort also has four artificial snow makers it utilizes when temperatures are cold enough.

"The trailer has already proved extremely valuable," he noted. "We're also seeing some of the benefits of the trail maintenance and brush cutting we did over the summer; although much of that was in the Hood River Meadows area, which hasn't been open yet."
n
As part of its Christmas vacation activities, Meadows held a canned food drive for Hood River County's FISH food bank. The resort offered discounted lift tickets in exchange for canned food donations. Tragethon said drive brought in at least 4,000 cans, based on ticket sales.
"This was the first time we've done it, and we are grateful to have the opportunity to contribute," he said.