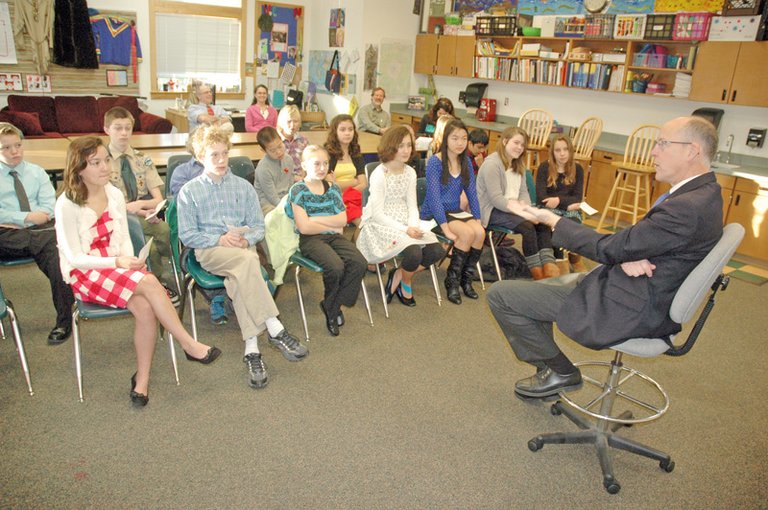 Students got to know the issues, and got to know the legislator, in Friday's classroom Q-and-A with Rep. Greg Walden.
Walden told the students he had been bullied in the halls of the middle school, where he also attended. Walden, a 1974 Hood River Valley High School graduate, also recalled that his "one and only political defeat" happened at HRMS, when he lost the race for president of the freshman class at the former junior high.
Walden's visit was the second in two weeks to Sarah Segal's Constitutional law class. Sen. Ron Wyden met with the students on Jan. 17.
In addition to questions about bullying and his own school and career background, Walden took student questions about his views on issues including gun control, nuclear and solar power, Native American fishing rights, forest management, coal mining and transport and federal timber payments.
The last three he pointed to as having significant economic impacts on Oregon and the United States, and he said he is working to find a better revenue source than the timber payments for local communities.
"I have supported the (timber payments) program since its inception and fought like the devil to keep it funded," Walden said. "It gets harder and harder to find the funding. And now with the debt in the federal government it's going to be almost impossible. It's been ramped down significantly.
"I actually think a better course of action is to change how we manage our forests so we can get people back to work in our timber communities," Walden said, "and I've got a bipartisan plan to do that with (Representatives) Peter DeFazio and Kurt Schrader, who are both Democrats, that would generate well over $100 million, and save 3,100 jobs or create new ones and pay for roads and schools."
Walden added, "We have to find something to cut in order to pay for it. People you're trying to take something away from don't like that.
"We have to get real creative this year, when we got extension for the funding, and the checks have gone out, so we'll see where it goes."
On coal, Walden said the central question is, "Will the export of coal pollute our air or water?"
He said the rail industry "has studied this a lot, and one of the issues they come up with is right around where the coal is loaded, there is a problem of coal dust coming off, and they don't like that, because it causes derailments."
He said the coal can either be tumbled to take the edges off, or sprayed with a surfactant to coat the mineral.
"Can you transport it safely and can you do so without the dust coming off and polluting our air? I think we're coming to that point," Walden said.
One student asked Walden about the recent incidents of gun violence. Referring to the Sandy Hook tragedy, he said, "All our hearts are ripped out from watching this violence," but noted that in the case of Newtown, Conn., the killings happened where "you have some of the strictest gun laws and toughest security.
"The shooter shot his way through the back window, and he stole the guns from his mother after he killed her.
"In most of these gun situations they have been stolen or acquired illegally," Walden said. "So then I look at it and think, 'We ought to look at the individual more than we do.'
"The one common element here is that the individual is most likely criminally insane or suffers at least from a real problem," Walden said.
"We need to focus on the individual and do more in our community on suicide prevention," Walden said, telling the middle schoolers that gun laws "wouldn't stop (a person) from getting in a car and mowing down a group of kids if what they are intent on is doing violence."
He said that in recent town halls in Medford, Klamath Falls and other towns, "the common theme was to do better on mental health."
He said one problem is "the lack of beds for those in need of real serious psychiatric care, and no place for juveniles. We just lack that capability, and I think that's important to find some common ground."
Walden connected violence in society to instances of bullying.
"I think it's a contributing factor to a lot of other bad things," he said.
"We had bullying when I went to school, not on the Internet, I mean, we had things called typewriters … but it sure went on," said Walden, whose classroom audience included two teachers and Principal Brent Emmons.
"There were a couple of kids everybody knew were bullies, who'd pop you in the back and walk off. I can tell you it happened to me, and nothing really happened about it.
"From the administration side, it needs to be dealt with quickly and not be allowed get out of hand."
"I would turn it back on you," Walden said.
"I think it's something students can help a lot on, with each other. I think there are ways you're a lot more capable of working on than we are as adults.
"It's a problem in our society. We need to be a little more respectful to people; you don't have to say everything you're thinking, or put it out on Facebook. It's stopping long enough to say, 'How would feel if that was done to me?'"
Another student asked, "Is cyber-bullying illegal in Oregon?"
"I don't think so," Walden replied. "But then you get into what are you studying? Constitution, right? What's that First Amendment about? "Freedom of speech," the students said in unison.
"Now, it's not an unlimited freedom … you can't yell 'fire' in a crowded theater. There are limits to what you can say online and in writing and verbally. You can't threaten somebody, 'I'm going to beat you up.' There are limits. That's why I think it gets back to common sense."