Pamela Thomas-Martin at Columbia Gorge Hotel
Kennewick, Washington singer/songwriter, Pamela Thomas-Martin, will be playing at Columbia Gorge Hotel in Hood River on Thursday, Feb. 14, from 6-9 p.m.
Rich, sultry, soulful and haunting those are a few of the words that are often used to describe her voice and music. Originals songs written from the heart and well chosen covers with tales of the human condition are her specialty.
Come have Valentines Day dinner with your sweetie and see this exciting new artist in her first Oregon show.
Valentine's music at Trout Lake Inn
Singer/songwriter Bob Connolly will be playing music for the Sweetheart Dinner at The Trout Lake Inn onThursday, Feb. 14. Dinner starts at 6 p.m. and music starts at 8 p.m.
http://www.troutlakecountryinn.com/
Country Dance at Rockford Grange Feb. 9
Special notice — there will be a potluck prior to the Country Dance, beginning at 5:30 p.m. Bring your favorite dish.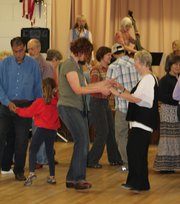 On Saturday, Feb. 9, from 7-10 p.m., it's the Second Saturday Country Dance at the Rockford Grange in Hood River. The caller will be Sue Baker from the Mid-Columbia area. The band will be the Mill Creek String Band also from the Mid-Columbia area. Dance lessons will begin at 7 p.m. All ages welcome. No partner required. Family friendly. All dances walked through first time.
Enjoy an evening of Country Squares, Contras, Circle dances and a few Waltzes. The dance will be at the Rockford Grange, on Barrett Road, Hood River. $6 for members, $7 for non-members, $1 for youth and students. Please bring snack treats for break time. Call Keith Harding at 541-352-7550 or Tom Hons at 541-386-5771 for further information.
Liberty Bond Jug Band at Solstice
It's the Liberty Bond Jug Band at Solstice Cafe in Bingen this and every Monday night from 6-8 p.m. Featuring Craig Wilson and Brian Litt on guitar, Chic Preston on mandolin, Jim Drake on percussion, Toby Amon on fiddle and Rod Kriebel on jug, trumpet, banjo and harmonica, the Liberty Bond Jug Band is the local good-time pan-fried-ghost town jug band. Visit them on Facebook.
http://www.youtube.com/watch?v=RgOQGRWQ-QU
'Blues' at the arts center
The February art show at the Columbia Art Gallery in Hood River will feature 35 artists who will examine everything blue: color, mood, music and more. The opening reception will include a rare acoustic performance by local blues greats Tess and Patrik Barr. Free admission. Friday, Feb. 1, from 6-8 p.m. Columbia Center for the Arts, 215 Cascade Ave., Hood River; 541-387-8877.
Stillman plays at Gallery 301
The hot ticket this week features lively jazz from Mike Stillman & Friends at The Gallery 301 in Hood River. These cats know how to have fun, and play jazz you can rock with. Music starts around 5 p.m. The Gallery 301, on the corner of Oak and Third in downtown Hood River; 541-436-0281.
Music at Mt. Hood Meadows
There's music and more this winter at Mt. Hood Meadows Ski Resort. All of the music is hosted in the Vertical Restaurant & Bar in the North Lodge on the third floor. Music is free for all ages unless otherwise noted.
Feb. 9, 3-6 p.m. From Southeast Portland, Outpost is an independent six-member band that is pushing musical boundaries by blending the dancing grooves of reggae, ska and funk with the fire of underground hip-hop.
Feb. 16, 3-6 p.m. MessyHair — Good-time string music from Hood River.
Feb. 17, 3-6 p.m. A local favorite, The Quick & Easy Boys, a power-trio out of Portland, create their own blend of funky R&B, psychedelic rock and garage pop with a slight pinch of honky-tonk. Imagine the Minutemen, My Morning Jacket and Funkadelic rolled into one.
Feb. 23, 3-6 p.m. Scott Pemberton plays "classic rock, jazz, psychedelia and everything in between. Pemberton is a multi-genre master and a clever lyricist who can convey fun while digging deep."
Longmire at CEBU Lounge
This week at CEBU Lounge:
Friday, Feb. 1: Chris Otepka (of Heligoats) w/Anna Arvan (of I Love You Avalanche), 9:30 p.m. — national indie singer-songwriters.
NPR says "Chris Otepka is as easygoing and unassuming as pop-singing eccentrics get, not to mention a wittily engaging songwriter who's just weird enough to achieve true brilliance."
Saturday, Feb. 2: Lewi Longmire & The Left Coast Roasters, 9:30 p.m. — roots-rock all-star band.
Lewi Longmire has built a reputation as Portland's multi-instrumentalist "go-to guy." In the years since relocating to Portland from Albuquerque, N.M., he's been included on shows and recordings by many of the Northwest's finest bands and songwriters.
Entertainment listings can be emailed to jdrake@hoodrivernews.com.