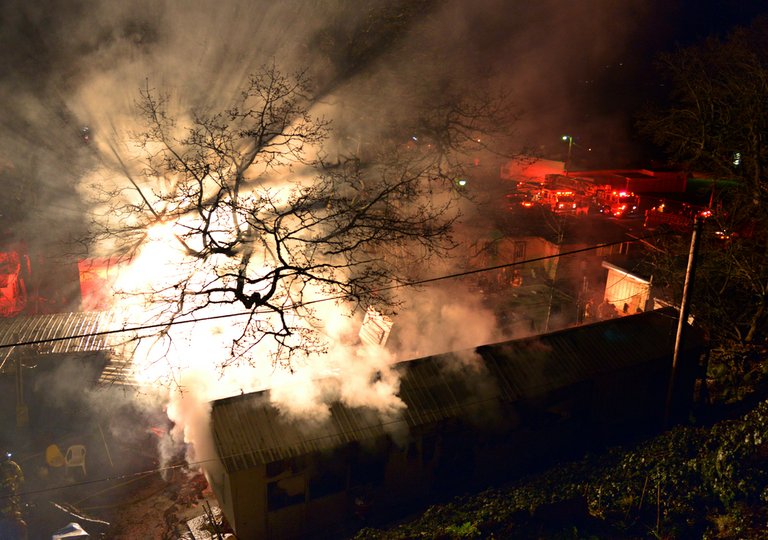 Crews from numerous local fire agencies responded to a mobile home fire in the 1800 block Cascade Street Thursday night.
Firefighters received the call for the fire at about 8:30 p.m. and arrived at the mobile home park behind Big Gym to find smoke and flames coming from the windows of a single-wide trailer in the park.
The home was unoccupied at the time of the fire and the resident was out of town in Mexico.
While fire crews battled the blaze Hood River Police shut down several blocks of Cascade Street to allow emergency vehicles in and out of the scene and allow the laying of a hose line.
According to Hood River Fire Chief Devon Wells, firefighters were only able fight the fire from the outside due to unsafe floor conditions in the home.
In addition to Hood River Fire, West Side Fire, Cascade Locks Fire and EMS, Wy'east Fire District and Mid-Columbia Fire and Rescue also assisted in responding to the blaze. Capt. Manuel Irusta of Hood River Fire served as the incident commander.
The fire was reported by residents of the houses sitting above the trailer park and Wells said that by the time fire crews arrived, the interior of the building was fully engulfed.
"In a small single-wide like that the fire gets contained (like it's) inside a pop can, pretty much," he said. "It's real hot inside and once it breaks through a window or door, it's off to the races."
Wells said that on many responses the outside agencies are either sent home fairly quickly or turned around while en route, but in this case "we actually used everybody."
The closest fire hydrant to the scene was across the street and over a block away. That led to the Cascade closure and the firefighters having to rely on tank water for the early portion of the battle.
After three hours the fire was knocked down and most of the responders were able to leave the scene.
Wells said that firefighters conducted a smoke detector campaign in the mobile home park a few years ago and actually remembered the layout of the burning home from that campaign.
Additionally, with dense smoke rolling over parts of the park, fire crews were able to get audible confirmation that the smoke alarm campaign had been successful.
The cause of the fire remains under investigation. Hood River Fire Marshall Peter Mackwell and West Side Fire Marshall Jim Trammel are leading that investigation.