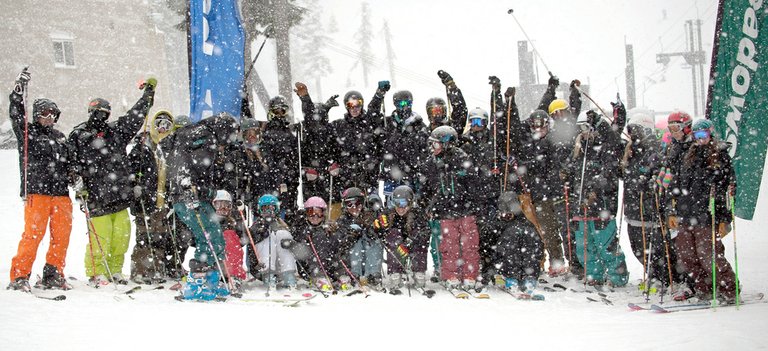 In another strong showing for the Hood River Valley High School ski team, Hannah Bergemann and Brendan Kerr topped the results last weekend in the latest USA Snowboarding Association Mt. Hood Series contest. Although run by USASA, the event included freestyle skiing divisions and drew high school competitors from Hood River, The Dalles, West Linn and Oregon Episcopal School to the slopes of Timberline. The slopestyle event gave each skier two runs down a course of jumps and rails in front of a panel of four judges; the lowest of each skier's two scores was tossed out.
The girls field was dominated by Hood River skiers, both in terms of numbers and performance. Bergemann led the way with a 71.5 first-run score that put her atop the leader board for the rest of the day. Behind her were teammates Hannah Hurley and Erin Mayer to round out the top three.
The boys field saw competitors from a few other schools challenging HRV skiers and finishing second, third and fourth between Kerr in first and Levi Roeseler in fifth.
HRVHS freestyle coach Justin Wiley gave praises to the team's performance. "We have great kids and some amazing athletes on the team this year," he said. "Hannah (Bergemann) and Brendan (Kerr) finishing first isn't much of a surprise. They are both really solid skiers and are impressive to watch. Behind them we have a handful of other skiers who are at a similar level and are pushing and challenging one another to get better and better."
At about mid-season, the team competes again this weekend at Mt. Hood Meadows; Saturday is a rail jam and Sunday, for the first time ever, league skiers will compete in skier-cross.
"Sunday should be interesting," Wiley said. "Skier-cross is totally new for us and the plan is to have everyone compete; racers and freestyle skiers. It's going to be interesting to see who comes out ahead in that matchup."
As the season winds down in the next few weeks, the freestyle team will focus on the 2013 Oregon Interscholastic Ski Racing Association freestyle state championships, where the HRV girls are gunning for back-to-back team titles and the boys team will look for revenge over Lincoln, who nabbed the combined title last season.
For the HRV boys, Sean Lund will return to the championship as defending state halfpipe champion and Kerr returns as runner-up in both slopestyle and freestyle combined categories. For the girls, Hannah Hurley will look to defend her state halfpipe title and improve on her second-place slopestyle finish. Collette Zack and Bergemann also return as state placers.