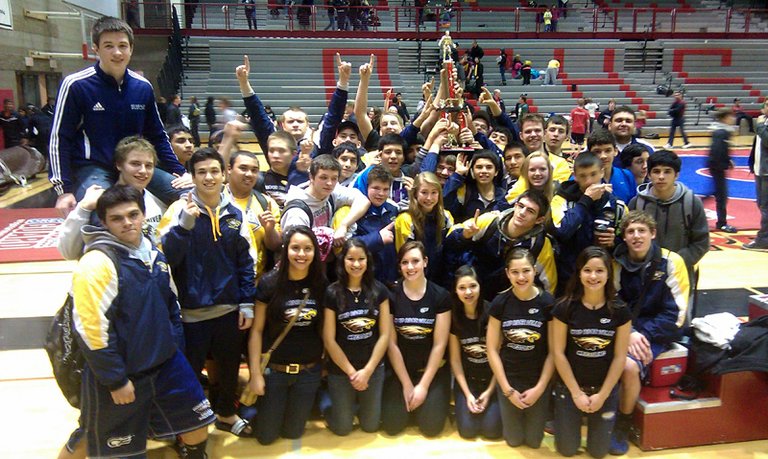 Tuesday, February 5, 2013
The Hood River Valley High School varsity wrestling team got the sweet flavor of victory, with hints of revenge, over the weekend at the 26th annual Oregon City Invitational.
For the first time since the team has been going to the tournament (in coach Trent Kroll's tenure, anyway), HRV came away with the first-place trophy. And as sweet as it was, the team title was made even sweeter knowing that Hermiston, Pendleton, Oregon City and Lebanon filled in the top five slots below them.
"This was a great win for us at a tough tournament," Kroll said Monday. "The format of this tournament rewards team depth, which we have. Our numbers and hard work paid off."
Similar to the district and state tournaments, the OCI format allows each team to enter up to two wrestlers in each weight class. Both wrestlers can earn points for the team as they progress through their bracket. In addition to individual champions and top placers, team points are tallied and the highest-scoring team gets the trophy.

"Hermiston was very close to taking the team title," Kroll said. "It came down to the final round. They are a tough team with multiple returning state champions and placers. But in the end it was our depth through the weight classes that paid off. We had some great matches and some payback for wrestlers who beat us earlier this season."
Both individual champions, Nick Morgan at 182 pounds and Brandon Dominguez at heavyweight, had such payback. For Morgan, it was revenge over Keegen Hammond in the finals. Hammond knocked him out of the championship round a week earlier at the Hood River Elks Tournament. Dominguez defeated defending state champion Jake Batease, who beat him in Hood River's home dual against Hermiston.
"This is a big confidence booster for the team as we get into the real heart of our season," Kroll said. "We're working on peaking in the next few weeks as districts and state approach. We've just started our twice-a-day practices, which will take the kids' conditioning to the next level to be ready for our big tournaments."
Along with the two champions, the Eagles saw three more make it to the finals — Christian Marquez at 120 pounds, Texx Spezia-Schwiff at 126 and Ramon Ramirez at 195 — and a total of 13 wrestlers finish on the podium in the top six.
At 220 pounds, Juan Karlos Hernandez and Jeremy Breedlove conceded with a tie for third place. The two made it to the third/fourth place match but rather than wrestling against one another, they deferred the match to give themselves the most team points possible.
"We're going to have a wrestle-off for that match to see who gets to keep the medal," Kroll said.