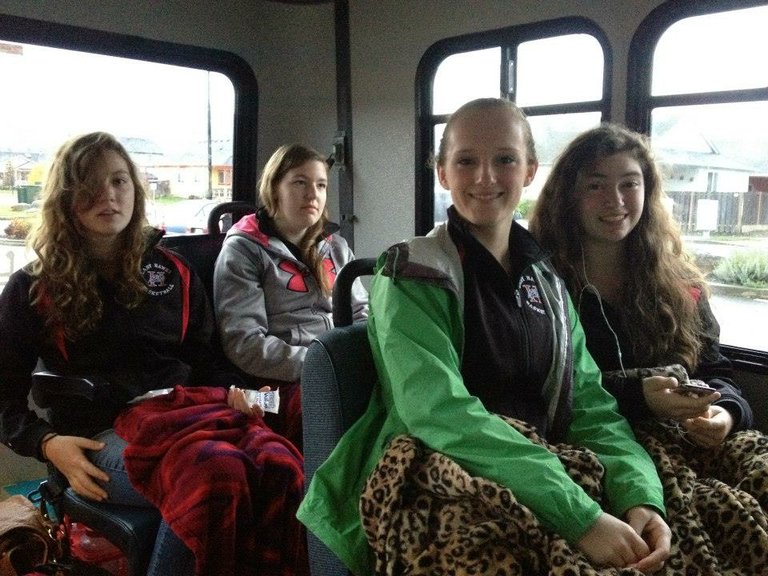 Tuesday, February 5, 2013
The following is a compilation of memories and thoughts by senior player Katie Tolbert from the Horizon Christian School girls varsity basketball team's road trips in the 2012-13 season as she tried "to make the most of my last year playing basketball." The notes are from trips, some of them overnighters, to eastern Oregon burgs Helix, Prineville, Ione, Pendleton and the Willamette Valley, between December and January.n
And we are off in our brand-new bus (which had a radio station that actually worked!). Then the country music started playing and some became a little less interested. (Our driver, Kurt, controlled the radio.)
Random Notes:
In the bus, about the first half hour everyone talks and enjoys each other's company, but one by one we all either end up sleeping or resorting to the iPod.
On rare occasions the girls will talk about important life subjects, like what's the right way to eat a cheese stick (1) or how many cute guys there were on the other school's team.
The types of conversations that come up are interesting, especially if it's a long bus ride. Or in our spare time we'll try to steal Hannah Lingel's Oregon Ducks pillow pet, Puddles. (2)
If you're an obnoxious sleeper (i.e. mouth open, snoring) the other players on the bus have the full right to either draw on your face, take a picture or try and drop random things in your mouth that they found on the floor.
Over the years, there have been several "victims" of this happening. (3)
Being from Hood River, our team gets the best of both worlds in the places we go to play — a mix of the urbanized city of Portland and the nice, quiet middle-of-nowhere feel you get from anywhere past The Dalles.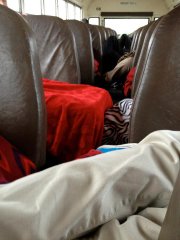 In our season this year, I believe most of the games are away (which is awesome, then we get to wear our cool black uniforms), but two of the trips are each about 4 hours long. (4) On a bus 4 hours seems like ages, especially with a slightly messed-up heating system. Cold in the front, hot in the back; girls are always cold, boys are always too warm, but we never switch. If you stay busy it's not that bad, because usually the bus rides are where the memories and inside jokes (5) are being made.
The Big Sky league is a really tough league to play in. I really do appreciate the variety of teams; it shows how talented 1A teams are. Just because we're a smaller school doesn't mean anything. Our guys' team is a perfect example of that; they've beaten teams that were from 2A to 5A and it's always a good time watching them play.
Traveling to different gyms, it definitely makes me appreciate the one that Horizon has. The schools we play are much older than Horizon, so some gyms will either have bad floors with dead spots, no air-conditioning (so much fun to play without!), or the lighting is pretty dim. For the most part, though, the other teams and their fans are nice.
South Wasco is the best place to go to for away games because they pack everyone little bag dinners with sandwiches, cookies, water, etc. That's when the battles over Oreos versus animal cookies begin.
Weird stories that would only happen to us:
Out of all the things that have happened to us during the season (so far), the strangest interaction we've had occurred a few weeks before Christmas on our way to the Southwest tournament in Beaverton. We drove down in our "Jesus bus." Yeah, weird name, and I'll get to that in a moment, but sometimes the girls team needed our own source of transportation so the boys wouldn't have to leave earlier than necessary (usually their games were several hours after ours).
So our coach (who's also the pastor of The Bridge Community Church in Stevenson) brought his youth group bus, which was basically a really small bus that fit exactly the number of girls on the team — it even had a Jesus bobble head.
Anyway, when we were driving there was a little blue car that flashed his bright lights at us. At the time we didn't think anything about it but when he drove around we looked and it was Santa Claus, or his twin brother. He turned to look at us (I can only imagine what we looked like staring and saying 'Omygosh it's Santa Claus) and flipped us off.
Everyone was far too shocked to respond. This was not a jolly Santa Claus by any means, and we figured we were all going to get coal after our encounter with Kris Kringle.
n On Dec. 28 the varsity teams traveled down to the Heppner Tournament which was an ... interesting experience to say the least. You never know what you'll find when you travel to the small towns in Oregon. We stayed in a motel with themed rooms — no joke. It was one of the coolest parts about the trip; my group got the best room which was a tropical jungle theme with parrots and plants galore. The motel even put a sign in the rooms saying, "Please do not clean your game in the rooms, Thank You." Yep, we most definitely weren't in Hood River anymore.
Deep team thoughts:
The biggest thing I've learned about our team over the past few games is that it's not always about getting the wins. Even though that might be the most cliché sports quote ever — it's true. We're still learning and it's been a bonding experience for all of us. The team is learning how to interact with the coaches and other players while trying to put together a good front against the other teams. Especially because we graduated our playmakers last year — the dynamic of our team has completely changed.
It's all good, though, because we love each other's company. There's something about every one of us that adds to the crazy, jumbled puzzle that is our team: Hannah Kempf's ill-timed sarcasm, Sarah's kindness, Marlie's funny laugh, Alyssa's corny jokes, Kasia's "momma bearness," Hannah Lingel's leadership, Trista's craziness, my "blonde" moments, coach Yvonne Huskey's supportiveness and coach Chad Leeson's sense of humor. I believe our coaches have a great quality of understanding; they know us and how we are (and they've gracefully put up with that for four months).
We're like an adopted family; though, I'm pretty sure Coach didn't expect to add eight more daughters into the picture — but we're glad he did.
Basketball opens you up to so many more experiences than just the games. Our team is fortunate in the fact that we all get along and enjoy each other's company off the court, because when you play Horizon basketball, you give up about four months of your free time and multiple hours of sleep away — you definitely get to know each other pretty quick.
Bonding on the bus footnotes
1 The two main ways to eat a cheese stick are: A. Start at one end, bit by bit; B. Peel the cheese off the top first.
2 Puddles the pillow duck has survived the season, "so far" (Jan. 30).
3 Among the sleeping victims was junior Austin Requa, awakened by "either a pretzel or an M&M."
4 Longest bus rides: tie between Helix, near Pendleton, and Central Christian, near Prineville.
5 One running inside joke involved saying the phrase "Hashtag!" before just about anything.
6 "Burpees" are repetitive pushup-jumping jack combos that athletes have hated for decades.
This year I'm giving up some things that have been a part of my life for almost as long as I've been alive. It's hard, and it's something I'm still learning to do.
How do you just leave the experience behind? All the friendships and memories that have been made, maybe I'm not just worried about forgetting them — possibly it's because I don't want to be forgotten. But I'm no longer worried about making this a good year — it's been great; far beyond my expectations. So come Senior Night, I'll be cherishing the moment knowing it's been an amazing experience playing for Horizon and that I'm ready to start something new.
Although I won't mind not having to do burpees (6) ever again, those I can happily live without for a while. I'm definitely looking forward to coming back next year during my winter break to help out the team. So if you happen to stop by any of the Horizon home games next year (which you definitely should!), I will probably be the girl sitting right behind the team cheering my lungs out.