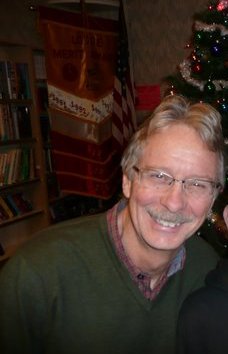 Tuesday, February 5, 2013
Mike Hendricks is a busy guy.
Busy at life, busy at his job, but not busy enough not to make time.
"There's always a lot to do in life, but if it's important enough to take on the commitment then we just have to make time," said the man who was recently honored by Next Door Inc. as the Big Brother of the year for Big Brothers/Big Sisters, Hood River County.
Since moving to Hood River three years ago, Hendricks has gotten pretty good at making time.
He and his "Little" have gone and done everything from sporting events, to concerts, hiking, biking and the movies, and every time he gets to spend time with his Little, Hendricks sees he is having an impact on his life every time.
"I know — not believe, know — that I'm improving my Little. He's already a happier, more-focused, more-confident and I'd even say better young man than when we met about 15 months ago," Hendricks said by email from Costa Rica, where he is currently doing a home visit for the Partners of the Americas exchange program.
"His mother's words that were read when I got the award say so; plus I can see it myself."
It is reasons like those that have kept Hendricks involved in Big Brothers-Big Sisters off and on for the last 30 years.
He first got involved 30 years ago when he was living in Washington, D.C., mentoring a child who was flunking out of his classes in school.
"I mentored a 14-year-old boy in Washington, D.C., for four years, until he graduated from high school. That felt good, because when we were first matched he was flunking out of a D.C. school — no mean feat, let me assure you!
"I quickly found out that the problem was that he was really smart — and I mean really smart — and was bored out of his skull," Hendricks said. "Fortunately, I'm not entirely stupid, and we were able to be a pretty good match."
After that experience, Hendricks got busy with life and with his consulting job. He wanted to be a "Big" again, but it never seemed to work out.
When he and his wife came to Hood River three years ago, he said he had the chance to re-examine what was important to him and how he wanted to spend his time.
"I knew that being a Big again would be near the top of the list, so I went to The Next Door and they let me in," he said.
Since he got involved again, Hendricks has helped make new memories, both for his Little and himself.
"One of the very good times, out of many, with my Little was when I wanted to try to take him up Mitchell Point. He's only 12, and I don't think he's hiked much, so I didn't know how far we'd get. Certainly not to the top and out on the point, for sure. But hey, I was wrong!" Hendricks said.
"Even though it was a windy day, and there was no one else there (the parking lot below was closed for construction, so we had to park by 84 and walk in a bit), he loved it and kept going. Even when we got near the top, and I told him about the crosswinds and to stay low, he didn't flinch a bit. He went all the way it's safe (at least in my opinion — not past the big bump), looked down both sides, had some food, talked about the view — was just great about it."
After finding time in his busy schedule to become a "Big" again, Hendricks said he has enjoyed the experience both for the satisfaction and feeling that he is also becoming a better person along the way and feels good about what he is doing.
Even as he helps others, he gets to have fun himself by trying new things and pushing himself to find new things to do with his Little.
And that is something he doesn't at all mind making the time for.
"I get … the fun of hanging out with a 12-year-old. And that's not to be underestimated, because he sees the world differently. So many things are new to him, so they become more fun for me, too," he said.
"Also, thinking of things to do together stretches me to try new things, too. Trust me, I'll never be a world-class SUP-er! We go to sports events, concerts, hiking, biking, movies, etc., and I always have fun. It's far from being a burden — it's a joy."