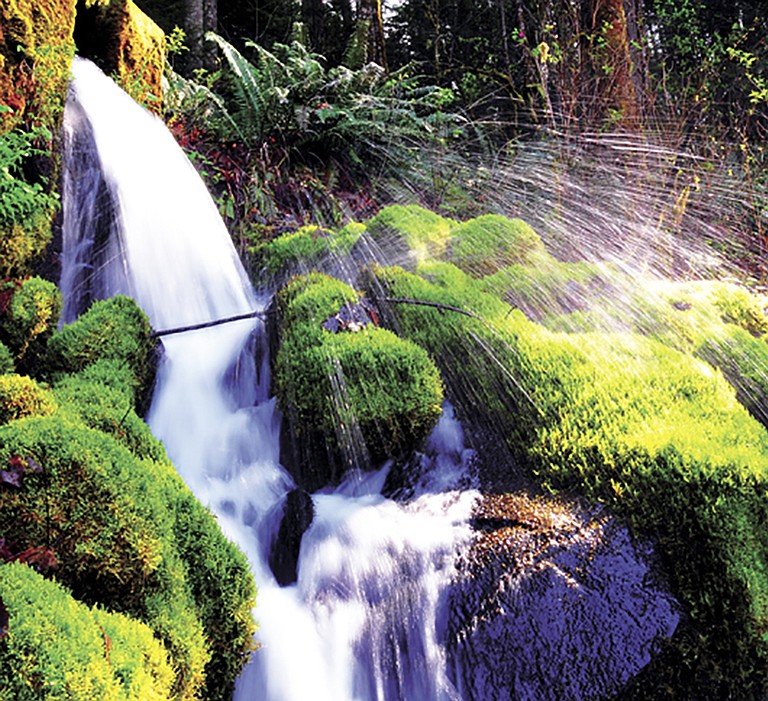 Tuesday, February 5, 2013
Some of the first specific steps needed to secure water resources for a proposed Nestlé bottling facility are now under way for the City of Cascade Locks, despite a roller-coaster of leadership.
Paul Koch, former Cascade Locks city administrator and current interim Port director, has remained one of the consistent professionals involved in the negotiations on the Nestlé deal since he arrived about 18 months ago.
Other city leadership, both professional and volunteer, has changed often during over the last few months and years through city council elections and resignations, the resignation of Port Director Chuck Daughtry, prior city administrator departures and recent mayoral transitions.
Koch continues to help ask the tough questions and manage the steps needed to evaluate whether the bottling and delivery of city ground water and nearby state-controlled Oxbow Spring water is a winning economic plan for the city. This is not an easy question when you factor in the public concerns over 100 semi-trucks traversing city streets daily en route to the facility.
Those 24-7 truck trips are a necessity to transport over 100 million gallons of water per year. If translated into a standard 8-ounce size consumer bottle, that equates to 128,000,000 containers.
However, with the recently completed hydrology study, indicating adequate city ground water supplies, the city may be one step closer to exploring the finer points of the deal.
"Their basic finding is that there are plenty of water resources here including enough for the hatchery and proposed business expansions such as what a Nestlé plant might be anticipated to require if it were to come here," said Koch about city wells.
While supply may currently be adequate, the legal wrangling needed to secure Nestlé's preferred dual water source still rests upon a decision from the Oregon Water Resources Department Whether Oxbow Springs hatchery water can be used to swap with city ground water during low-flow periods is still as yet undetermined. Legal steps and processes between the Oregon Department of Fish and Wildlife, Cascade Locks and the OWRD have already been in process for months.
"It takes about a year per issue," said Nestlé Natural Resource Manager Dave Palais, who has been visiting Cascade Locks as a Nestlé negotiator for several years.
Nestlé is interested in both spring and ground water to serve differing brand sales' strategies and consumer demand shifts. According to Palais, the company prefers to site its plants where it can access both water sources.
For Nestlé, water equates to profits and the market for the bottled variety is growing exponentially.
"The bottled water industry generally sees continued opportunity for growth," said Palais, who notes that consumers are switching buying preferences away from sodas.
According to figures from the Beverage Marketing Association, in 1998, retail beverage consumers were drinking 54.9 gallons of soft drinks per year, with just 15.3 gallons of bottled water. By 2011, bottled water purchases had jumped to 29.2 gallons per year with soft drinks falling to 43.5.
As consumers continue to attempt to reduce sugar intake and move toward healthier choices, the trend is likely to continue upward.
As the OWRD ponders spring water rights questions, the city in the meantime has contracted for the creation of a water master plan, due to be completed near the end of March.
The master plan would provide some guidance in the event of droughts or other water emergencies, along with outlining policies, rate structures and infrastructure development plans and equipment costs.
"We took the hydrologist report and turned that over to Tenneson Engineering," said Koch. "The master plan is being designed around a major water user coming into the community."
The plan will also provide city staff with a prioritization of action steps and possible funding sources, according to Koch, who is interim port manager. Gordon Zimmerman formally took over city administrator duties Feb. 1 after a one-month transition with Koch still working for the city.
"We know we have major leak problems. The system here is old and needs to be refurbished," he said.
"We are also planning more research to see how other communities have fared," in water bottling plant deals, noted Koch. To that end, the city is negotiating with the Mid-Columbia Economic Development District to investigate five other communities who have secured bottling plants.
A wastewater master plan is also under way — an important component for the Nestlé deal, as bottling plants require effluent disposal and treatment for the sanitizers and production wastewater.
According to Koch, Anderson-Perry Engineering is preparing the wastewater plan and he hopes that will be completed shortly after the water master plan.
Koch acknowledges that no terms have been negotiated as yet with Nestlé, so exactly how the costs of infrastructure upgrades will be paid for has yet to be determined. Although the city has discussed the idea of a offering property tax relief to Nestlé as an incentive.
According to Palais, the current goal for Nestlé is to "build relationships, work with local leaders and be in the area to answer questions" — a wise corporate practice in a town where long-term leadership has been rare.