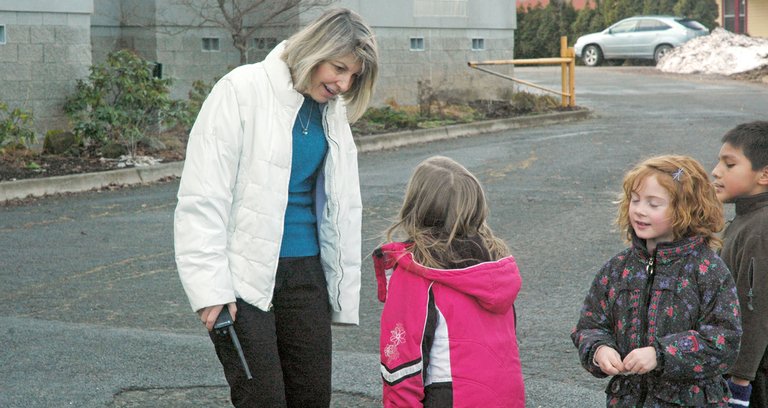 "I love every minute of every day."
Heidi Huskey has said that for 40 years as secretary of Parkdale Elementary, a school where she also attended.
Each day, she sits at the hub of activity at this small but busy school.
"It truly is something different every day, and never a dull moment," said Huskey, who started with the school district in 1970 at the AV Department (historical note: that stands for Audio Visual, as in filmstrips). AV was located in the basement of Coe Building. After a year she moved next door to be secretary for then-superintendent Frank Lariza.
In 1973, Huskey said, the late Bob Thoman, Parkdale principal at the time, "asked me to stop by the house. He asked me if I wanted the position.
"He said, 'Can you come by the house?' You would never see that today," Huskey said. Thoman was the first of eight principals Huskey has served with, including Kim Vogel, now in her third year.
"They've all been great; each one different," said Huskey. "I learned from each of them."
Vogel notes that she and her staff have much to learn from Huskey. She recalled the time two years ago when Huskey had a family medical emergency — on the first day of school.
"I was in here with two parent volunteers and two teachers, five of us trying to do Heidi's job — getting kids registered or to the right room, finding this information or that important form. We were all trying to be Heidi, and failing! She is an amazing person."
Heidi's two brothers, Hup Streich and Hoby Streich, live in the Hood River valley, and Heidi is married to Bob Huskey, sexton at Idlewilde Cemetery. They have two grown children, Savannah and Shay.
Huskey describes her job this way: "I'm a counselor, parent, nurse, referee, friend, you name it. Around here, we all are. This is such a great school; the people are so wonderful. Everyone helps out in whatever way they're needed."
One moment she's helping as a classroom aide on an art project, the next she's interceding after a playground dust-up.
At 8 a.m. she's getting a mother's message to a worried student that "Daddy found her bunny" and at 11:40 she grabs her radio and heads to the playground to fill in as monitor.
At 1 she's taking a call about a student's bus route home, and at 2:20 she's outside on the bus lane helping get the kids on board.
In addition to answering the phone and working the counter, she updates parent records, tallies the lunch count and manages the all-important and ever-changing "bus notes." These are the changes in where a child will ride after school and where they will get off; be it a friend's home, parent's work place, the babysitter or other.
"We make sure kids are always safe," she said.
"Sometimes they just come in (to my office) just to give me a hug. That's the best part of this job," she said. "The kids are great here. It's fun; it really is."
Huskey said that after 40 years she has no plans to leave.
"I will stay here as long as they let me. I love the kids, the staff, the parents. Every day seems new here."