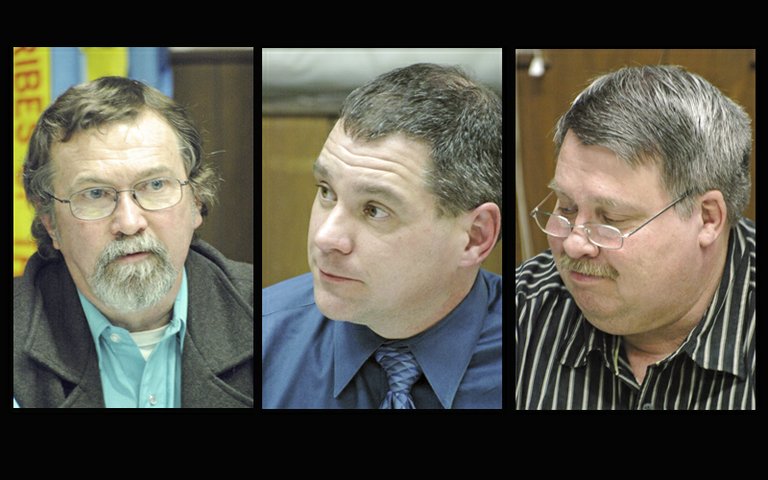 Tuesday, February 12, 2013
If you are a registered voter in Cascade Locks you may be hearing soon from Mayor Tom Cramblett about serving on city council.
One seat remains on the council after Monday's meeting, in which three new members were sworn in: Bobby Walker was interviewed and appointed, and Jeff Helfrich and Richard Randall accepted appointment.
Applications for the remaining position will be accepted at City Hall until the next council meeting, on Feb. 25, when Cramblett is certain someone will be appointed.
"I plan on it. We'll have someone," he said. "If we have to beat the bushes, we will. We will fill the position by next meeting."
Prior to Monday, a total of four seats were open, following last month's resignations by Randy Holmstrom, Mark Storm and Brad Lorang.
Cramblett and council members Glenda Groves and Bruce Fitzpatrick, who were elected Nov. 6, decided in the Jan. 23 meeting to offer three of the vacant positions to the three men who had also run for office in the general election — Helfrich, Randall and Ralph Hesgard, who declined appointment.
That left two spots to be filled by applicants, but Walker was the lone applicant for council.
Cramblett was upbeat after the nearly complete restoration of the council, noting that Monday's pre-9 p.m. adjournment was a positive sign.
"There's going to be plenty of things that will take more time, and plenty of issues along the way, but with the six we have I feel pretty good. I feel it's a group that understands all that's been going on, and they all have different ideas and different backgrounds, but I think they all understand it's to try to move things ahead, to advance that football."
Walker told the rest of the council, "I'm glad to be here, and I want to get to work. Let's go."
Helfrich, who served from late 2011 through November, said, "I'm glad to be on council and working on some of the projects we started a few years ago, and working with the new city council members and moving the city forward."
"Being appointed to council, I want to thank everyone," Randall said. "I don't take it lightly. It is a tremendous responsibility and I want to thank everyone who chose me."