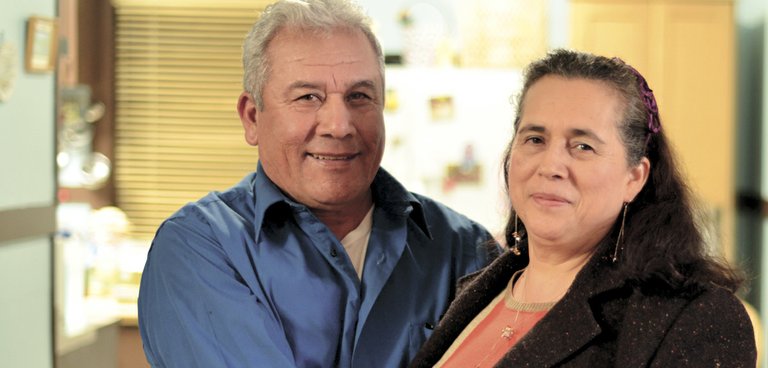 Tuesday, February 12, 2013
For Jorge and Gavina Rivera, faith is the glue that has held their marriage together through the trials and tribulations of the last four decades.
The two longtime Pine Grove residents celebrated their 40th anniversary last month in similar fashion to their January 1973 wedding in Michoacán, Mexico: a humble gathering surrounded by those who matter most — family.
"Our wedding was small and simple," Jorge said. "Resources were not available in those days; we didn't have the means to buy anything fancy for the wedding. Our families were there and we were all happy; that was the important thing."
At their anniversary last month, Jorge and Gavina were again surrounded by family; but this time with six children and seven grandchildren of their own to add to the celebration of a long and happy life together.
Traditions were strong in the small village where the two came from, so their first date, and the many that followed, were done in secret. After a few years of dating, they decided to get married. As the oldest of nine children, Gavina had a hard time convincing her father that marrying Jorge was a good idea.
"It was normal for the father to be that way back then, especially since I was the oldest," she said. "It took a while, but Jorge was a good man and my father knew that."
Like clockwork, 10 months after the wedding, their first child, Pepe, was born. Not long after that Jorge made a difficult decision that would end up changing their lives forever. He left his wife and child to find work in the United States.

"When I first came here I didn't know anything," he said. "I didn't know anything about the U.S., about what to expect or how long I was going to be gone. I did it to find work so I could send money back home."
"When he left I felt like the world caved in on me," Gavina said. "It was a difficult time."
Jose made his way to Hood River that first year and discovered that several other families from his home state had found work and settled in the area.
He returned to Mexico and the following year returned to Hood River with Gavina.

"At first we had to leave Pepe in Mexico with his grandmother," Gavina said. "That was another very difficult time."
"We liked Hood River and found that we could both live and work here, which was very hard to come by in Mexico at that time," Jorge said.
Since 1980 the two have been in Hood River permanently and have since raised a family of four boys (Pepe, Sal, Jaime and Jorge) and two girls (Gabby and Lindsy). Throughout all the difficulties in their lives, they credit just a few core principles as the keys to staying happy together.
Number one: Faith and scripture. Number two: Respect for each other no matter what. Number three: Effort.
"Our belief in God and the scripture as a guide has been the glue that has kept us together," Jorge said. "Effort is also very important in that. You can have faith, but it you don't act upon it, it doesn't work."
"In the early days I felt fortunate for any time we could spend together," Gavina added. "I fell deeply in love with him and have respected him every day since. He has returned that respect, and, for me, that is why we have been happy together for so long."
As advice for young brides, Gavina said "Treat him with respect and loyalty so that he in turn treats you with the same."
"My advice to any husband is to be kind and respectful," Jorge said. "Although she is stronger than you in many ways, she is also much more sensitive. Never forget that."