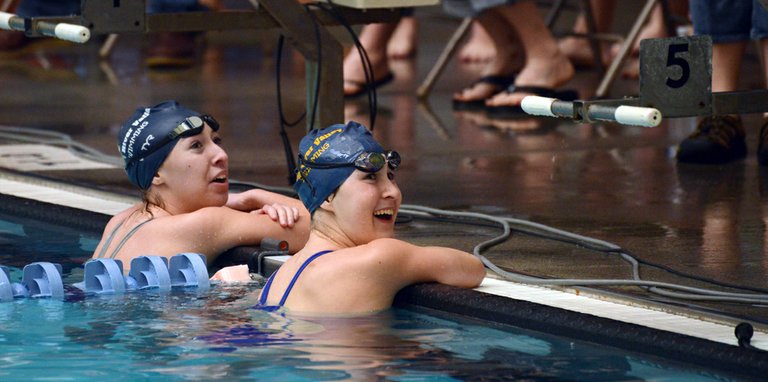 Tuesday, February 12, 2013
Hood River Valley High School swim team swept the competition over the weekend at the Columbia River Conference championships at the Hood River Aquatic Center. Both HRV boys and girls teams won conference titles and the team won the combined title by nearly 300 points over second-place Pendleton.
Below are top five finishers from the meet. Event winners advance to the state meet this weekend at Mount Hood Community College (also advancing are wild-card qualifiers Danielle Miller in the 200 IM and the boys 200 medley relay and 400 freestyle relay teams).
Girls top five finishes:
200 medley relay: 1st, Danielle Miller, Kylie Webb, Dhani Freeland and Rebekah Galvez
200 freestyle relay: 1st, Kayla Schilling, Caitlyn Fick, Kylie Webb and Dhani Freeland
400 freestyle relay: 1st, Danielle Miller, Rebekah Galvez, Caitlyn Fick and Kayla Schilling
200 freestyle: Dhani Freeland, 1st
200 IM: Kylie Webb, 1st; Danielle Miller, 2nd
50 freestyle: Kayla Schilling, 1st; Caitlyn Fick, 3rd
100 butterfly: Rebekah Galvez, 2nd; Lilly Paul, 5th
100 freestyle: Dhani Freeland, 1st; Kayla Schilling, 2nd
500 freestyle: Roslyn Patrick, 3rd; Emily Burns, 4th; Anika Engbersen, 5th
100 back: Danielle Miller, 1st; Caitlyn Fick, 2nd
100 breast: Kylie Webb, 1st; Anika Engbersen, 4th
Boys top five finishes:
200 medley relay: 2nd, David Walker, Connor Webb, Charlie Sutherland, Diego Ybarra
200 freestyle: Addison Redmond, 2nd; Jacob Mears, 4th; Daniel Mears, 5th
200 IM: Connor Webb, 1st; Maddy Brooks, 4th; Austin Dalbey, 5th
50 freestyle: Diego Ybarra, 3rd; Trey Schilling, 4th
100 butterfly: Charlie Sutherland, 1st; Carlos Galvez, 3rd
100 freestyle: Diego Ybarra, 4th; David Walker, 5th
500 freestyle: Carlos Galvez, 1st; Addison Redmond, 2nd
100 back: David Walker, 1st
200 freestyle relay: 2nd, Thomas Tyynismaa, Carlos Galvez, Trey Schilling, Diego Ybarra
100 breast: Connor Webb, 1st; Daniel Mears, 5th
400 freestyle relay: 2nd, David Walker, Charlie Sutherland, Thomas Tyynismaa, Connor Webb