Tuesday, February 12, 2013
"We enjoyed spending time together, and we had the same goals," Mary Ellen Picking said of the longevity of her marriage with Chuck Picking, 90.
The childhood sweethearts grew up in Odell and celebrated 65 years of marriage on Jan. 18.
"When we got married everyone went into marriage believing it was a lifetime commitment, and both our parents showed us good examples," said Mary Ellen, who is 85.
The couple owned an orchard and wholesale fruit business in Odell. They have two children, son Bradford and daughter Holly Picking Jones, and two grandchildren.
They now live at Down Manor, which celebrates residents' love stories each Valentine's Day. For the occasion, Mary Ellen wrote about the couple's first meeting, as middle schoolers, and the encounters that led — literally stop-and-start — to their engagement nine years after first meeting: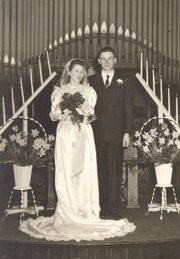 "My initial introduction to the Picking family was in late October 1939. Vernon Picking gave my best friend, Carol, and I a ride in his car. Unknowingly I left my purse in the car. The mistake was discovered when we were preparing to leave for the Odell Grade School Harvest Carnival. No purse meant no money for all the fun activities. What a bummer! But Carol's father came to my rescue by making me a loan. I never gave the missing purse another thought until the following evening (Saturday) when my mother came home from work and inquired about the carnival. When told about the lost purse, Mother read me the riot act. 'Tomorrow right after breakfast, I'm driving you up to those people's home; you will retrieve your purse,' was the ultimatum. I did not sleep much that night. The next morning I awoke and looked out the window, and what a surprise! It had snowed during the night, 14 feet or so, oh boy, we won't have to go, I thought.
"I skipped down the stairs, only to discover Mother had a new plan. We'd walk. A mile and a half we mushed up the road. It was not plowed. I knocked on the door. Mr. Picking came to the door. I started to stammer my speech. Vernon came up behind his dad before I barely got started. He told me, 'The purse is just where you left it on the back seat. I'll go get it.'
Mr. Picking insisted we come in the house and warm up. He told mother, 'I'll have the boys (first I'd noticed two more young fellows sitting on a davenport) shovel out the car, they'll take you and you're daughter home.' Oh great! We won't have to walk back, I thought. Wrong. Mother firmly thanked Mr. Picking, but firmly replied, 'We walked up here, we will walk back!'
n
"I guess we might have made an impression on some of the Picking family. Three years later, Chuck, Vernon's older brother, came by and asked me to go to a basketball game. I was unable to go. Now skip ahead to August of 1946. Carol still my best friend, her date Gilmer and his friend came by my folks' home to ask me to go to a rodeo with them. I went out to the car and who was sitting behind the steering wheel but Chuck.
"Third time must have been the charm. We started dating, became engaged in April 1947, married Jan. 18, 1948. Oh a post script, Carol married Vernon August 1950 (They settled in Corvallis). Those Picking boys were charmers, and persistent, too!"