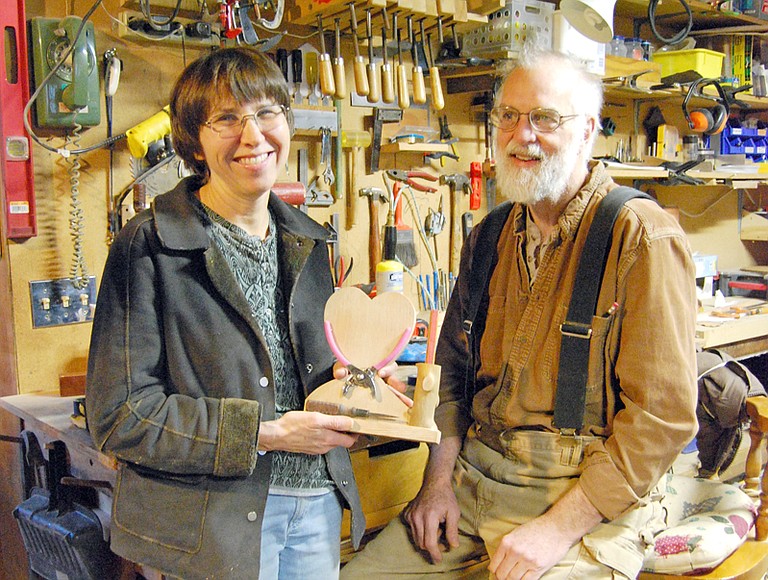 Tuesday, February 12, 2013
Standing amid the sawdust-laden benches under a bower of woodworking tools, Deb and Dan Baxter of Hood River exude the calm confidence, directness and easy manner of longtime work mates — a perfect analogy for their marriage of 30 years.
"We both just stay busy," said Dan on one of the secrets of their romance. "And, she puts up with me. If we get testy, we back off and come back at it later."
"We've learned to work together but not on the same thing at the same time. We work independently but near each other," said Deb. "We don't get in each other's space. We like to collaborate but also let the other person do things how they want to."
"And I tell myself to shut up and listen — a lot," said Dan.
"We both do," said Deb. "We have learned to accept that the other person wants to do things differently."
"We both have learned to say, 'This is a person with skills and knowledge that are different than mine and I should step back and listen,'" said Dan.
The Baxters are not just speaking symbolically about marriage, they have plenty of literal application of their philosphy.
Dan, a retired teacher, runs his own Etsy-based woodworking shop — Baxter's Bentwood — and Deb is a civil engineer who designs and supervises interior space configurations for ships and boats.
In addition to their respective employment, the pair has built a pair of finely crafted kayaks plus a bevy of coat racks, shelves, tables, cabinets, hall trees and exquisite musical instrument stands using their combined knowledge and skills.
The Baxters have also raised two children, MacKenzie and Ian, who are in the process of finishing their college degrees, and have started several small businesses together including a native plant nursery and an RV rehabilitation/rental company.
While the couple's partnership has matured over time, their first date was also fairly symbolic of their life ahead, and their ability to work well together and stay focused under life's challenges.
After meeting the night before, the pair set out for a day of sailing a small boat on a deep lake. That date ended up with Dan in the water for several hours helping to right another group's capsized boat during an incoming storm.
Deb tacked their own boat nearby for the duration, and helped Dan back onboard, bringing the two of them safely back to the docks after the rescue against the incoming gales. Not a bad way to glimpse how life might be together in the years to come.
"Yeah, it was a great way to impress her," said Dan.