Friday, February 15, 2013
Terrible Buttons at Trillium Cafe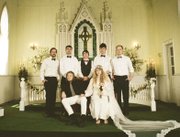 The Terrible Buttons, an indie-folk band from from Spokane, Wash, features band leader Kent Ueland. His 7-piece touring band will make a stop in Hood River at the Trillium Cafe on Monday, Feb. 18, starting at 10 p.m. The band just spent a month touring Alaska and is set to release a CD entitled "Runt." Visit the band on Facebook or go to www.terrible
buttons.com for more information. Trillium Cafe, 207 Oak St., Hood River, 541-308-0800.
'Acoustic Crepe' at North Shore
Musician Mark Daly will play on Sunday, Feb. 17, during the North Shore Cafe's Acoustic Crepe Sunday music series, 8 a.m. - 12 p.m. North Shore Cafe, 166 East Jewett Blvd, White Salmon Wash., 509-493-1340.
Barlow Road on tour
Mark your calenders to catch Amerciana specialists Barlow Road this month, heading to a venue near you:
Clock Tower Ales in The Dalles on Friday, Feb. 22, from 9-11 p.m.
Band members Kerry Williams and Matt Mesa will be playing at the Naked Winery in Hood River on Saturday, Feb. 23, from 7-10 p.m.
Jug band plays at Solera Feb. 23
Enjoy live music at Solera Brewery in Parkdale during the month of February:
Saturday, Feb. 23, 7 p.m. Liberty Bond Jug Band - Pan-fried, ghost-town, jug-stomp blues. Apple Valley BBQ will be on hand. Solera Brewery, 4945 Baseline Dr., Parkdale; 541-352-5500.
'NW Harmony' at Gallery 301
The Gallery 301 presents North West Harmony, a new alternative folk-rock band. Singer Amber Nelson has put together a band with Rob Guidera, George Bentz and Glen Holmberg. Join them Saturday, Feb. 16, from 4-7 p.m. at The Gallery 301, corner of Oak and Third, downtown Hood River. 541-436-0281.
Transcendental Brass at Double Mountain Feb. 16
The Transcendental Brass Band plays the Double Mountain Brewery on Saturday, Feb. 16, from 8:30-11 p.m. Hailing from Portland, the TBB plays "Freestyle Street Funk," NOLA meets Fela and Jimi "In the tradition."
They have a new CD called "First Take," which is getting airplay on radio KMHD, KZME and KBOO.
The Oregonian says "A touch of funk, a smidge of jazz, and some sprinklings of ska, hip-hop and freeform pop." Double Mountain Brewery, 8 Fourth St., Hood River; 541-387-0042.
James Apollo at CEBU Lounge
This week at CEBU Lounge:
Friday, Feb. 15: Redwood Son w/ Copper & Coal, 9:30 p.m. – West Coast Americana
Whether or not the name and music of Redwood Son has yet hit the big radar, 2010's "Best New Artist" of the Portland Music Awards is on the rise. Their 20 Song double-disc debut, "The Lion's Inside," boasts a dynamic versatility that crosses the borders of their West Coast Americana with hook-laden roots-rock and alt. country.
Saturday, Feb. 16: James Apollo & His Sweet Unknown, 9:30 p.m. – Troubadour of Roots-Rock and Roll Saavy
Apollo's album "Little War, Little Less" is a touching mix of riotous western themes, dusty melodies, 50s soul and the kind of loneliness that only a room full of strangers can account for. Best Western Hood River Inn, 1108 E. Marina Way; 541-386-2200.
Music at White Buffalo Feb. 21
The MacMillan, McAlexander and Bell Trio will be performing an evening of original compositions by Jim MacMillan from 6-8 p.m. on Thursday, Feb. 21, at White Buffalo Wines and Bistro in Hood River. White Buffalo Wines, 4040 Westcliff Dr., Hood River; 541-386-5534.
Storm Large plays Columbia Arts benefit
Columbia Arts is proud to present "An Evening with Storm Large" on Saturday, April 13, at 8 p.m. at Columbia Center for the Arts in downtown Hood River. Tickets are $75 and all proceeds benefit the Arts Center's education and performance programs. Guests will enjoy an intimate performance by the incomparable Storm Large and her band plus the opportunity to meet her after the show as she signs copies of her bestselling memoir, "Crazy Enough."
Storm Large has been singing around the world for over 15 years and living in Portland for the past seven. Her band, Storm Large and the Balls, achieved cult status soon after forming in 2002. These days she can often be found performing with the band Pink Martini. Storm gained national fame in 2006 when she appeared on the CBS TV series Rock Star: Supernova. In 2008, she spun her book, "Crazy Enough" into a stage show that played to sold-out houses at Portland's Center Stage. In May, she travels to New York to play at Carnegie Hall – yes, that Carnegie Hall.
Tickets can be purchased at the art center or online at www.columbiaarts.org.