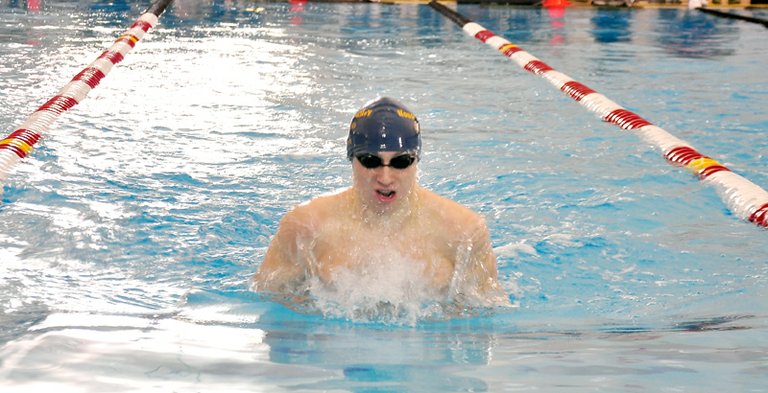 Tuesday, February 19, 2013
Connor Webb ended his high school swimming career with a pair of top-five finishes at the OSAA state swimming championships Saturday.
More critical for the Hood River Valley High School swim team, he ended it with some company.
For the first time in Webb's career at HRVHS, the Eagles took more than one male swimmer to state.
The Eagles sent a total of 10 boys to the state meet with six of them taking part in the competition.
"We've got close to 20 (total on the boys team) now, and the girls have grown too, but with the guys it's a huge improvement," Webb said. "I hope it stays that way."
It was the first time since 2008 that the team had sent more than one male swimmer to state.
Webb qualified for the finals individually in the 200 IM and 100 breaststroke, and the boys 200 medley relay team also made the finals.
Webb faced a tall task in the finals of both of his events, facing Summit swimmer Tommy Brewer. In both, Brewer set 5A records.
Knowing that he would have to blow away a record time to win the races, Webb said he wanted to focus on going as fast as he could.
"I just wanted to see how fast I could go and swim best times," Webb said. "I wanted to get under a minute in the 100 breast and I did that yesterday, and then did it today and I dropped some time in the IM — it's been a good meet."
Webb finished second to Brewer in the 200 IM with a time of 1:56.80 and then took third in the 100 breast behind Brewer and Daniel Lupro of Liberty with a time of 59.91.
The HRV girls finished fourth in the 200 medley relay, using fast finishes by Dhani Freeland and Kayla Schilling to hold off Marshfield and Sherwood with a time of 1:57.38.
HRV coach Keith Ebbert said Freeland swam during the meet with a temperature of over 100 degrees, and noted that if she had not been able to go he would have needed to dip into his pool of alternates, showing how important even the swimmers who did not compete were to the team.
The HRV girls 400 freestyle relay team got a huge swim from Kylie Webb in the anchor leg to overtake two teams and finish fourth in that event, only to wind up disqualified after the race.
Schilling, who participated in both relays and also swam individually in the 50 freestyle preliminaries, said she was proud to see the growth in the girls team over her four years and hoped for a bright future.
"This is such a great group," she said.
The Eagle boys 200 medley relay team qualified for the finals and finished sixth with a time of 1:46.42 with the team of David Walker, Webb, Charlie Sutherland and Diego Ybarra.
"One of the most special things about the season was that the boys got in (to state) on a wild card and were able to get into finals," Ebbert said.
Competing in the preliminaries but not qualifying for finals were: Freeland in the girls 200 freestyle with a time of 2:13.61; Kylie Webb and Danielle Miller in the girls 200 IM with times of 2:18.71 and 2:20.20, respectively; Schilling in the 50 freestyle with a time of 26.50; Charlie Sutherland in the 100 butterfly with a time of 58.26; Carlos Galvez in the 500 freestyle with a time of 5:36.83; the girls 200 freestyle relay team of Schilling, Rebekah Galvez, Caitlyn Fick and Freeland with a time of 1:48.10; Miller in the 100 backstroke with a time of 1:03.06; David Walker in the 100 backstroke with a time of 58.69; Kylie Webb in the 100 breaststroke with a time of 1:12.14; and the boys 400 freestyle relay of Webb, Thomas Tyynismaa, Diego Ybarra and Walker with a time of 3:34.41.
"Our sophomore and freshman groups are really large," Ebbert said of the team's potential to send back an equally large group to state next year. "We've got a wonderful base to work off of."