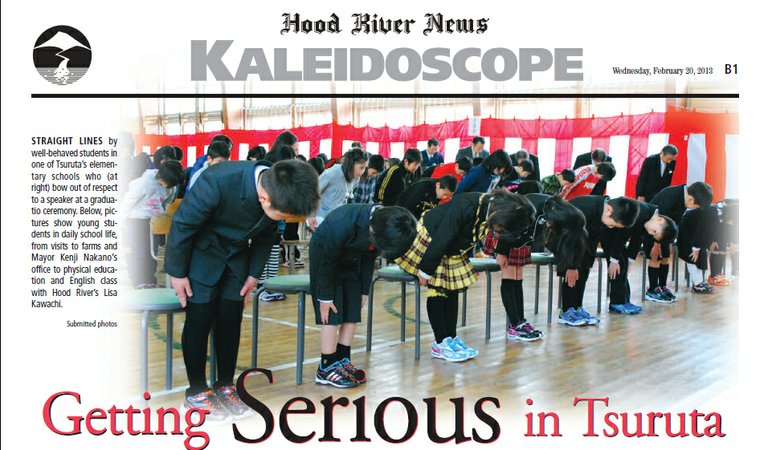 Tuesday, February 19, 2013
(Editor's note: Hood River native Lisa Kawachi is currently about six months into her term as the Hood River-Tsuruta Sister City program's Coordinator of International Relations. The job has existed for more than 20 years and places a Hood River resident in Tsuruta full-time to live and work among the townspeople. A big part of the job is teaching English to the town's children.)
I have now passed the six-month mark of my time here in Tsuruta, Japan, as the Coordinator for International Relations for the Hood River-Tsuruta sister city program.
While living and working among the people of Tsuruta, my job is to facilitate and help foster the relations between Hood River and Tsuruta. Along with that, one of my chief responsibilities is to teach English to the children of Tsuruta. I teach at six elementary schools and seven kindergartens in total, and the more I teach, the more I continue to be surprised with Japanese students and the methods in which the schools operate.
There are of course significant differences between our educational systems when it comes to subject matter, requirements and the like, but even just the day-to-day happenings take me by surprise.
The children I teach range in age from 3 to 11.
Japanese children are taught formalities and etiquette that I've never seen in children at such a young age. They exude so much responsibility and sense of respect.
On a normal day, my English classes officially begin with the student leader settling the class into place and addressing the teacher to announce that the class is ready to begin. The students' desks are cleared and they sit in their chairs, feet together and hands kept neatly folded on top of their desks. If a student is unready for class or sitting inappropriately, the lesson comes to a halt and everyone waits patiently in silence for that student to correct him-or herself.
When I collect papers, they are straightened and presented to me with two hands and a courteous bow from the students. At the end of the lesson, they erase the blackboard for me and help me gather my coat, magnets, flashcards and anything else we have used. Sometimes as I'm rushing to cram all my materials in my bag, I have the distinct feeling they are looking at me with amazement at my disregard for order and neatness. I try not to let it faze me too much as I scurry on to my next class, papers and stickers trailing behind me.
The order, neatness and cleanliness of things are very important to Japanese culture and students learn at very young age that they are ultimately the ones responsible for the state of their classroom and school. A great example of this is the fact that elementary school students are required to clean the school daily. Students are each assigned sections of the school and there is a special time allotted in the afternoon for cleaning.
The students clean everything from the classroom backboards to the bathroom floors. There's no squabbling or attempt to get out of the cleanup; everyone simply does the work they are expected to do.
For the most part there is no school employee who has cleaning responsibilities. A custodian is in charge of maintenance issues and groundskeeping, but does not clean as part of his or her daily tasks.
Another responsibility the students have is to serve their own lunch. Meals are made by the kitchen staff, but when it's time for lunch, four or so students from each classroom report to the kitchen dressed in white kitchen uniforms to carry the food back to their classrooms. Students do not eat in a cafeteria. No such room exists in a Japanese elementary school.
The students bring a pot of rice, other containers of food and dishware into their classroom and then evenly divide and serve lunch to their classmates. After everyone has finished, the class cleans up and returns the dishes back to the kitchen.
One thing I really commend about the culture here is the relationships between the younger and older students. Japan puts high importance on fostering big brother/big sister relationships. These student elders are called "sempai" in Japanese. All the students within the school know one another and there is a clear sense of community within the school. The younger children (kouhai) show their respect to their senpai and in return the senpai look out for and provide guidance to the kouhai.
The establishment of this relationship starts almost immediately as the first-graders begin their school careers. At the entrance ceremony for elementary school, a representative from the sixth-grade class delivers a speech and officially welcomes them to the school.
First-graders also receive a special yellow case to cover their book bag and a yellow hat. These two items are meant to recognize the first-graders and to tell others that these children are young and just starting out, so please support them when you see them.
This support that the students get from their peers is apparent everywhere. Wherever you look the ages of the groups of students are always intermixed. Yes, the students are all divided by grade, but yet they are all there talking and playing together and helping one another out.
The differences between Japanese and American cultures become extremely apparent at school ceremonies. There are two significant events in elementary school life. The first is the entrance ceremony for the new first-graders and the second is the graduation ceremony for the sixth-graders. These ceremonies are of course a time of celebration, but they are quite different from what Americans are accustomed to.
As speeches are given, there is an sense of staunchness and rigidity to the ceremony. It is a joyous event, but you would be hard-pressed to find anyone smiling or looking overjoyed. There are strict rules of conduct that the students must abide by and no one strays from these norms.
There are a great number of speeches given at these ceremonies. The mayor of Tsuruta and the parent teacher association president are among the honored guests who are invited to deliver speeches and words of encouragement to the students. The students stand or sit in straight lines with their hands at their sides or resting on their laps. Their feet and knees are together and everyone looks ahead attentively without any idle chit-chat or whispering.
It amazes me that there is no movement from the group. They stand or sit motionless for such a long time. There is no fidgeting and no smiling. Everyone acts appropriately. This behavior is what I would expect to see at a military service commendation or something of that nature, not at an elementary school celebration ceremony.
Despite the formalities and rules, I have never been around a more friendly culture. I get to sing, dance, play, and share my culture with students every day. They shower me with handmade crafts and drawings and are constantly trying to add Japanese vocabulary to my repertoire.
My experience teaching children both in the United States and Japan has made me realize students, regardless of their nationality, share at least one thing in common: When it comes down to it, kids are kids. They play, they laugh, they act silly and they have fun, no matter what they're doing. When the time comes to have fun, Japanese children can definitely let loose regardless of their structured environment.
In Japan, though, there is definitely a time and place for such.