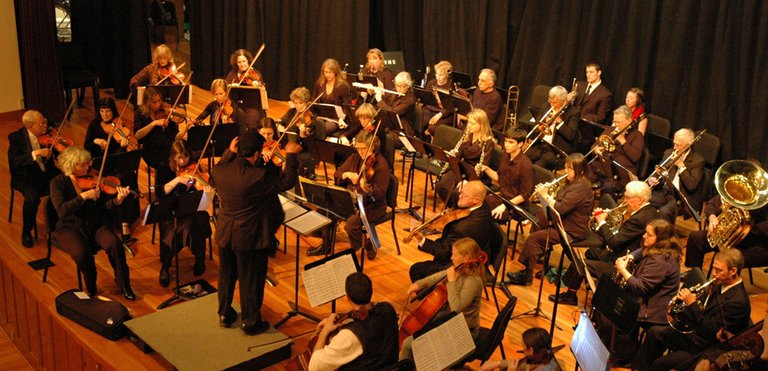 Tuesday, February 19, 2013
Music has always played a part in stirring up patriotism in the hearts of humankind. Two Columbia Gorge Sinfonietta concerts slated for this weekend will explore that phenomenon through their presentation of "The Heroic Spirit in Music."
On Friday in The Dalles Civic Auditorium and Sunday at Wy'east Middle School performing arts center, the 45 musicians of the Sinfonietta, under the direction of Mark Steighner, will offer an array of musical perspectives that explore this theme.
Featured pieces include "Fanfare for the Common Man," by Aaron Copland, "La Peri" by Paul Dukas, Symphony No. 3 (Eroica), by Ludwig van Beethoven, and "Concerto for Viola," by George Phillip Teleman featuring soloist Jim Garrett.
According to Steighner, Garrett attended the San Francisco Conservatory of music and studied under Leonid Gesin, one of the founding members of the Shostakovich String Quartet. He has played in many regional orchestras and was the principal violist for Americas Vancouver Symphony Orchestra from 2000-2008.
"It is rare to feature a viola as soloist; they tend to be the hidden middle voices of the strings," said Steighner. "We are thrilled to be able to share Mr. Garrett's evocative musicianship with our community."
Steighner offered some additional details on the concerts.
"The Beethoven symphony is a huge challenge — technically difficult, structurally intricate — and requires an immense amount of focus and concentration on the part of the orchestra," said Steighner.
"Beethoven's third symphony ("Eroica") is a monumental piece," he said. "It is really the first symphony in which music is used to represent something more than itself — the struggles, passions and sorrow of humanity.
"George Phillip Telemann was a contemporary of J.S. Bach, Handel and Vivaldi. His many concerti are models of elegant Baroque design and melodic invention, and he was one of the few 18th century composers to feature the viola in a solo role.
"La Peri" is the opening fanfare from Paul Dukas' ballet by the same name. The music combines late Romantic harmony with French impressionism and colorful harmonic elements."
Steighner credits Hood River and the Gorge residents with the long-term success of the Sinfonietta.
"All communities are, in part, defined by the depth and breadth of the arts that thrive and are supported. The fact that the orchestra has existed for over 35 years suggests that our community is committed to preserving an important cultural institution, and recognizes its value," he said.
A $10 donation is encouraged at the door. Performances are Feb. 22, 7:30 p.m. at The Dalles Civic Auditorium, 323 E. Fourth St., and Feb. 24 at 1:30 p.m. at the Wy'east Middle School performing arts center (behind the gymnasium), 3000 Wy'east Road, Odell. Both facilities are handicapped-accessible.