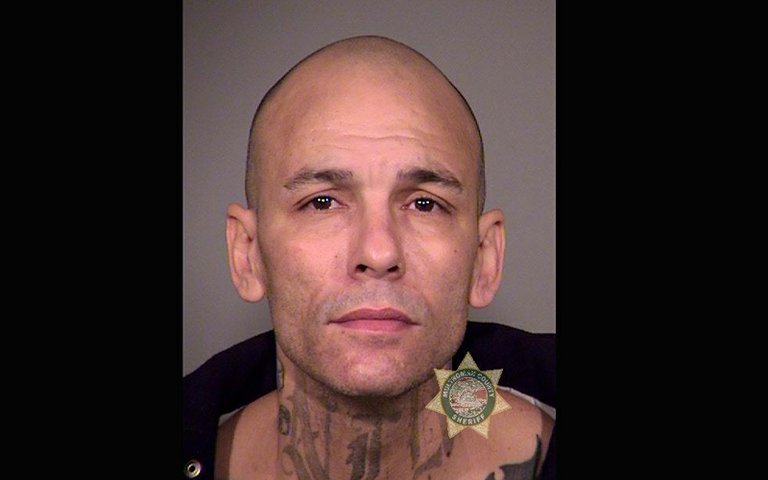 Tuesday, February 19, 2013
Just after 11 p.m. on Feb. 17, Hood River Police Officer Jacob Ferrer responded to a reported theft of a pickup truck from the 600 block of 30th Street. The man later turned out to be a suspect in a Portland bank robbery.
"The woman called 9-1-1 after seeing her Mazda B2300 truck driving away from her house," said Sgt. Stan Baker. "It was unlocked and probably had the keys in it."
The suspect, identified later as Roy Binion, 44, of Bloomington, Calif., escaped with the stolen vehicle and headed westbound on I-84.
According to Baker, the victim is related to Binion and acknowledged a previous incident in January in which Binion, her nephew, took her vehicle without authorization. This time, she decided to press charges.
"Officer Ferrer had dispatch alert everyone in the area," said Baker. HRPD provided a detailed description of the vehicle and a possible suspect name to regional law enforcement.
Multnomah County Sheriff's Office deputies received the information about truck and driver and MCSO patrol sergeant Bryan White parked his vehicle along I-84, just east of Troutdale, awaiting the suspect. He soon located the vehicle at about 12:45 a.m.
White followed the stolen vehicle as it took exit 18 off of I-84 and headed toward Lewis & Clark State Park.
Within a few minutes, two additional Troutdale police officers joined White and a traffic stop was initiated on East Columbia River Highway, just west of the Troutdale bridge.
The vehicle accelerated quickly and was soon traveling at an unsafe speed. The pursuit was terminated near downtown Troutdale, but the vehicle was soon spotted again by officers near the Troutdale Airport.
Troutdale officers observed the vehicle drive into a business parking lot on N.W. Graham Circle.
Binion, in the stolen vehicle, then drove through a cyclone fence and onto a field behind the business. He continued to travel eastbound back onto N.W. Graham Road on the north side of the Troutdale Airport.
The suspect eventually crashed into a concrete jersey barrier at the intersection of N.W. Graham Road and N.E. Harlow Place. He then fled the vehicle on foot and was quickly apprehended by MCSO deputies and TPD officers.
Shortly after Binion was taken into custody, the Portland Police Bureau notified MCSO that Binion was wanted for questioning related to a bank robbery that occurred in Portland.
Binion was booked at the Multnomah County Detention Center on a series of charges including: unauthorized use of a vehicle, felony attempt to elude, misdemeanor attempt to elude, reckless driving and criminal mischief in both the first degree and second degree.
No additional details are currently available on the robbery.