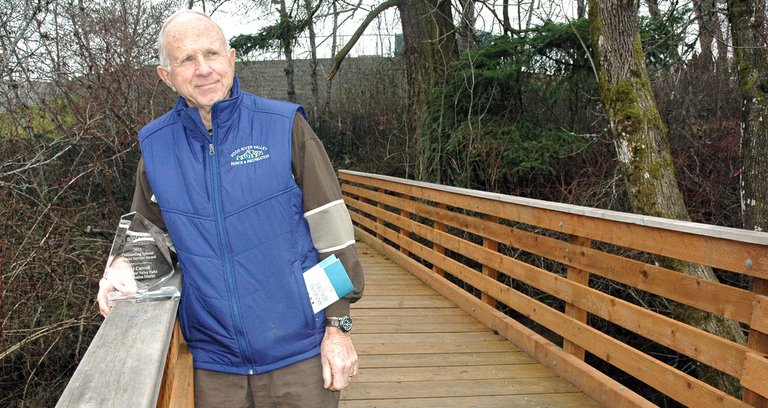 Tuesday, February 19, 2013
For his dedication to local recreation, Art Carroll of Hood River recently won his second state award in just over two years.
Carroll received the State Special Districts Service Award Feb. 9 at the Marriott Hotel in Portland during the Special Districts Association of Oregon conference.
The honor recognizes an individual manager, staff member, board member or volunteer who has "contributed substantially to the improvement and successful operation of his or her district." Special districts are local taxing districts providing fire protection, library, water, conservation, parks, sanitation and other services.
In 2011, Carroll also won the Doug Newman Volunteer of the Year Award from Oregon State Parks.
Carroll, a Hood River Parks and Recreation District Board member since 1999, "worked diligently to improve the quality of life in the Hood River Valley Parks and Recreation District," according to District assistant director Scott Baker, in nominating Carroll.
Carroll's main focus for the District is on trail design, location and development. This involves obtaining easements and working with other state and local agencies to fulfill requirements. This interaction includes city and county planning departments, state agencies, Hood River Watershed Group, ODOT and many others that need their specific guidelines followed.
"Art's years of work experience with the U.S. Forest Service and the Columbia Gorge Scenic Area has prepared Art to be one of the most valued board members for our Park District," Baker wrote.
Some of Carroll's accomplishments for the District include:
n Obtaining official easements on three different segments of Indian Creek Trail;

n Negotiating the purchase of property that was land-locked to enable the District to give the land to the City and receive a trail easement; and
n Working with businesses like Pacific Power and Providence Hospital and Down Manor for easements.
Columbia Gorge Community College and the Port of Hood River were players in a land swap that was coordinated by Carroll; allowing for a trail easement on the college property. Coordination of a grant through State Parks was installed on an easement through the Indian Creek Golf Course. This bridge was appropriately named the "Carroll Crossing" in honor of his hard work and dedication.
"I was impressed,' Carroll said with a laugh when asked what he thought of getting the award. "I wasn't impressed with myself as much as I was with the event they had on. Their conferences are like training sessions.
"I attended three of the sessions during the conference and one of the things that was really educational in a very positive way was the presentation of the awards," Carroll said, noting that the winners' works were documented on video and projected for the 300 people in attendance.
He said the SDAO is a critical organization to the Parks and Rec District.
"We rely on them, when it comes to questions about liability, insurance, taxing, authorizations; we don't know the answer, but we've learned as a board that the (SDAO) people do," Carroll said. "They've been a great resource for us, and a significant resource for all these special districts around the state."
Carroll continues to work on trail easements, rights of ways and negations with land owners and other agencies. His project of the winter of 2011 was to undertake the installation of a ADA-compliant trail bridge providing handicapped access from the Community College parking area to segment two of Indian Creek Trail.
In addition to his love of trails Carroll is also a board member with a love of the community and partnerships, according to Baker.
"He has an excellent grasp of the District's role in the community and works to improve the quality of life in the Gorge.
"Art is a task master and not only has outstanding organizational skills but gets out on the trail with picks and shovels and makes trails a reality.

"Ultimately, Art wants people to have the opportunity to have fun!" Baker said.
He said there is no exact accounting of the number of hours that Carroll has volunteered, but said "a conservative estimate" would be over 5,000.
"This estimate is calculated on 14 years of board meetings (576 hours) plus weekly trail projects and communications, price comparisons shopping and manual labor," he said. "Art is instrumental in encouraging golfers to participate in our annual Skate Park Golf Tournament, as well as an avid golfer."