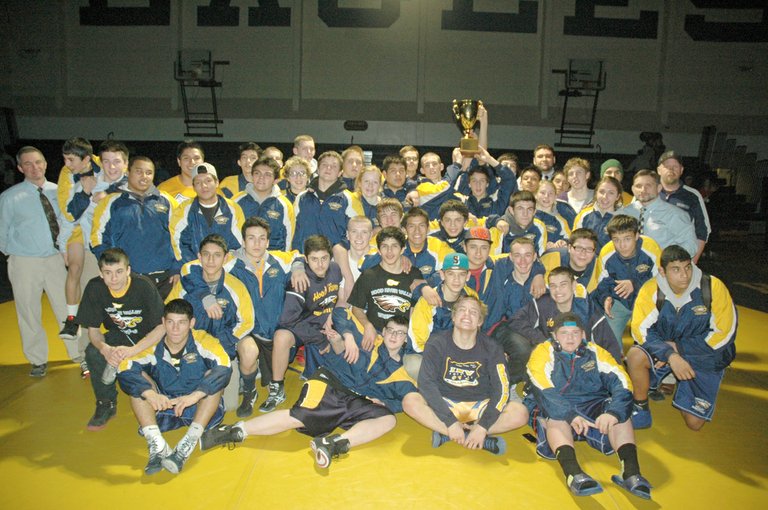 Thursday, February 21, 2013
The Hood River Valley High School wrestling team heads to the 2013 state wrestling tournament with 14 wrestlers, 12 boys and two girls. We are also headed to the Memorial Coliseum with a laptop, camera, video camera -- and a whole lot of snacks.
We'll follow along as Hood River Valley wrestlers attempt to get to the state finals and invite you tag along with us for Wall-to-Wall Wrestling 2013. Stay tuned here for updates throughout the tournament. You can also follow along on Twitter with the hashtag #walltowall13
Wrestling kicks off at 8:30 a.m. Friday morning, and the first HRVHS wrestler should be on the mats around 9:20.
6:45:And that is going to do it for us on the first day of the 2013 state wrestling tournament. I'm going to go check on a few of the consolation matches and will have those results tomorrow morning as we follow Marquez quest for a state title and see if the rest of the Eagles can get to the consolation finals. Also at about 3 p.m. two HRV girls wrestlers, Payton Riggert and Jessica DeHart will be wrestling for girls titles, we'll have that for you as well. Thanks for reading everybody and goodnight from the Coliseum. Be sure to follow on with day two here.
6:05: The HRV hopes for an individual title now rest squarely on the shoulders of Christian Marquez. Every other wrestler which made it to the championship quarterfinals was just knocked out. Nick Morgan fell in 3:09 to No. 1 seed Quinn Dreher of Silberton at 182 pounds. Ramon Ramirez lost to No. 3 seed Mason Montgomery of Ashland at 195 pounds. Ramirez did give a valiant effort to stay out of a pin or tech fall though. Then Juan Karloz Hernandez lost 6-3 to No. 1 seed Steely Smith of West Albany. Smith controlled the match most of the way and while Hernandez starting taking some shots in the final minute, he couldn't get Smith to the mat. All of Hernandez's points came from stalling, an escape and a technical violation. All of the Eagles remaining in the competition (except Marquez) will conclude the evening by wrestling consolation matches.
5:15: Video of Christian Marquez quarterfinals win:
5:00: The Eagles did not have the same amount of luck on their next three attempts to get a wrestlers in to the semis. Andrew DeHart lost a 5-2 decision to Gunner Wyatt of Dallas at 138 pounds, Chaz Peterson lost a 7-3 decision to Austin Kleint of Lebonon at 138 pounds and Cesar Zarate went down by fall in 3:38 to Josh Reyes of Parkrose.
4:15: Christian Marquez is the first HRV wrestler on to the championship semis. He bests Jon Morrell of Sandy with a pin at the 4:37 mark and I believe he will wrestle No. 1 seed Thaddeus Nelson of Marshfield tomorrow morning.
3:40: Here are some photo highlights from the first round of wrestling:
Photo Gallery
State wrestling day 1
Photos from state wrestling day 1
3:15: HRV was in fifth place at end of first round round of wrestling with 19.5 points. Dallas and Hermiston were 1-2 with 43 and 42 points respectively.
3:10: Tyler Wilson just looked very good in a win by fall at 4:35 over Zach Andruss of Redmond in the 195 pound consolation first round. Andruss tried a couple of arm throws in the third round -- trailing 12-3 -- but Wilson was having none of it and got the pin with 25 seconds to go.
2:50: Eagles see two more eliminated in the consolation round. Jeremy Fischer goes down by a fall in in 51 seconds in the 152 pound consoles, while Kyle Weseman drops a 14-2 decision, also at 152 pounds.
2:20: Eagles have first wrestler eliminated -- Junior Rojas at 145 pounds. Rojas was leading James Lutz of Lebonon 4-1 going into final round but promptly gave up three near fall to tie the match. Moments later Lutz got him in a cradle and that was that. More consolation wrestlers coming up shortly.
2:00: Tex Spezia-Shwif wins 126 first round console match 8-0 over Ray Hernandez of Parkrose.
1:35 Spezia-Swiff up momentarily as first HRV wrestler in consoles.
12:50: And the Eagles wrap up the first round by winning three of their final four matches. Morgan wins a 15-8 decision, Ramirez wins a hard fought 7-5 match at 195 over Dustin Ford and Juan Karlos Hernandez crushes Hunter Sexsmith of Parkrose 22-6 for a third round tech fall. Tyler Wilson lost via a fall at at the 1:31 mark in his 195 pound match and moves to the consolation bracket.
11:46: Nick Morgan should be up about noon at 182. He'll be followed by Tyler Wilson and Ramon Ramirez at 195 and Juan Karlos Hernandez at 220. Then we swing into first round of consolation matches.
11:30: That run of HRV wrestlers is done! Seven matches in about 45 minutes. Here are your results. at 138 pounds Peterson and DeHart both advance to quarters. Peterson gets a win by fall in 3:58, and DeHart wins 5-1.
At 145, Zarate wins 7-5. He very nearly got himself pinned late in the third round but managed to hold on for the win. Also at 145 Junior Rojas goes down in a second round fall at 3:03.
At 1:52, Jeremy Fischer has the shortest match for HRV so far, losing by fall in 54 seconds.
Also at 152, Kyle /Weseman does a nice job of holding his own against No. 1overall seed Wyatt Passantino of Dallas before losing 11-3.
10:05: Christian Marquez round 1 win gallery:
Photo Gallery
Christian MArquez round 1 win
9:45 And we have our first HRV wrestler into the consolation bracket Tex Spezia-Swiff drops an 11-0 decision to Kaleb Winebarger of Mountain View. Will have a big run of HRV wrestlers beginning at about 10:22 and going until 11:15.
9:35: HRV off to a good start at Christian Marquez wins in second round pin.
8:47: Other first round matchups for HRV today: 126 pounds: Tex Spezia-Swiff vs Kaleb Winebarger of Mountain View; 138 pounds -- Chas Peterson vs Michael Feltman of Liberty; Andrew DeHart vs. Kyle Gorsage of Putnam 145-- Cesar Zarate vs. Jacob Thompson of Summit; 152 Kyle Wiseman (a late addition as an alternate) vs Wyatt Passantino of Dallas; Jeremy Fischer vs John Luttrell of St. Helens; 182 pounds Nick Morgan vs Brennan Yates of Redmond; 195 -- Tyler Wilson vs Ryan Jurgens of Sherwood; Ramon Ramirez vs Dustin Ford of St. Helens; 220 pounds -- Juan Karlos Hernandez vs Hunter Sexsmith of Parkrose.
8:40: Good morning from Portland Memorial Coliseum! The national anthem has been sung and the first wrestlers are hitting the mats! The first HRV wrestlers, 120 pounder Christian Marquez, should be up in about 20 minutes. He faces Stanfur Lassen of Crescent Valley.