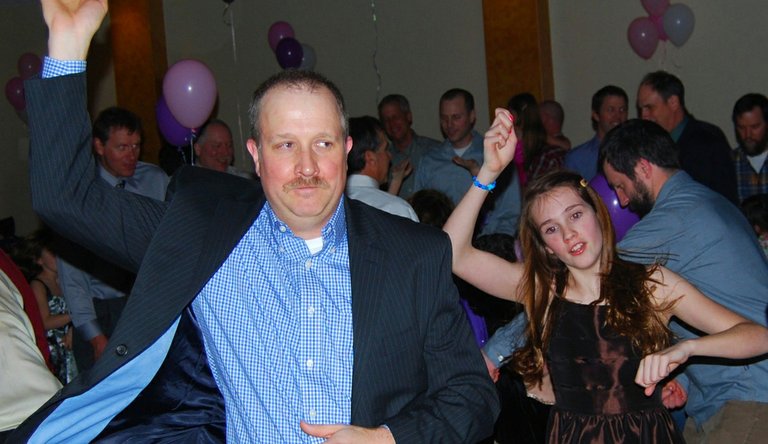 Tuesday, February 26, 2013
With rhinestones, tiaras, feather boas and elegant attire of every kind on full display, more than 150 beautiful young ladies were joined by their fathers, stepfathers, grandfathers and other male mentors at the first-ever YoungLife Father-Daughter Dance on Feb. 23.
"We are already dreaming and scheming for where we can go next year to hold 400 or more people," said Jeff Strong, Hood River YoungLife director and co-coordinator for the event that filled the Elks Lodge banquet rooms to capacity.
As the frills and sparkles of decked-out youngsters electrified the room, the men in the crowd also seemed illuminated by their irrepressible smiles, wild dance moves and overt joy at having the opportunity to share a special event with their daughters.
According to Strong, YoungLife wanted to create the event "to give fathers a chance to invest in their relationship with their daughter." Given the high turnout, it seems that fathers in the Gorge were ready for that opportunity.
The dads and daughters arrived to find music, dancing, snacks, free photo portraits, games and arts and crafts aplenty.
"All research and experience indicates that a father's relationship with his daughter will be the most significant influence on her future confidence, self-worth, image and healthy relationships with men," said Strong.
But the evening held a second purpose. YoungLife is an ecumenical Christian ministry that reaches out to middle school, high school and college-aged kids. Funds from the dance will be used to help local kids get an opportunity to attend summer camp.
Last year 130 middle school students attended the YoungLife camp, held in Antelope on the Washington Family Ranch (formerly known as Rajneeshpuram).
Approximately 60 kids will receive about $50 each toward camp as a result of the dance.
Strong's focus throughout the planning process for the dance was inclusive and many individuals and organizations contributed to make it a success.
"I imagine there were 30 or more people who were directly involved with the event, between committee, leaders, kids and parents. People were excited for this event so it was easy to recruit; not much arm-twisting needed," laughed Strong.
When asked to identify an evening highlight, Strong said, "It was so amazing to look out on the dance floor; watch girls and dads making bracelets; watch them taking pictures; and dads ... writing a love letter. You could see it so clearly that every girl felt so special and valuable. It was exactly what we were hoping for."
"We think it is important to support fathers, and other men with young women in their lives, to build a special relationship," said Jeanine Jacobson, one of the co-coordinators.
While YoungLife serves middle school through college-age youth with its Christian-based outreach programs, the dance event gave special attention to girls aged 2-11 and their father figures. Teen YoungLife members helped set up and serve throughout the evening.
Strong said, "There are a lot of people who donated their time, energy, talents and money — but I wanted to make sure I recognize some of the more significant ones: The Elks Club donated the space and were super hospitable; Billie Jean and Team Olmstead, Brittany Moore, Cheramy Rovianek, Debbie Francis, photographers Nicholas and Pam Bielemeier, Jeanine Jacobson and Diana Wright."

Four YoungLife groups meet in the Hood River area.
For more information contact Jeff Strong at 541-386-5433.