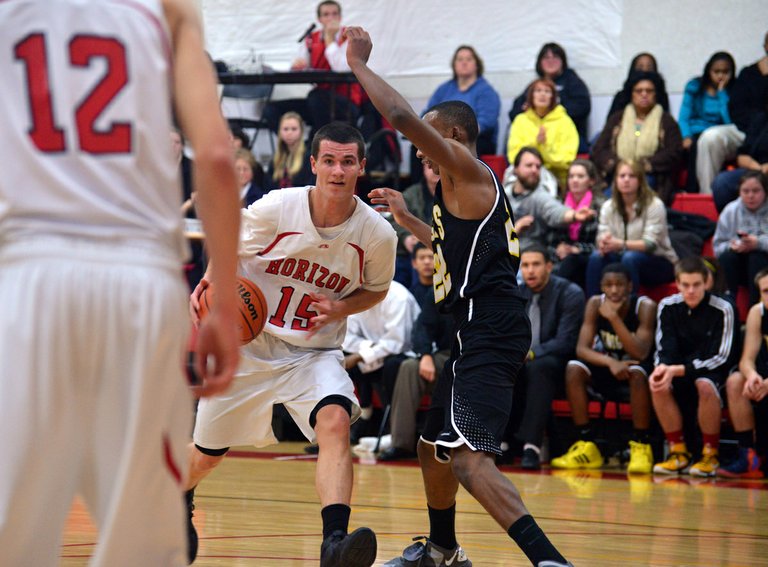 Originally published February 28, 2013 at 10:24 a.m., updated February 28, 2013 at 11:21 a.m.
Horizon Christian cleared the first hurdle in Baker City in its attempt to defend its 1A state title.
The Hawks pulled away from Country Christian in the second half to beat the Cougars 53-42 in the 1A quarterfinals Wednesday afternoon.
Matt Totaro led the Hawks with a double double, pouring in 27 points on 10 of 12 shooting and grabbing 14 rebounds while Levi Lewendowski scored 12 to lead the Cougars.
Horizon's Mason Bloomster was the only other double digit scorer for either side with 11 points and Jake Wells added 13 rebounds.
Central Christian kept it close for a half, trailing by one at the break. The Hawks opened the second half with a 7-0 run. Central Christian managed to get within two at 28-26, but the Hawks then went on a 10-1 run spanning the third and fourth quarters to put some distance between the two sides.
Horizon Coach Darrin Lingel said the first game at state is always a challenge as players adjust to pressure in different ways. Horizon is also riding a 37-game win streak dating back to last season.
"It was a gutty performance; we gutted one out," Lingel said.
Totaro was a force throughout the game; he was the most steady player on the floor when players on both teams struggled with consistency.
"He is the best player in the Big Sky this season and arguably the best player in 1A basketball," Lingel said. "He proved it without a doubt. He was basically our go-to guy. He kept us in the game."
Equally important was Ryan Aldrich's defensive effort on Country's all-league senior Mitchel Cunningham. He was a double-figure scorer during the regular season, but Aldrich limited him to no field goals and two points off of free throws.
"All year Ryan has been a defensive stopper for us," Lingel said. " We always look to Ryan. He gets us going in our defense. He sacrifices his body; he is a very selfless basketball player."
Horizon never trailed after halftime, but Country (20-8) kept within striking distance until the closing minutes behind it's outside shooting. The Cougars were 6 for 20 on 3-pointers, with four different players scoring from beyond the arc.
"We knew that Country was going to shoot a lot of 3s," Lingel said. "I thought we did a pretty good job of containing them. We did a good job of not allowing them to get any runs."
Country also was aggressive rebounding, despite a size disadvantage vs. the Hawks. The Cougars took advantage of 17 offensive rebounds with 15 second-chance points.
Horizon held it's largest lead of 11 points early in the fourth quarter on a three-point play by Totaro before Country stormed back. The Cougars pulled within four points at 38-34 over the next two minutes, but could get no closer.
With the win the Hawks move on the state semi-finals and will face Hosanna Christian at 3:15 p.m. March 1 at Baker City High School. Game audio will be available online, as well as locally on 1340 KIHR.
Hosanna Christian beat Imbler 52-40 in their quarterfinal game. In the other semi final gameCity Christian will face Elkton. City Christian knocked off Columbia Christian 55-38 while Elkton upset Crane 53-38.