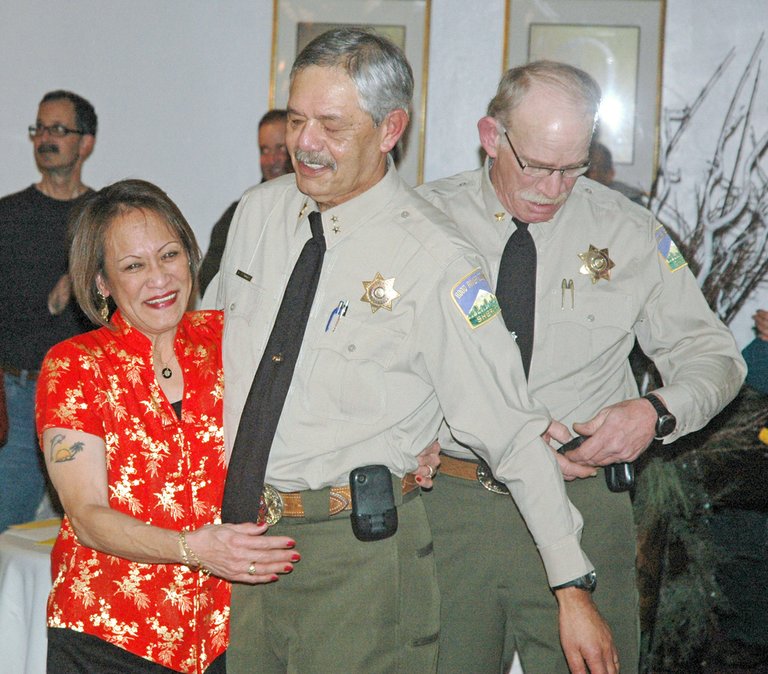 Wednesday, January 2, 2013
Don't say goodbye yet to either Joe Wampler or Jerry Brown.
Officially retired on Jan. 1 (Brown) and Jan. 6 (Wampler), the two law enforcement veterans will maintain their link to the Hood River County Sheriff's Department by serving as reserve deputies, at least through mid-2013.
Wampler, nationally known for his search-and-rescue expertise, will continue to serve the county in that role, partly as airplane search pilot, which in recent years has been a high-profile role for him, both literally and figuratively.
"I thank you all. I'm the luckiest guy in the world in the fact that I've got a job that's got everything a guy would ever want to do," Wampler said. "I got to do all those things, see a lot of crazy things, work with a lot of great people; and for that I am entirely appreciative."
More than 250 people attended a retirement reception Thursday for Wampler and Brown. The audience included dozens of fellow law enforcement professionals, in uniform or civies. County Administrator David Meriwether and Sheriff-elect Matt English presented Brown and Wampler with honors, and Law Enforcement Association President Pete Hughes thanked both men on behalf of the organization.
Hughes said, "Congratulations for your service; we are all very appreciative of all the things you have done. I think there is probably only one member of the sheriff's office who wasn't hired by Joe; that shows you it looks that way because of Joe."
Meriwether said, "I think the number of people who showed up here today says worlds about what everyone in the community thinks about these gentlemen as they retire from many years of outstanding public service."
Wampler started in law enforcement as a seasonal marine patrol deputy in 1973 at age 19, and was elected sheriff 20 years ago at age 38. Brown has worked most of his adult life in public service in Hood River County, including 20 years in law enforcement.
Meriwether said that Brown, after several years in the food and beverage industry — "and that's all he would tell us about that" — went to work in 1977 for four years as executive director of The Next Door Inc., then went to work for City of Hood River police department, reaching lieutenant.
In 2006, Brown came to Hood River County Sheriff as chief deputy "and has served nobly in that capacity and throughout this career," Meriwether said.
"Jerry, I have enjoyed working with you these last years," Meriwether said.
"In law enforcement I've been fortunate to work with Joe, and for me it was a good experience and I worked with some great people," Brown said. "As we leave, were leaving it in great hands. Matt will do a wonderful job and he has great troops."
Wampler praised all three of the chief deputies who have served with him: Greg Sandercock, Dwayne Troxel, and Brown.
"Dwayne is largely responsible for everything we've got, and Jerry Brown; all I have to do is think it and he does it," Wampler said.
"I just got to work with a crew that's awesome. If there is one thing I can say I got to do while I was here, that was hire a great group of guys; not only deputies but dispatchers, and the corrections officers who work in the jail. It was awesome to be able to work with all these people."
Jeff Jakeway, search and rescue coordinator for Mt. Hood Forest for many years, said he knew Joe and Jerry "for quite a few incidents" and served with Wampler on the governor's policy commission for search and rescue.
Robert Wymore of Hood River, a retired physician, said that "a number of years ago my oldest son, Robert, and a friend were hiking and got caught in a snowstorm, and if it hadn't been for Joe and the other search and rescue guys, he wouldn't be here today."
Jakeway said, "His wisdom contributed greatly to our efforts to create the policy throughout the whole state. He deserves a lot of thanks."
Jakeway also worked in a joke about Wampler's renowned abilities as a search pilot.
"I also want to thank Joe for not learning how to land his plane on Mount Hood, because it would have put Portland Mountain Rescue and Crag Rats out of business," Jakeway said.
Meriwether said, "There is now not a finer search and rescue commander in the country. I worked with Joe 11 years and I could not have asked for a finer person, a finer man or a finer law enforcement officer to work with all these years."
He presented Brown and Wampler with glass plaques. Meriwether said Wampler "has dedicated nearly four decades of duty, honor and service to the citizens and visitors to Hood River County, Oregon."
The plaques are imbedded with replicas of their sheriff badges. Meriwether also gave them the first two of the newly minted Hood River County commemorative coffee mugs.
English read the U.S. Congressional Record excerpts from Dec. 18, courtesy of U.S. Rep. Greg Walden, which said that Wampler "dedicated nearly four decades of duty, honor and service to the citizens and visitors to Hood River County, Oregon. He has earned the thanks of a grateful nation, not only for his dedication to service, but also his unwavering commitment to his community."
Walden's Congressional comments said Brown served not only his community but also as a veteran of the U.S. Marine Corps in Vietnam.
"During his time with NDI ... he coordinated weeklong hikes and trips, diligently fund-raised and secured accreditation through the Youth Care Association. His efforts helped form the program into a model for other areas to follow that continues to this day."
English noted that Wampler inherited a fleet of four vehicles that deputies had to share, when he became sheriff in 1993. (Wampler, then assistant police chief, defeated two-term incumbent Dick Kelly in the 1992 election.)
He instituted a vehicle replacement program, allowing every deputy on his watch to drive a dedicated vehicle, improving response time and reducing vehicle maintenance.
"During his five terms the agency acquired much-needed specialized equipment to deal with rural law enforcement, including three airplanes a snow cat, an ATV, mobile command vehicle and trailer, to name a few.
"His personal passion for residents and visitors to Hood River County is an inspiration."
Carroll Davis, of Hood River, served in the old Alpinees group with a young Joe Wampler, and recalled that the sheriff was a student of his at Hood River Valley High School.
"I've known him since he was a kid, and am glad to see he was so successful; and congratulations to him," Davis said.
Meriwether also asked for a round of applause for "someone who deserves all our thanks, for many years of interrupted sleep" — Joe's wife, Charmaine.
In closing, Wampler said, "I appreciate all the support; we've had a great time doing what we do. I'm looking forward to working with Matt and the guys.
"I'm going to miss it," he said, looking over the crowd. "A lot of these guys are people I've worked with; it brings back a lot of memories."
He noted that the department will be shorthanded for about six months, "so Jerry and I offered to go back and take a shift now and then if they need that. We'll be around to fill-in a little bit. After everybody else can't make it, you call us and we'll do it.
"And the search and rescue thing — I'll keep doing that."