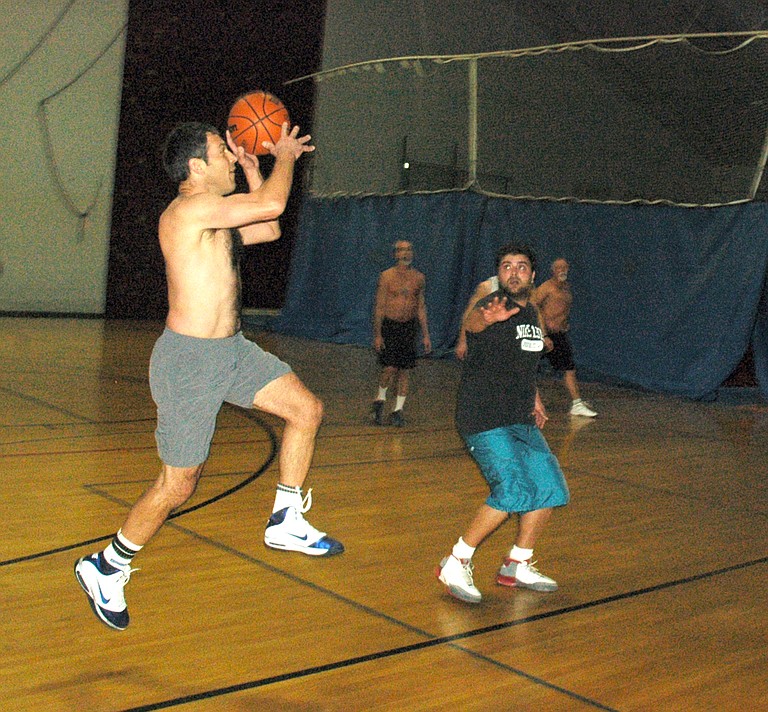 Wednesday, January 2, 2013
The regular crowd shuffles in, to borrow a line from Billy Joel.
But it is 6 a.m. at the gym, not nighttime at some piano bar.
The scene is one of two basketball courts, where the pre-breakfast competition is a friendly mix of "old-guy basketball" and some higher-gear play that the teens and 20-somethings bring.
The shuffling soon turns to drives, dishes and the setting of screens.
At Hood River Sports Club on Fridays, and Horizon Christian School on Mondays, Wednesdays and Fridays, between eight and 16 men, and a few women, regularly start play at 6 a.m.
There are Sunday afternoon games at Horizon, and evening games at Whitson Elementary in White Salmon that draw a Gorge-wide crowd, and other evening and weekend "runs" in Hood River and environs, but a distinct tradition has taken hold in two courts in Hood River in what is fondly called "morning ball."
The Sports Club game evolved from a "cops and lawyers" game, about 15 years ago, with a few of the attorneys including Brian Aaron and Marc Geller still, well, holding court, with a mix of guys who are now three- to six-year regulars, says Pat Graham of Hood River. Ron Phillips, Shaun Anderson and Clark Bryant are among the new glue.
"We play Friday mornings because for a lot of us it works out all right to be a little late for work that day." said Graham, who works at Columbia River Insurance.
Love of the game the two settings have in common, but there are differences. The Sports Club players mostly are club members who use the gym as part of their dues. The game at Horizon started nearly 12 years ago through Community Education, and like the Sports Club "run," it draws an eclectic mix of players who get along great.
Players pay $2 a day with the funds going to the school, and the game is three days a week. The group started at May Street School, and stalwarts including Levi Beckman, Jason Shaner and Joel Ives kept things going through a couple years of perhaps three-on-three before the open gym hit its stride about eight years ago.
When Horizon AD Oscar Stenberg III (a hoopster from way back) heard four years ago that the "run" at May Street court was a bit crowded, he invited the group to rent the newly built Hawk's Nest.
Mainly what sets 6 a.m. ball apart from other hoops is that arguments are rare. Just about the most extreme form of dawn-ball dispute is a long the lines of "No, it's your ball — I definitely fouled you."
There is also a familial quality to morning ball. At Horizon and the Sports Club, dads such as Chris Davis (who plays both venues) and myself have watched our kids Logan and Jared, and Connal, emerge from "little guys" to dominant players.
Friday at Sports Club, Marc Geller brought his son Levi, 13, for the first time. The wheels keep on turning.