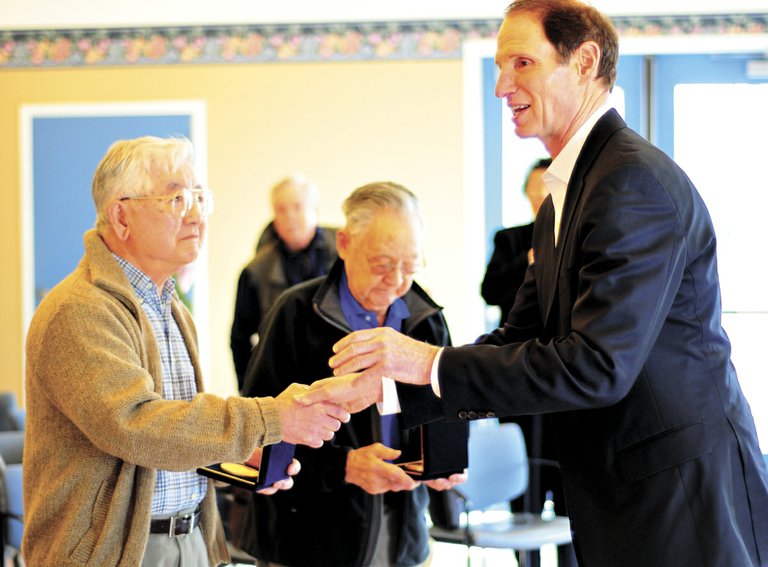 Wednesday, January 2, 2013
Whether you took to the streets against coal trains or fought for the right to ship local water to parts unknown in plastic bottles, the first six months of 2012 provided plenty of opportunities to become part of the local news scene.
Following are selected items from the first half of 2012 found in the headlines and photo essays offered in the Hood River News. Keep your eyes peeled for: Parks (Barrett and cable alike); Walmart growth wrangles; election flurries and ice storm impacts; school district ups and downs with honors paid to Japanese-American residents.
If your favorite topic was missed this first summary, stay tuned for the second half of the year in review appearing in the Jan. 5 issue.
January
n Cascade Locks' dreams of hosting a new tribal casino began to go up in smoke following Gov. John Kitzhaber's election in 2011 and his ongoing opposition to the plan. Port commissioners opted not to extend their agreement with the Confederated Tribes of Warm Springs on a potential land purchase.
n Happy parents Sarena and Nicholas King welcomed a new son, Kieran, on Jan. 3, winning the annual Hood River News/Providence Hood River Memorial Hospital's First Baby contest. The healthy baby boy weighed in at 7 pounds, 11 ounces.
n Former Hood River Police Chief Bruce Ludwig focused his lawsuit against the city down to two employment-related complaints following his termination in 2011.
n Public access to the lower Hood River was restored following two years of deconstruction and restoration work tied to the removal of Powerdale dam.
n The City of Hood River completed a long-awaited facility remodeling and consolidation project. The former city building at 301 Oak St. was sold and all departments housed therein were moved into the rehabilitated City Hall building at 201 State St.
n Pfreim Brewing Company signed a five-year lease with the Port of Hood River to open a brand new brewing operation and tasting room at the newly built Halyard Building across from Waterfront Park.
n With budget reductions forcing students to be bused into Hood River after fifth grade, the Cascade Locks Community School Committee began seeking an option to move Cascade Locks school operations, via a petition process, out of control of the Hood River County School District and into Corbett School District jurisdiction.
n Record-breaking dry weather throughout December and through Jan. 13 led to snow-water equivalent readings on Mount Hood averaging 52 percent of normal. Snow-pack watchers wondered whether the expected wetter weather tied to La Niña would ever arrive. Winter storms began to arrive Jan. 17.
n Hood River Juice Company found itself on the front page following the arrest of company accountant Thomas McDonald, of The Dalles, who was charged with embezzling $225,000 from the company during a four-month period.
n 'Catastrophic' read the Jan. 21 edition front page, featuring photos of ice-covered branches and broken power lines. That was just the beginning of an ice storm made for the record books that covered everything from treetops to water lines. Power poles snapped, homes were cloven in two by falling trees, and the roar and crackle of thousands of local trees breaking under the weight of days' worth of snow and ice kept most residents awake and worried.
n Hood River School District Bus Driver Meredith Cole became trapped under a tire of her school bus on Jan. 17 along Highway 35 after trying to reattach loosened bus chains. Four young students aboard helped secure the bus' parking brake to reduce the danger until emergency help arrived.
n Hood River Citizens for a Local Economy, a nonprofit organization, filed an appeal to the Oregon Land Use Board of Appeals. The group challenged a Hood River City Council decision — overriding a previous planning commission decision — which would allow a 30,000-square-foot expansion of the Cascade Avenue Walmart store.
n 'Perfect Storm leaves big mess' and 'City water supply threatened by slide' were two front page items Jan. 25. Details of damage surveys around the county and city found widespread impacts from fallen trees, mud slides, power and telephone line damage and ice/snow caused travel difficulties. Emergency utility crews and road crews worked around the clock for days to dig out residents. The city water line was found to be in peril from a combination of mud/rock slides and downed trees near its Hood River crossing bridge. Crews worked for several days to cut away threatening trees and to stabilize line foundations.
February
n HRVHS was listed as having the seventh-highest graduation rate for high schools across Oregon — made more remarkable by the fact that more than half of the students at HRV are on free or reduced lunch programs. Most other schools with high graduation rates have low-income student populations closer to 10 percent.
n The election race for the new Hood River County Sheriff began to heat up with candidacy announcements from HRCSO Dep. Matt English and Det. Sgt. Gerry Tiffany. Hood River Police Chief Neal Holste would enter the race later in the year as well. The HRC District Attorney race kicked off with challenger Brian Aaron announcing a run against incumbent D.A. John Sewell for his seat.
n Hood River County agencies filed claims totaling over $1 million in storm costs for FEMA relief funds. Hood River Electric Coop asked for $342,000; the City of Hood River, $336,107; and Farmers Irrigation District, $277,205. Meanwhile, the city finally successfully stabilized the progressive landslide that had threatened city water lines in late January. Assessments on county forest lands found widespread damage and tree loss.
n The Columbia River Gorge Commission hired a new executive director to replace six-year incumbent Jill Arens. Arens announced her retirement and Darren Nichols, former community services division manager for the Oregon Department of Land Conservation and Development, stepped into the position after beating a pool of 72 applicants.
n The City of Hood River and Oregon Department of Transportation reached an agreement on a critical realignment of Country Club Road, ensuring a quick and efficient turn-around on plan reviews at the state level and reimbursements for the city's contractor assigned to the project.
n Cascade Locks gained a valuable tourism benefit from PSU graduate students who created a "Connect Cascade Locks" economic development plan. The students' work will tie together a Gorge-long series of trails and their potential tie-in to increasing visitors and revenue for the area.
n The HRVHS Robotics team Blue Steel took top honors at the Oregon State robotics finals and advanced to national competition.
March
n West side forest trails were assessed for damage. County Forest Manager Douglas Thiesies estimated between 10-12 million board feet of timber would need to be salvage harvested as a result of the January ice storm.
n Adventurous Gorge women formed a new roller derby team, Gorge Roller Girls, and netted a huge outpouring of interest and sign-ups for the rough-and-ready sport.
n The Horizon Christian School Hawks basketball team won the 1A Oregon State title over McKenzie High School.
n The fourth-annual Columbia Gorge Uke Fest brought hundreds into town for lessons, jams and general uke-related merriment March 2-3.
n Hood River County began to plan for the expected precipitous drop in federal timber payments from current $750,000 a year payments to $85,000 a year, as the budget fight raged in Washington, D.C.
n Cascade Locks City Council offered an official apology to former Fire Chief Jeff Pricher after his 2011 resignation, resulting from weeks of pressure and unsubstantiated charges of fire department mismanagement.
n Hood River Fire Department moved into the brand-new Ty Taylor Fire Station on Taylor Street after completing the $4.1-million facility. The new fire hall features larger vehicle and apparatus bays and improved training, storage and office areas.
n The proposed Naito Development waterfront cable park proposal brought an outpouring of testimony during its first public process meetings in March. While details of the project's hotel construction remained relatively untouched by comment, the cable park details drew impassioned proponents and opponents alike.
n Congressional medals were awarded to honor Japanese-American servicemen from Hood River and across Oregon, 70 years after their service to their country. Honorees included: George Akiyama, Sab Akiyama, Taro Asai, Sho Endow, George Harada, Teruo Harada, Tom Hasegawa, Hit Imai, Shig Imai, Harry Inukai, Harry Iwatsuki, Teddy Kawachi, Fred Kinoshita, George Kinoshita, Robert Kinoshita, Yosh Kinoshita, Mam Kiyokawa, Jan Kurahara, George Nakamura, Mark Namba, Koe Nishimoto, Mam Noji, Katsumi Sakamoto, Setsu Shitara, Tom Sumoge, Yoriaki Tambara, Harry Tamura, Mits Tamiyasu, Taylor Tomita, Johnny Wakamatsu, Frank Watanabe, James Watanabe, Kinji Watanabe and Bill Yamaki.
n Providence Hood River Memorial Hospital got the go-ahead from Hood River City Planning Commission to construct a new 48,000-square-foot medical office building at the corner of 12th and May streets.
n Cascade Locks school proponents received bad news from Corbett School District in their attempt to switch districts. Corbett noted that a loss of funds would make operating a school in Cascade Locks an unlikely possibility.
n Sea lions who had become regular visitors and fish diners at Bonneville Dam received a death sentence from federal courts. In a case that pitted Oregon Humane Society members against National Oceanic and Atmospheric Administration staff, a compromise judgement limited the number of animals allowed to be euthanized to just 30, 62 less than NOAA had requested.
n Cascade Locks and corporate partner Nestlé received initial permits from the Oregon Water Resources Board for a water rights exchange that would enable the multinational corporation to bottle water from Oxbow Springs just outside of the city. If finalized, the exchange would allow the City of Cascade Locks to swap ground water from city wells with spring water at Oxbow, a state-controlled resource, to allow Nestlé the option to bottle both ground and spring water at its proposed Cascade Locks bottling plant. Opponents later filed an appeal against the exchange.
April
n The City of Hood River remained locked in a battle with the USDA over previously awarded federal funds earmarked for a water transmission line project in the city. The USDA attempted to revoke $6 million from the project, after alleging procedural errors. The city appealed the revocation and a regional USDA official agreed with the city's analysis. The USDA later reconsidered their position, saying it had been in error to suggest a release of the disputed funds. The case continued under review.
n Oregon State agricultural sales reports were issued showing a sharp rise in sales during the prior year with total sales rising 19.1 percent.
n City of Hood River Planning Commission voted to include the in-water elements of the proposed Nichols boat basin development plan under their jurisdiction and review, opening the way for the contested cable park to meet conditional use permit requirements.
n Post Canyon recreation areas received much needed attention by volunteer and county workers in an effort to reopen the many storm damaged trails.
n The Hood River City Council passed a region-wide, precedent-setting resolution opposing coal export projects that entail transportation through the Columbia River Gorge either by rail or barge.
n Governor Kitzhaber declared he would not intervene on either side of the contested water exchange requested by Cascade Locks and Nestlé. Opponents had petitioned for his intervention to stop the Oregon Water Resources Board from granting the exchange.
n Two democratic hopefuls, Peter Nordbye and Marv Hollingsworth, threw their hats into the political ring seeking the democratic party nomination for Oregon House District 52. Republican Mark Johnson will run for a second term.
n Blossom Fest returned but was stretched over three weekends in April instead of the usual one. Hood River Chamber of Commerce staff declared the expansion a success.
May
n Hood River News' series: 'Acts of Injustice' chronicled local stories of hardship over four issues, in recognition of the 70th anniversary of the internment of Japanese American's in Hood River County during WWII.
n The City of Hood River was sued by waterfront cable park opponents claiming appeal fees charged by the city on land use decisions were a violation of the "Justice Without Purchase Clause of the Oregon Constitution."
n Hood River Planning Commission issued an approval of the Naito Development proposal for a hotel and retail building to be sited in the former Nichols boat basin, following the removal of the contested cable park from the larger project. The cable park component would be submitted through a separate process in future months.
n A May 6 nighttime blaze razed an abandoned house on Hazel Street near Children's Park, eliminating one of the last reputed "haunted" houses from the downtown area.
n A U.S. Geological Survey study was released noting significant toxin contamination of the Columbia River. Hot spots near Hood River were tied to the wastewater treatment plant effluent and included pesticides, pharmaceuticals, mercury, cleaning solutions and flame-retardants.
n Hood River Planning Commission narrowly approved a conditional use permit which would allow the development of a new community park on Exclusive Farm Use zoned lands owned by Hood River Valley Parks and Recreation. The 31.4-acre property is at the intersection of Barrett Drive and Alameda Road.
n District Attorney John Sewell retained his seat in May's election, beating challenger Brian Aaron by 535 votes. Matt English and Neal Holste were set to duel it out in November for Hood River County Sheriff.
n The May 19-20 Rotary Pear and Wine Fest tripled attendance records with music, libations and fruit sampling supporting Rotary charitable activities year round.
n Hood River County School District adopted a renewed teachers' contract and explored how best to proceed with a renewed local option levy that would help stabilize school funding into the future.
n Hood River County budget cuts reduced County Court staff and public window hours.
n Hood River joined Sherman and Wasco counties in selecting PacificSource as their preferred Coordinated Care Organization. Negotiations continue on details of how the Oregon Health Plan will be administered through the CCO model.
June
n Hood River County opts to reject two proposed agreements which would settle a budget dispute between counties using the NORCOR jail facility, forcing ongoing negotiations. Hood River later agreed to pay off prior debts incurred in order to continue negotiations over a longer-term solution.
n Teachers in Hood River County School District agreed to accept no base pay increase for the upcoming 2012-13 school year and a 1-2 percent increase for the following year.
n Summer weather leads hikers into a series of four forest rescue operations in a two-day period along Eagle Creek and Wyeth Trail.
n Hood River County Board of Commissioners took up zoning questions, reviewing proposals to limit sizes and numbers of accessory buildings on private property. Other considerations would affect the legality of vacation rentals outside of city limits.
n A proposed community park off of Barrett Drive hit a roadblock when Fritz and JoAnn von Lubken filed an appeal of the county Planning Commission's approval for a conditional use permit allowing the park. County Commissioners will hear the appeal.
n The voracious marmorated stink bug made its first appearance in Hood River County on June 13, bringing with it serious worries for the agricultural community. MSBs are known to eat every marketable crop grown in the valley and are virtually impossible to control.
n Walmart expansion plans received a blow when the Oregon Land Use Board of Appeals compelled the Hood River City Council to review their previous approval. LUBA noted local municipal codes may have provided direction to terminate the "vested right to expand" claimed by Walmart.
n Opponents increased legal and procedural challenges of the Naito Development proposal for a waterfront cable park and hotel/retail complex at Nichols boat basin. Hood River City Council stepped in to undertake a review of the County Planning Commission's approval of the project and later approved the upland buildings plans.
n Oregon Senators Jeff Merkley and Ron Wyden, as well as Rep. Greg Walden stepped in on behalf of the City of Hood River to support their right to keep USDA federal funds tied to a city water transmission line replacement. The USDA had revoked close to $6 million based on procedural error claims.
n A highly visible clear-cut took shape above the Mosier Twin-Tunnels Trail leading to confusion on who held jurisdiction over the operation. About 30 acres of privately owned timber were taken within the National Scenic Area without prior approval, resulting in protests and multi-agency reviews.
— Compiled by Julie Raefield-Gobbo