Jazz Party at Gallery 301
301 Gallery in Hood River invites you to a jazz party on Friday, Jan. 4, from 5-7:30 p.m. The musicians include:
Alan Taylor (flugelhorn, trumpet, vocals), Dave Henehan (guitar), Dianna Lysgaard (acoustic bass), Mike Stillman (alto and soprano saxophones), Bob Green (percussion) and Susan Crowley (vocals). Come join the fun with music, wine, tapas and fine art. The Gallery 301, corner of Oak and Third, downtown Hood River; 541-436-0281.
DJ Swoop at Pint Shack
On Saturday, Jan. 5, head down to the Pint Shack for tunes from DJ Swoop. The theme for this party is "Foil & Glitter." 10 p.m. - 1 a.m. 21 and over only. The Pint Shack, 105 Fourth St., Hood River; 541-387-7600.
CAST holds 'Hot Tin Roof' staged reading auditions
CAST Theater announces auditions for the staged reading of "Cat on a Hot Tin Roof" by Tennessee Williams on Saturday, Jan. 12, at 2 p.m. and Sunday, Jan. 13, at 6 p.m. in the studio at Columbia Center for the Arts, 215 Cascade Ave.
Auditions will consist of cold readings from the script so there is no need to prepare anything before you arrive.
Rehearsals will begin Jan. 17. The play will be presented as a staged reading March 22 and 23 at 7:30 p.m. and is being directed by Richard Parker.
"Cat on a Hot Tin Roof" first heated up Broadway in 1955 with its gothic American story of brothers vying for their dying father's inheritance amid a whirlwind of sexuality, untethered in the person of Maggie the Cat. The play also daringly showcased the burden of sexuality repressed in the agony of her husband, Brick Pollitt. In spite of the public controversy "Cat" stirred up, it was awarded the Pulitzer Prize and the Drama Critics Circle Award for that year.
The play calls for four women, six men and four children (two girls and two boys).

For more information contact director Richard Parker at 541-490-4398.
'Travesties' premiers Jan. 18-19
The second of four staged readings at CAST this season, the farce "Travesties" by Tom Stoppard, runs Jan. 18 and 19, directed by Gregory Baisden.
Shows are at 7:30 p.m., tickets at the door for $5 per person. Stick around after each show for a "Talk Back" with the cast and director about absurdities, propositions and conundrums revealed by the play, which posits a meeting of James Joyce, Vladamir Lenin and Tristan Tzara (co-founder of the international Dadaist art movement) in Zurich during World War I.
Utah Ballroom Dance Company to perform at Columbia Arts
Columbia Center for the Arts presents the Utah Ballroom Dance Company for a special one-night-only performance of their show "Cinemagic" on Jan. 11, at 7:30 p.m.
"CineMagic" is a theatrical sensation. Hollywood's favorite characters and stories are brought to life with elegant costumes, breathtaking lifts and beautiful ballroom dancing. Audiences are swept away watching the likes of Fred Astaire, Ginger Rogers, Gene Kelly, Judy Garland, Marilyn Monroe and more, dancing to the music from the movies that made them famous.
Tickets for the show are $15 for adults and $12 for students and seniors and are available at Columbia Center for the Arts and Waucoma Bookstore, and online at www.columbiaarts.org. Columbia Center for the Arts is located at 215 Cascade Ave. in Hood River.
Dave Dondero, more at CEBU Lounge
This week at CEBU Lounge in Hood River:
Friday, Jan. 4: Dave Dondero (Austin, TX), Gregory Rawlins (LaGrande, OR), and Grandma Kelsey (Boise, ID) 9:30 p.m. – Triple Bill, Singer-Songwriter Showcase
Dave Dondero (via Wikipedia): In 2006, NPR's All Songs Considered named David one of the "best living songwriters" alongside Bob Dylan, Paul McCartney and Tom Waits. Dondero released four records with the Clemson, SC-based punk/hardcore band Sunbrain (three on Grass Records and one on Ghostmeat Records), before breaking up in 1995.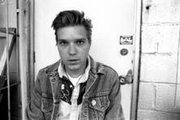 The following year, Dondero joined This Bike Is A Pipe Bomb for nearly two years as their drummer. He left in 1998 to focus on his solo material. He has since released seven solo albums - two with Ghostmeat Records, three with Future Farmer Records and the most recent two with Team Love Records.
His eighth album, titled # Zero with a Bullet, was released on August 3, 2010.
Dondero has toured with such acts as Crooked Fingers, Jolie Holland, Against Me!, The Mountain Goats, David Bazan, Preston School of Industry, Bright Eyes, Tilly and the Wall, Erik Petersen of Mischief Brew, Spoon, and Willy Mason.
Grandma Kelsey (aka Kelsey Swope; via Boise Weekly): Her style is simple, bluesy folk songs strummed on a beautiful Gretsch hollow-body electric, but her timid sincerity is enchanting. Unlike many acoustic acts that melodically mope around heartbreak, Swope's songs cover topics as simple as autumn with an infectious reverence.
As part of her live performances, Swope constructs a shrine in front of the stage featuring candles burning over tokens left by her fans, which include everything from toys and weird scraps of memorabilia to love letters. It definitely sets a mood. And though Grandma Kelsey plays in a style that audiences routinely process as background music, when Swope performs, all eyes are on her, hypnotized by her presence and the sort of sultry melodies that turn mere lyrics into poetry.
Gregory Rawlins: In a world of quick fixes and shock value, one-hit wonders and weekly online sensations, it is a rare treat to hear a songwriter like Gregory Rawlins, a poet whose words are both whittled from the sturdy oak of folk tradition as they are tempered by the modern-day skyscraper. His images dance whimsically, often playfully, yet reveal a landscape littered with subtle truths, dark confessions, and fierce social critiques, placing him among the ranks of musicians John Prine, Bob Dylan, and Townes Van Zandt.
Saturday, Jan. 5: Fulero & Day: A Tribute To Elliott Smith 9:30 p.m. – Acoustic piano and guitar tribute to legendary PDX songwriter Elliott Smith
What started as two friends getting together to play through some of their favorite Elliott Smith tunes ended up turning into a slight obsession. Now with a repertoire of nearly 40 of the gone-too-soon local-hero's songs, the PDX-native duo of pianist Asher Fulero and guitarist Nathan Day are sharing their arrangements of these amazingly beautiful and hauntingly self-revealing musical pieces.
Using only the sparse instrumentation of acoustic piano, acoustic guitar, and two voices, the duo strip the loud arrangements away from some of the later studio gems and add a bit of precision to the older catalog 4-track songs, capturing the brilliance and the darkness of this complicated artist in a way that highlights his true talent: writing amazing songs.
Also, the duo donate a portion of the proceeds from every show to the Elliott Smith Fund, a local non-profit.