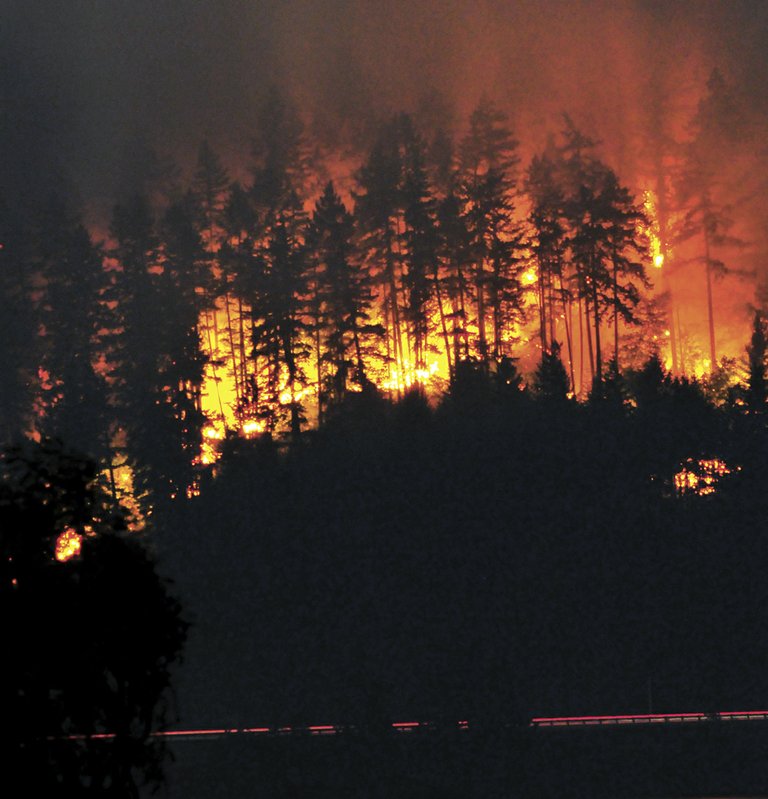 Following are selected items from the second half of 2012 found in the headlines and photo essays offered in the Hood River News. (Part 1 ran in the Jan. 2 edition.)
July
n The Kollas-Cranmer Memorial Run brought out more than 475 runners and walkers for the event's 37th year.
n A coal train derailment along the upper Columbia in Washington state brought home the potential dangers of proposed transport of vast amounts of coal through the Columbia Gorge now under consideration.
n The former City of Hood River office building at 301 Oak Street reopened as an upscale art gallery and wine bar under the supervision of new owners Steffen Lunding and Claudia Lane.
n Maritime Services Corporation filed for bankruptcy, displacing many local employees.
n Jessica DeHart became a national champion in girls cadet freestyle wrestling July 14.
n Seven Hood River Aquatic Center lifeguards worked together to save a 15-year-old swimmer on July 17 and were later honored for their heroism.
n Tanner Brownback, 8, of Hood River, summited Mount Hood with his father on July 21.
n The 16th annual Relay for Life held at the Hood River County Fairgrounds netted more than $68,000 for the American Cancer Society.
n The Hood River County Fair brought locals and tourists out in droves for a welcome summer revel.
August
n A group of Tibetan Buddhist monks arrived in Hood River to share the artistic and spiritual practice of sand mandala painting. The quintet worked from Aug. 7-11 at the Hood River Library.
n Hood River County Commissioners overturned a previous planning commission approval of a new park facility at the corner of Barrett Drive and Alameda Drive. Opponents successfully swayed the board against the park, which would have been cited on high-value farm land.
n Travel agent Sue Collins of Cascade Travel was arraigned on a single felony charge of theft, after already being charged with four misdemeanor counts of theft, tied to charges made by several former customers.
n Hood River County School District Supt. Charlie Beck announced his resignation to take effect June 30, 2013.
n Hood River health care providers organized to create basic health care for uninsured individuals and families. The Gorge Access Program opened through the county public health department with the help of many local physicians, nurses and other providers.
n A new firefighters memorial was dedicated at the Odell fire station, with Louis Bud Mohr and John Hazlett receiving special recognition for losing their lives while in the line of duty.
n Lost Lake Resort changed hands after nearly 30 years under the ownership of Roy and Barb Hillmick. New owners Derek DeBorde and Jason Taylor took over the beloved destination facilities.
n Hood River travel agent Sue Collins lost a small claims case brought by Mark Flaming, one of many former customers who have charged her with funds mismanagement, travel snafus and financial misrepresentations, during their business dealings with her.

n Hood River firefighters joined a statewide team working a series of fires in Central Oregon.
n Timberline Lodge celebrated its 75th anniversary with music and commemorative events between August and September.
n Edgar Rodriguez-Garibo was arrested for stabbing his employer, orchard owner Theresa Draper, while intoxicated. He was nabbed by sheriff deputies after living in the woods for several days after the attack.
n Low rainfall set water restrictions into motion for residents of the City of Hood River.

September
n Former Police Chief Bruce Ludwig reached a settlement with the City of Hood River, dismissing his claims on unfair employment practices in exchange for attorney fee reimbursement and a $75,000 payment.
n Work began on the Ken Jernstedt Airfield runway realignment, permanently closing a section of Orchard Road.
n An unwelcome invader continued its assault on Hood River as new colonies of the brown marmorated stinkbug were detected in downtown Hood River.
n Two fires filled the headlines from the Washington side of the Columbia and left the skies of Hood River full of smoke. The Highway 141 fire near White Salmon was contained relatively rapidly, while a giant blaze on the southern flank of Mount Adams would last for months.
n Bonneville Dam held a 75th anniversary commemoration weekend marking the historic event.
n Cascade Locks hosted the Double Cross cyclocross event at a newly completed loop trail in its industrial park. More than 800 riders inaugurated the race.
n Cascade Locks sought out temporary contracts with the City of Hood River for emergency medical services and a continuation of contracted services from Hood River Fire Chief Devon Wells. City councilors agreed, stipulating that the services must end by Dec. 31, 2012.
n Port of Hood River staff presented commissioners with several options geared at reducing the number of permissible kiteboarding and windsurfing schools hosted on waterfront property.
n The City of Hood River Planning Commission began to consider instituting a ban on future waterfront residential construction.
n An intense blaze along I-84 between Mosier and Hood River, known as the Milepost 66 fire, was successfully contained after four days of coordinated fire fighting. The blaze began Sept. 25.
October
n The former Powerdale Dam site along the Hood River found its banks almost completely rehabilitated with reconstructed landscape and reintroduced native plantings.
n Homecoming week at Hood River Valley High School brought a bevy of spirit and sports activities to students.
n Hops Fest attendance broke a nine-year record as beer enthusiasts descended upon downtown Hood River.
n The Mosier Twin Tunnels Trail fire closed the popular trail while clean-up activities posed continued challenges.
n A new waterfront plan was proposed by Mayor Arthur Babitz and Port Commission President Jon Davies, who developed the concept outside of their roles as elected officials. The Nichols boat basin and Lot 1 were the focus on the proposal, including a public esplanade.
n A 13-acre wildfire was successfully contained in the Eagle Creek area of the Pacific Crest Trail.
n Wine grape growers reported a strong harvest across multiple varieties.
n Providence Health and Services announced the Dec. 31, 2012, termination of its contract with Health Net — one of the largest employer health plan carriers in Hood River. The change would affect county employees and many others.
n The Public Employee Retirement System announced a large rate increase set to commence in the 2013-14 school year. Increased rates of up to 7.65 percent of payroll will cost the school district an estimated $1.6 million per year.
n Proponents and opponents of the proposed cable park at Nichols boat basin reached an impasse when both sides backed away from settlement talks.
n Harvest Fest scored record numbers of visitors in spite of some wet weather.
n Rep. Greg Walden announced his plans to seek the chairmanship of the National Republican Congressional Committee.
n Soroptimist International selected Becki Rawson, Kim Yasui and Dotty Nelson as this year's Women of Distinction awardees for their years-long history of community service.
n HRV took home the league title after crushing The Dalles-Wahtonka Oct. 26; its first league win in 22 years.
n HRV girls cross country team won the district title Oct. 27, edging out Hermiston by three points.
November
n Elections brought a new sheriff, Matt English, to lead Hood River County, and kept John Sewell in his district attorney seat. Mayor Lance Masters lost his Cascade Locks position to Tom Cramblett while Rep. Greg Walden and Rep. Mark Johnson returned to their offices. Hood River Mayor Arthur Babitz was re-elected and Mark Zanmiller joined the city council with returnees Kate McBride and Laurent Picard.
n Hood River County School District students and staff were supported with the passage of the local levy option, providing ongoing funding for necessary programs that faced elimination from statewide budget reductions.
n Two Hood River natives shared firsthand encounters with New York's super-storm Sandy.
n Grace Grim took the gold medal after winning the 5A state cross country title at Lane Community College.
n City of Hood River Fire Chief Devon Wells took issue with a fire insurance industry rating downgrade for his district and began pursuing a re-evaluation.
n HRVHS team soccer made it to the state semifinals but were defeated by Woodburn after an admirable season.
n The 16th Annual Fashion Gala packed the aisles with fashion aficionados whose entrance fees helped fill the charity coffers of the annual Christmas Project.
n HRCSD solicited community input for the upcoming superintendent selection process.
December
n Audiologist Donald McAndie, a former high school teacher in Stevenson, Wash., was arrested on charges of rape and kidnapping.
n West Side residents faced a water contamination crisis after E. coli was found in Oak Grove Water Company supplies.
n Post Canyon bike trails received some much-needed trail rehabilitation following the January ice storms.
n Asbury Methodist Church at State and Sixth streets closed its doors after the congregation merged with Our Redeemer Lutheran Church.
n Hood River port commissioners declined a proposed cable park as part of a larger hotel/retail development at the former Nichols Boat basin, but gave the go-ahead to the $7 million hotel and commercial facilities.
n A weekend of Nutcracker performances marked the Columbia Gorge Dance Academy's 15th year of shows.
n Walmart expansion plans were reviewed and ultimately denied following a LUBA remand to Hood River City Council. A city municipal code provided termination limits on previously claimed "vested rights" for the store's expansion. The decision will likely be appealed again.
n HRVHS students succeeded in collecting more than 124,000 cans of food to support FISH food bank during their December drive.
n Two Hood River residents recounted personal experience at the Clackamas Town Center shooting incident.
n Hood River County School District surveyed security at every school site following Newtown, Conn., shootings.
n Worries over Mayan apocalypse quelled after the Dec. 21 deadline passed.
n Cascade Locks joined Hood River in installing an electric car-charging station.
n Sheriff Joe Wampler and Chief Deputy Jerry Brown retired with honors from Hood River County Sheriff's Office.