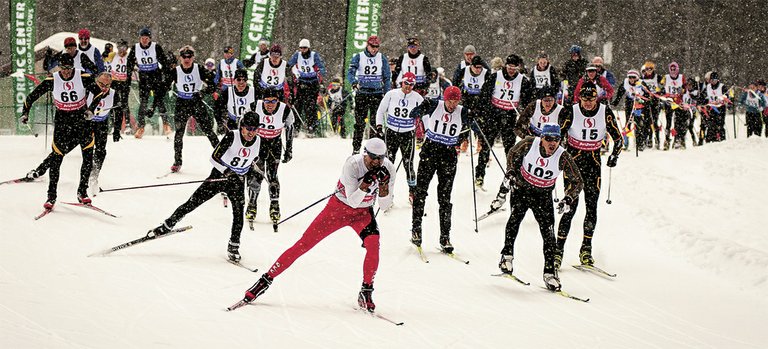 Racers ranging in age from 6 to 70 turned out Saturday for the second Meadows Nordic Series race of the season. With a dusting of fresh snow falling from the sky, conditions were near-perfect for the day's racing action. Among the approximately 70 skiers in attendance, Hood River's Nordic youth program was represented by 10 high school and 15 middle school racers.
First on course were the U10 mini racers, who competed on a shortened 1.5K course. Rex and Max Cordell and Wyatt Burkhardt represented Hood River in the race.
In the 5K junior and high school divisions, middle school racers Elkin Parker and Valery Fischer turned heads with the fastest two times for both divisions. Leading the way in the high school category were Petra Knapp, Delia Dolan and Miranda Starr.
In the most competitive class, the 10K men's 30-39, Sam Cordell and Tav Streit raced neck-and-neck until Cordell pulled away at the end to finish with an 11-second lead. Hood River favorite Doug Beaman led the men's 40-49 division and finished more than two minutes ahead of the next racer. In the 70-plus division, Paolo Gramaccioni proved he can still hang with the young bucks with a course time of 1:08.17.
Top women finishers were Jennifer Johnson and Jennifer Ruth in the 30-39 category, Kathleen Welland, Karen Williams and Kim Anderson in the 40-49 category, Carey McNaughton and Lisa Knapp in the 50-59 category and Pat Ivie in the 60-69 category.

"Meadows Nordic Race department is headed up by Dale Peters, who created an amazing course covering all terrain types," said HRVHS Nordic coach Bonnie Lambert. "There was a lot of climbing in this course, but the long downhill allowed the racers to recover. Dale designed the course with the racer in mind — he knows just how much to push the uphills and balance it out with downhill stretches to allow racers to recover."
The next race of the series is the Jan. 22 Pursuit; a 10K Classic and 10K Skate combined event. There will also be a mini course for kids under 10, and a 5K for the high school and middle school racers. Go to skihood.com for more information about the events and for detailed results.

Lambert credited coaches and volunteers for their help in promoting Nordic skiing, particularly with local youth.
"It's great to see them taking the time to give back and work with the kids; we are lucky to have them in our community," she said. "The kids really benefit from racing alongside and learning skills from them."