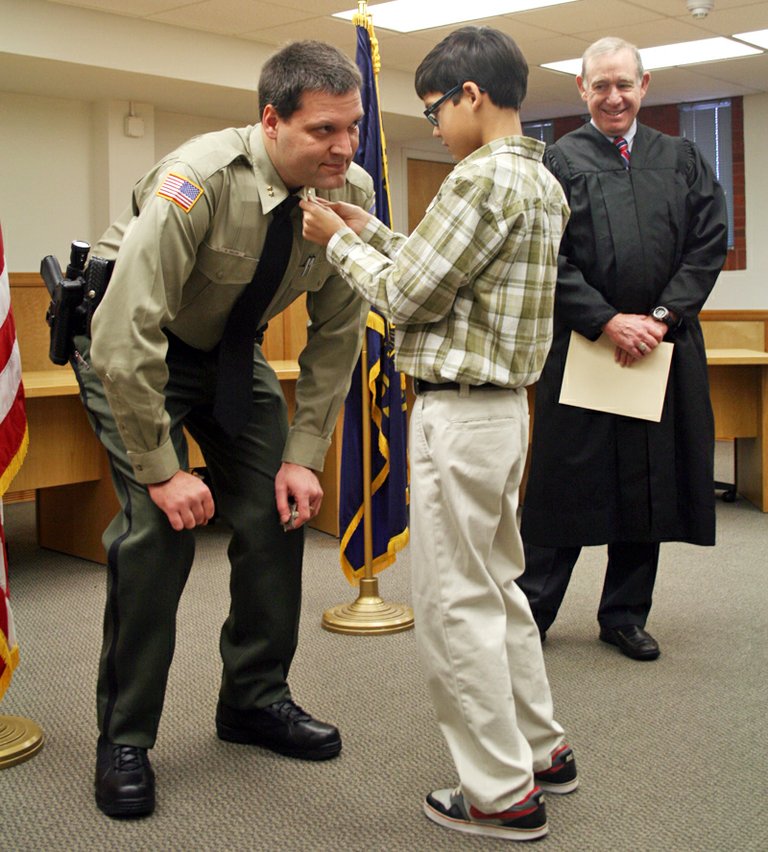 For the first time in two decades, Hood River County has a new sheriff.
Matt English took the oath of office Monday morning in front of family and friends and fellow sheriff's department members and county employees in the county administration boardroom.
Following the oath of office administered by Judge Donald Hull, English officially succeeded Joe Wampler as county sheriff. Wampler, who had served in the position since 1993, was on hand along with the full Sheriff's Office staff and numerous other supporters.
English received his sheriff's designation pins from sons, Ben and Andy, and received his badge from his wife, Robbie.
The new No. 2 man in the department will be undersheriff Brian Rocket, who replaces the retired Jerry Brown.
English defeated Hood River police chief Neal Holste in the November election for the right to succeed Wampler. He has been with sheriff's office since 2000, serving first as a deputy, and eventually rising to detective before being elected as Sheriff.
n
Wampler and Brown will both continue to serve with the county as reserve deputies and help in search and resue operations.
They were both honored at a retirement reception last at Hood River Hotel last week.