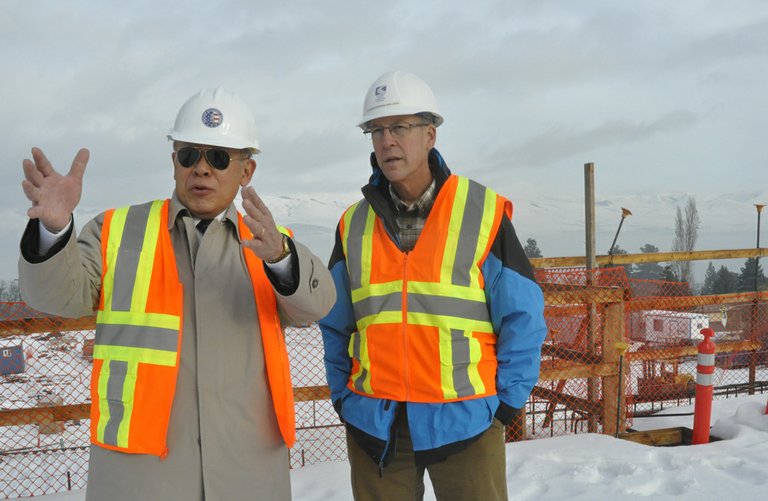 U.S. Rep. Greg Walden, R-Ore., fielded questions ranging from reductions in military funding to "heavy handed" labor regulations and gun control at Monday's town hall meeting in The Dalles.
Walden toured a construction site on the Columbia Gorge Community College campus with Dr. Frank Toda, college president, prior to addressing about 100 people who gathered in the Building Two auditorium on campus.
Other local government leaders helped provide the Congressman with a tour of the work zone where a new National Guard Readiness Center will stand in the near future.
Supervisors from Hoffman Construction of Portland, lead contractors on the $25 million project, explained the layout of the 61,000-square-foot facility on 7 acres at the eastern edge of the campus. The center, funded by state and federal dollars, will also incorporate a lecture hall and classroom space for students and provide conference space for the community.
The development is expected to be completed sometime this fall and will used primarily to train 150 soldiers with Alpha Company, which is based in The Dalles.
"This is the type of thing you can get done when you get everyone working together," said Walden after completing the tour.
He was asked by one audience member at the Jan. 7 town hall if he would support further cuts in military funding to cover the cost of health care and other domestic programs. Walden replied that he had already voted for $400 billion in cuts over a 10-year period during 2011 and another $500 billion was slated to be automatically cut from the Department of Defense budget if Congress and the White House failed to reach a spending reduction deal by late March.
Walden said military funding comprised 20 percent of the total national budget; down from 25 percent 30 years ago and nearly 40 percent in the 1970s. He said during the Cold War, defense had taken a 7.5 percent share of the gross domestic product — the market value of all goods and services produced — but today that share was only 4.6 percent.
"We do still have a war going on," he said. "And half of the Pentagon's budget is used for pay and benefits for those who are standing in harm's way or prepared to go."
He said America, as the last remaining superpower, provided 70 percent or more of the North Atlantic Treaty Organization's defense budget and had a responsibility to protect weaker nations.
"I'm not an isolationist; I don't think we can just pull back and say, 'The world can do without our presence,' although I don't think we can solve all of the problems either, nor should we in many cases," he said.
Walden was asked where he would weigh in on gun control measures that President Barack Obama and other key Democrats are seeking. He said gun laws had already been in place when Adam Lanza, 20, shot and killed 20 children and six staff members at Sandy Hook Elementary School in Newtown, Conn., less than one month ago.
He said the real problem was that Lanza, like other killers in mass shootings, had a history of mental health issues that had not been adequately addressed.
"I think all of us are heartbroken over what happened in Connecticut and has happened elsewhere but gun laws were already on the books that were broken," said Walden. "All of these shooters were not healthy mentally and we need to look at our service delivery system."
He said a federal ban on assault weapons was in place on April 20, 1999, when seniors Erin Harris and Dylan Klebold, both 18, shot and killed 12 students and one teacher at Columbine High School in Colorado. Another 21 students and three adults were injured trying to escape the massacre.
That ban expired in 2004 and Sen. Dianne Feinstein, D-Calif., has vowed to fight for its reinstatement.
"I don't know what will come forward but I would be surprised in the House if much is done to repeal gun rights," he said of the Republican-controlled chamber.
A farmer from The Dalles told Walden that cherry growers had been told to expect the same "extortion" tactics this year that had been used by U.S. Department of Labor inspectors against blueberry farmers during the 2012 growing season. He asked what was being done to remedy the situation where perishable crops were prevented from being taken to market unless the farmer paid a large fine and back wages, almost $170,000 in one case, and signed away his rights to fight an unfair labor charge.
Walden said Oregon's Congressional delegation had yet to get a response to an Aug. 17 letter asking Labor Secretary Hilda Solis for documentation to justify the stringent penalties and apparent due process violations. He said all the affected farmers know is that an inspector determined that it was impossible for one worker to pick as much fruit as was shown in their records.
Walden said what volume can allowably be picked per day by a single employee has yet to be explained. He said it is also unknown why inspectors invoked the provision of federal law known as "hot goods" that was crafted to deal with serious infractions at garment factories around the turn of the century.
Walden said that the regulation was intended to be enacted only in cases where labor violations were "willful, egregious and/or repeated."
"It's like the nuclear option for a labor dispute," he said. "I think it's an abuse of power and we're going to do everything we can to heat it up."
Walden's stop in The Dalles was his first town hall of 2013 and he was planning to cover 571 miles during the week to hold eight more forums. He was also scheduled to visit Sherman, Gilliam, Wheeler, Grant, Umatilla, Morrow and Hood River counties.