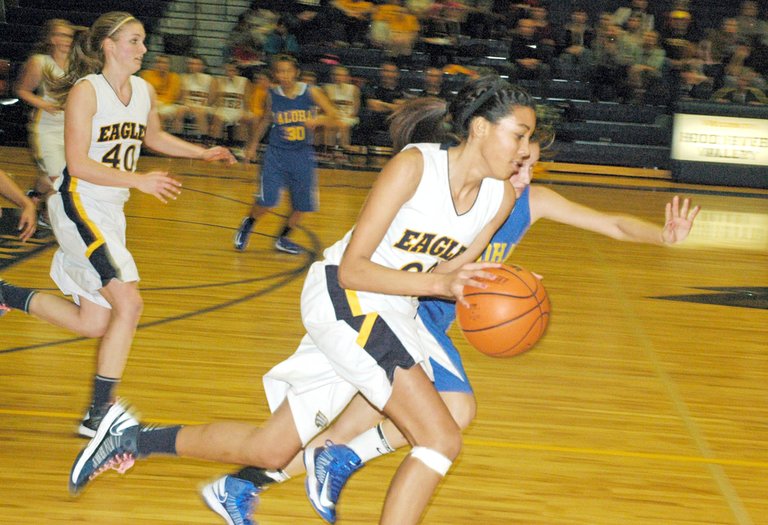 The Hood River Valley Eagle girls are looking to learn from their disappointing 85-49 loss Tuesday to Aloha on Vannet Court.
The Eagles committed 19 turnovers in the first half, a number nearly matched by the constantly pressing Warriors. In the teams' first meeting this season, Aloha won by four points.
The game was the 6-5 Eagles' last one before the start of Columbia River Conference play. Pendleton (6-5) visits Tuesday. (Rounding out the CRC field are 10-2 The Dalles-Wahtonka and 5-6.Hermiston.)
"We just have to work on our execution and taking care of the basketball," coach Tom Ames said. "All three other teams are good teams. We'll have our hands full."
Against Aloha, Laura Waller led with 14 points. Sophie Oswald tallied eight and Kelsey Wells seven.
Sophomore Jestena Mattson had four including a jumper at the third-quarter horn with two players on her.
Lauren Winans provided a big boost off the bench in the second quarter, scoring six points, gathering several rebounds and forcing two Warrior turnovers.
But it was the relentless press, and quality shooting that carried the Warriors. Aloha had three players with three three-pointers each, mounting a balanced scoring attack led by a pair of sophomores: sharp-shooting Hannah Lange hit 16, all but two in the first half, and Noheaililani Waiwaiole scored 15, including nine in the fourth quarter.
Hood River hung with the visitors in the first half, trailing 36-29, and continued to score well in the third, with 16, but meanwhile the Warriors knocked a hole in the Eagle hopes with a 24-point third, and finished with 25 in the fourth, compared to just four for the Eagles.
"We didn't hustle and we didn't recognize our mistakes and fix them," said Oswald, a senior.
"We lacked a little bit of focus and we got worn out because it's been a long time since we played at game speed," Oswald said.
"There were some good plays, in the first half, like Lauren when she came in played really well," Oswald said.
Winans, a sophomore, noted "We played a solid first half, but passing was really key and missing easy things and not taking open shots."
"In the first half we did a good job scheme-wise, even with the turnovers," said Ames. "They know what they're supposed to do, be strong with the ball, and complete those passes. But they're quick," he said of Aloha.
The 6-1 Waiwaiole hit three of the Warriors' first four shots to start the third quarter, and stole the ball twice — all of that coming in the first 34 seconds. The Warriors had three players with nine points and two with eight.