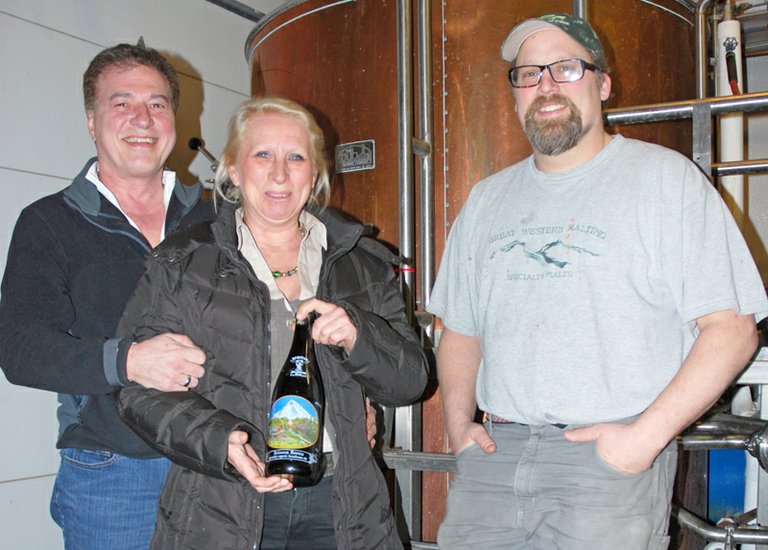 The nationally distributed Beer Magazine has ranked a Hood River valley ale its best U.S. beer of 2012.
The honored ale is the Seizoen Bretta, the flagship ale of Logsdon Farmhouse Ales, near Odell.
The magazine gave the Bretta a score of 99 out of 100, and a rave review.
"We're in love with this beer," it stated.
Logsdon, long one of Oregon's premier beers and makers of yeast, and brewer Charles Porter create Belgian farmhouse ales in the style known as Saison — or seizoen ("sez-yoon" in Flemish, one of the two official languages of Belgium).
Bretta refers to the special brettanomyces yeast, varied strains of which are used in the ales.
Logsdon Farmhouse Ales released its first product in February 2011 and held the first event at its facility, on Neal Creek Road, in February 2012. The ales are distributed primarily in Oregon and Washington, with territory expanding in the past year to California, Idaho and Arizona.
Among other ales, Logsdon makes a tart cherry beer known as Cerasus and a tart peach ale titled "Peche n Brett" which won the American Style Brett Ale category in the Brewers Association World Beer Cup in May 2012.
Logsdon uses fruit from the Hood River valley for its peach and cherry ales, but is waiting for trees on its own property to mature in order to create an "estate" Cerasus, perhaps as early as this fall.
The Seizoen Bretta also uses a portion of pear juice from Hood River valley, along with the local water. Logsdon said he is not aware of another brewery anywhere that uses pear juice to make beer.
Kili Wit, a dry thirst-quencher that pays tribute to the tallest peak in Africa, also uses pear juice. Proceeds from Kili Wit sales go to the K2 Foundation, which makes expeditions to Kilimanjaro and other parts of the world possible for handicapped children, wounded soldiers and people with disabilities.
Beer Magazine had this to say about the beer in granting its top ranking:
"The beeswax cap might let you know it's something special, but it isn't until you pour the beer into a glass that you'll find out how really special it is. It pours out a serious pillowy head and fills the glass with a glowing cloudy orange. The aroma is amazing. You get some earthy notes from the Brett, but after that quick note, it's full of apricot, peaches, marmalade and cherry.
"The taste is equally amazing. It's dry from the brett but packed with citrus, orange, peach and stone fruit, spice and a little bit of yeasty fruitiness. The finish is wonderfully dry, and this beer screams summer afternoon. This beer is so that you might not want to share it with friends."