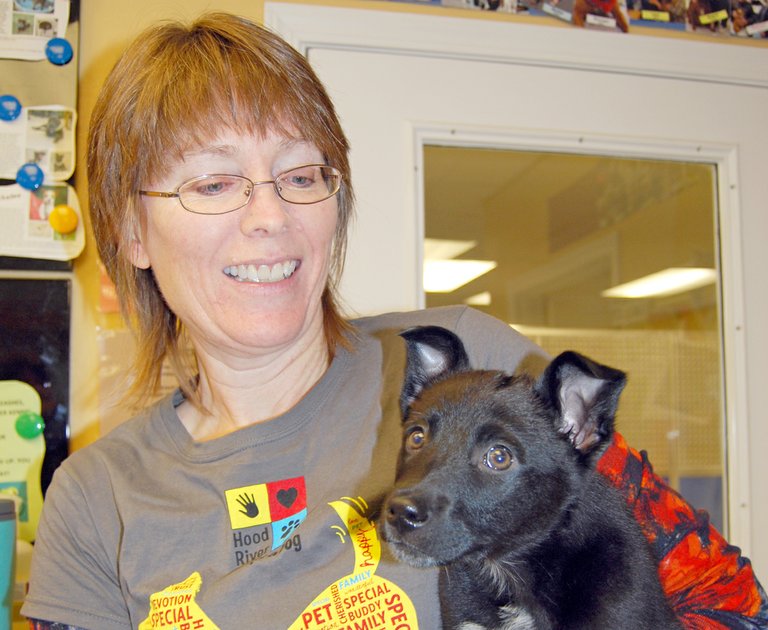 With this article, the Hood River News begins a new weekly series offering a glimpse into the daily lives of local individuals and organizations.
"It was the best of times, it was the worst of times ..."
For ownerless dogs at the Adopt a Dog program of the Hukari Animal Shelter in Odell both images were accurate to describe the history and future lives of the adoptable canines.
Linda Vanderberg would know. She is the executive director of the nonprofit pet adoption program serving Hood River County and she gets to see both extremes of that spectrum for the animals in her care.
"Welcome to the chaos," said Vanderberg, as she ushered in Wednesday evening's arriving adoptive families, while seven potential adoptee-dogs were frolicking about the front office, exploring, greeting, snuggling and generally ingratiating themselves with the assorted children, couples and families.
Ringo, a short-legged, affable mutt, who readily "kissed" everyone arriving for adoption night, was found as a stray on a rural county back road. Izzy, hobbling around on a broken shoulder, arrived after being rescued from a domestic violence situation. Zuni flashed an irresistible puppy-smile, along with his brother; both were found abandoned a few days before.
Ringo's story falls into the "best" category: Five families arrived on Wednesday to claim his friendly, waddling charms for their own. He went home with a couple who drove in from Portland after their dog of 15 years passed away.
But not every dog's story has a fast, happy ending.
"Luigi, a little black terrier, had two families come see him last night, but neither took him," noted Vanderberg, who hopes Luigi doesn't join Ryder, a long-term shelter guest who has been housed now for nine months. And there is Izzy, with his current limp, who will require owners with an interest in helping him heal.
For Vanderberg, adoption nights are one of the bright spots of her busy week. Some of her other time at the shelter is spent in routine dog care: playing, washing, feeding, walking, "poop-patrolling" and providing behavior training.
While these chores provide a wonderful amount of pet-fun, the increasing numbers of program dogs also require a lot of additional help.
Vanderberg and three part-time staff are supported in the many dog-specific tasks by a cadre of 12 stalwart volunteers.
These dedicated, local dog-lovers free up the staff's time enabling them to interview potential adoptive families, assess incoming dogs, administer vaccinations, write grants, fill out paperwork, record and share the history of each dog, meet with owners wanting to surrender dogs, work with local veterinarians, contact other shelters, post information to their website, pay the bills and otherwise run a very compassionate and sophisticated organization.
Vanderberg does all of these jobs in her "20-hour-a-week" position, which usually takes from 7 a.m. to 8 p.m. most days of the week.
"I'm here I guess because I'm an animal lover whose volunteer work led to a job," said Vanderberg ... lucky for all the local, orphaned dogs.
n
Hood River Adopt a Dog is located at 3910 Heron Drive in Odell; 541-354-1083. Adoption days are Wednesday evenings, 5-7 p.m., and Saturday mornings, 9-11 a.m. Fees cover spay and neuter costs and vaccinations. Donations are always gladly accepted.