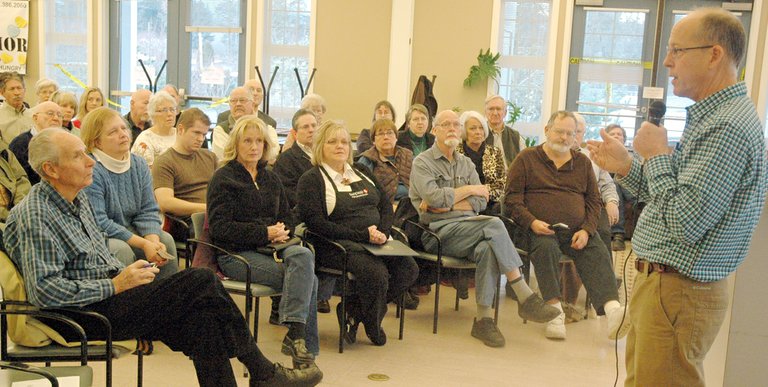 The Congressman drew a crowd Friday, with more than 150 people attending U.S. Rep. Greg Walden's town hall and filling the Hood River Valley Adult Center meeting room.
Walden said of the recent federal "fiscal cliff" debate that he was in the minority within his party in supporting the budget agreement reached last week.
"It did not have everything I would have liked to have, or what a lot of others would have liked, but I had to look what was in the proposal itself," he said. "It preserved tax cuts for the middle class that I felt were really important."
He called the fiscal cliff situation "another crisis in management in Washington on spending and tax policies.
"I heard from a lot of you about the push and pull of what you thought Congress should do," Walden sad.
(Hood River News will have a detailed report on Walden's comments in the Jan. 16 edition.)
n
Friday's audience ranged from Cascade Locks Mayor-elect Tom Cramblett and State Rep. Mark Johnson to HRVHS senior Jack Patterson, who worked in Walden's office last summer and wanted to catch up with Walden and his staff.
Belinda Ballah of Hood River said, "I just want to see his overall scope of what he has going for us and what he has to offer." Ballah, who works in drug, tobacco and alcohol prevention for the Hood River County Commission on Children and Families, said she is also looking forward to meeting Walden when a Hood River delegation attends a national prevention convention starting Feb. 3. Ballah and Prevention Coordinator Maija Yasui will attend along with Donna Mohr from Cascade Locks.
Walden also honored Linda Hutson of Gorge Heroes Club.
"Her main concern is for troops and veterans and helping put together meals and troop care packages," Walden said, presenting a surprised Hutson with a certificate of appreciation.
"She doesn't do it for the recognition but I'd like to have you take a moment to recognize her,' Walden said.
In his opening remarks, Walden acknowledged the "deep divide" in the country, and the general dissatisfaction the public has with its elected federal representatives. He joked that someone at a Mt. Vernon town hall told him that the approval rating of Congress "was below broccoli and brussels sprouts."