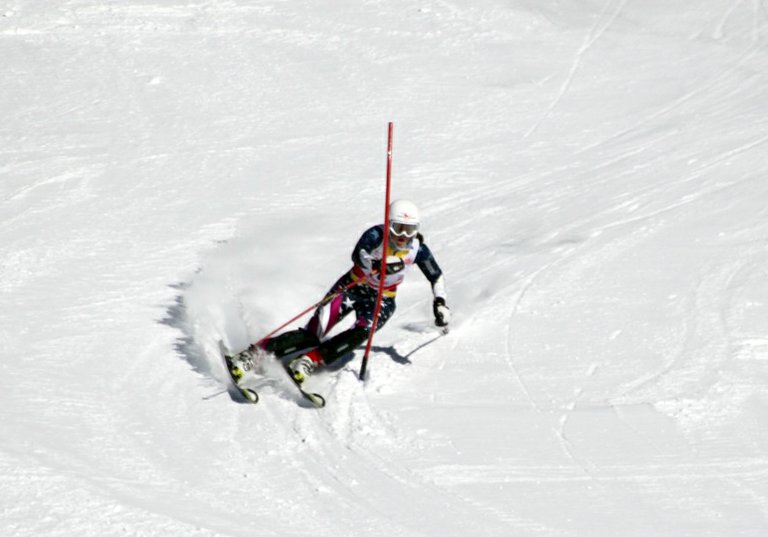 Tuesday, January 15, 2013
In the second race of the season, Hood River Valley High School ski team finished first overall and nabbed fastest times in both boys and girls fields Saturday at Mt. Hood Meadows. The HRV girls dominated their field with a blowout win and five racers finishing in the top 10 in the slalom event on MHM's Stadium run. Boys results were much closer, with HRV edging The Dalles and Sandy high schools by a few close points for the win.

Fresh off a first-place individual finish at last weekend's Kato Memorial Race at Timberline, sophomore Lucy McLean posted the fastest two-run time of the day, for both boys and girls fields. Her 1:02.4 total was 6 seconds faster than teammate and second-place girls racer Korey Cimock and more than a second faster than HRV freshman and top boys finisher William Lame.
"Lucy is on fire; she's skiing really, really well," coach Scott Keillor said this week. "To have five girls finish in the top 10 is a pretty big win. With the girls team, we are expecting them to win. For the boys to come away with a win as well is pretty satisfying."
"I'm excited for the season and think we're going to do great," said McLean, last year's giant slalom state champion and fifth-place slalom finisher. "This year I want to win both; that's my goal for the season."
McLean said she got her start in ski racing when she was about 8 through the Cooper Spur Race Team. She's now competing at the club level with the Multnomah Athletic Club, which will give her the opportunity to race in regional and national competitions if she qualifies.
"I'm just trying to have fun with racing," she said. "But I also feel like I can compete at the regional level. We have a great team; we push each other to race faster and be the best we can be. It's a lot of fun."
On the boys side, Lamer and Patrick Crompton were first and fourth overall and were backed by Levi Roeseler and Ryan Colesar for the win. Finishing at the bottom of the list is a disappointing result for Colesar, who is expected to be one of the team's top racers this season. He straddled a gate in his second run Saturday for a disqualification that put him at 27th overall.
"He's had a little trouble finishing," Kellior said of Colesar. "But I'm not worried. He's a great skier; he'll be back. His first-run score and both runs by Levi Roeseler, who crossed over from the freestyle team, were valuable contributions that gave the boys the win."
n
HRVHS ski team also fields competitors for boys and girls freestyle skiing events. See sidebar at right on the USASA rail jam event for results from Saturday's contest.