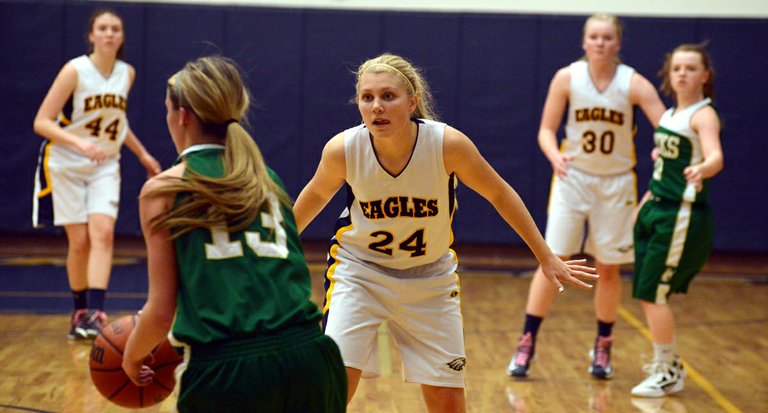 You have to dig yourself a hole to get to a last-ditch effort.
The Hood River Valley Eagle girls basketball tossed aside the shovels they used in the first and third quarters and nearly rallied against Pendleton Tuesday before falling 49-45 in an exciting game before a sparse crowd at Vannet Court.
The Eagles got down 9-0 to start the game, thanks to forced and unforced turnovers in the face of the Buckaroos' defensive press. The game was the Eagles' Columbia River Conference opener. They travel to Hermiston Friday and host Lincoln today; results too late for press time.
Hood River scrambled back to 12-6 but in the last 1:09 of the first quarter Rayne Spencer scored twice to make it 17-6.
Hood River rallied to tie the game at the half, 19-19 on a pair of free throws by Laura Waller, who finished with a game-high 19 points.
The run got started when Ames found Waller in the corner. The Bucs missed their next three shots, and Wells scored after HRV got the ball down court before the defense could set up. Waller passed across court to Kelsey Wells, who lobbed in a jumper to make it 19-13 with 3:23 left. The Bucks turned it over again thanks to an effective HRV half-court trap but the Eagles couldn't monopolize until Ames hit a three from the top of the key to make it 19-17 with 1:51 left.
On the game, Wells had 10 points, Natalia Ames and Hallie Curtis each had six, and Annie Veatch added four.
Darian Lindsey led Pendleton with 14 and 6-2 post Charmayne Robinson added 11.
In the third quarter the Eagles missed shots and the Bucks repeatedly took the ball away in front of either the Hood River or Pendleton bench.
Pendleton went on a 15-0 run to start the quarter, making it 34-19 before senior Hallie Curtis hit a three.
Helping the Eagles' cause was the Bucks' free-throw woes in the third, when they shot 1-10.
In the fourth, a Curtis to Wells feed made it 35-26 and Waller hit a long ball for a 37-29 margin with 5:13 left.
Just as the momentum seemed to go the Eagles' way, Spencer struck again, hitting two more jumpers to make it 42-29 with 4:33 left.
But the Eagles toughened at that point. Ames hit her first hoop of the half, and it was 43-32.Curtis nailed a three for a 45-38 score with 2:36 left.
Curtis picked up two of her three defensive rebounds in the quarter, and then Wells found Waller in corner for her second trey of the half, making it 45-41 at 1:37.
Waller's mother, Nancy, was just above her in the stands with a handmade sign reading, "Work Hard, Play Hard."
Sophie Oswald and Lauren Winans made two defensive stops and Winans blocked a shot, and the Eagles had the ball with 54 seconds left. Wells took a feed from Curtis and turned around and finessed a 4-foot jumper to put the Eagles within two.
Waller got the Bucks' miss, feeding Ames who had an open look on a long two but her shot rimmed out at 15 seconds.
Lindsay hit two free throws to seal it at 49-43 with six seconds left.
Wells scored a layup at one second, 49-45.
On the inbounds, Waller went high to try to steal the ball against the smaller Lainey Corbett, knocking the Buckaroo to the floor as the bell sounded.
"I'm really pleased with the effort; there was no 'quit' in us," coach Tom Ames said. "We actually got a great look for the lead at the end. Turnovers versus pressure was our downfall, and transition hoops (for Pendleton) killed us. Our half-court offense and defense was pretty good, the quickness and pressure just got to us.
"I think we have our sub rotations figured out somewhat and that helps us in the second and fourth. Our half-court defense was pretty good all game, and we didn't give up a lot of open looks."
n
The girls have a back-to-back this weekend, first traveling to Hermiston on Friday.
"They have played a really tough preseason and are under .500 but they are very tough. As with all of our games, if we take care of the ball and shoot well, we'll be right there," Ames said.
The Eagles host Lincoln for a makeup game on Saturday at 3 p.m. (Junior varsity and freshmen at 1:15 p.m.)