Wednesday, January 23, 2013
Cahalen and Eli perform in house concert Feb. 6
Renowned Seattle duo Cahalen and Eli will appear in a house concert on Wednesday, Feb. 6, from 7-9 p.m. at the home of Paul Blackburn, 401 Montello St. in Hood River.
Cahalen Morrison and Eli West are two of the most innovative and subtle roots musicians today. Their music draws from old folk sources, but it sounds vibrantly alive.
Morrison writes songs that sound like a Cormac McCarthy novel: simple, beautifully crafted and seemingly formed from raw natural elements.
West brings jagged, angular arrangements based in bluegrass and old-time, but refracted through a 21st century lens.
Together, they tap the root of the old country and bluegrass duets. As the sparse landscapes of Morrison's vocals reflect the warm glow of West's voice, it's clear that this duo was made to sing together.
Seating is limited. Advance reservations are recommended, though walk-in guests will be welcome on a space-available basis. Contact Tina Castañares at tina.castanares@gorge.net to guarantee a seat. A donation of $15 per ticket will be requested at the door.
The Quiet American Jan. 27
The Quiet American is husband and wife duo, Aaron and Nicole Keim. A home-grown modern folk revival, their music incorporates ballads, banjo breakdowns, raggy choruses, gospel duets and other dusty Americana gems, all delivered on a wide variety of acoustic instruments, some of which Aaron built himself. Before forming the Quiet American, Aaron was known for his work with the well-loved Colorado roots band Boulder Acoustic Society. There will be a CD release party for the duo's new album, "Wild Bill Jones," on Sunday, Jan. 27, at Everybody's Brewing, starting at 6 p.m. Everybody's Brewing, 151 E. Jewett Blvd., White Salmon, Wash; 509-637-2774.
Volunteers needed for arts center events
The Columbia Center for the Arts needs volunteers for upcoming projects and performances.
Jan. 26-27: CAST has several flats that need to be re-covered and painted. Staple guns are needed for this work. This must be done in two stages: (Saturday: 10 a.m. - 3 p.m.) stage one is covering the frames and one primer coat. Stage two (Sunday noon-2 p.m.) is a second coat of paint. Bring your work clothes. Please contact Bruce Ludwig if you can help out at: bludwig50@gorge.net.
Ushers and bartenders needed for the following events:
Feb. 7, 8, 9, 14, 15 and 16: Play "Bullshot Crummond."
Two ushers and one bartender for each day, arrive 6:30 p.m. show at 7:30 p.m. Two ushers on Feb. 10 for the matinee, arrive 1 p.m. show at 2 p.m.
Feb. 20 Mark Hudon slideshow
Two ushers and one bartender, arrive 6:30 p.m. show at 7:30 p.m.
Feb. 23: "Women of Heart and Mind" concert
Two ushers and one bartender, arrive 6:30 p.m. show at 7:30 p.m.
To volunteer contact: volunteer@columbiaarts.org
Clambake Combo plays Jan. 25
This week at CEBU Lounge:
Friday, Jan. 25: Clambake Combo, 9:30 p.m. – Gypsy Swing Jazz. The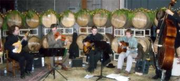 Clambake Combo is a jazz ensemble specializing in gypsy swing repertoire from 1930s France in the style of Django Reinhardt. The trio lineup for this show will be Patrick Harry on doublebass, David Langenes on guitar and Joseph Appel on guitar. Best Western Hood River Inn, 1108 E. Marina Way; 541-386-2200.