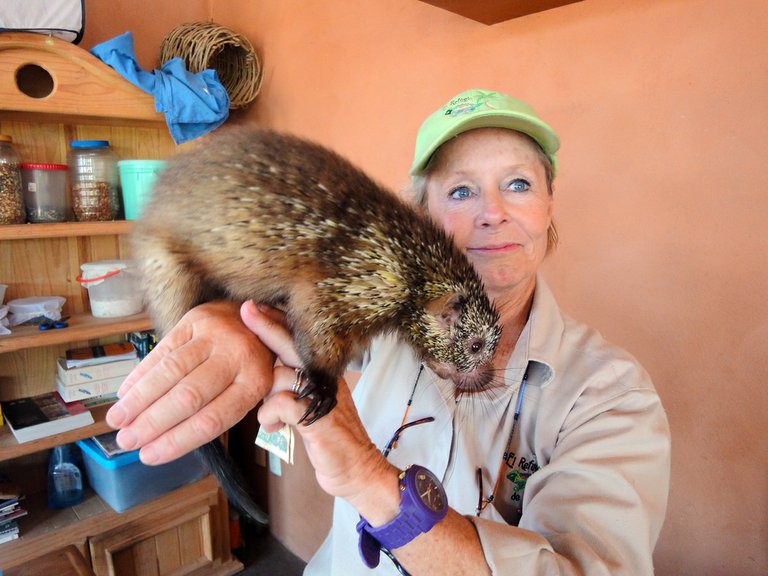 Wednesday, January 23, 2013
When former Hood River resident Laurel Patrick began traveling regularly to Mexico in the early 1980s, she wasn't thinking about its unique biodiversity or how she could bring attention to the many species that filled the region.
But then she created El Refugio de Potosí — and that is exactly what she has done.
For her dedicated work, Patrick was awarded a Recognition of Conservation Award from the National Commission of Natural Protected Areas (in Spanish, CONANP) on Oct. 31. The event was held in Lagunas de Zempoala National Park, one of the first established National Parks in Mexico, about two hours outside of Mexico City.
A panel of seven judges, including environmentalist Dr. Jose Sarukhan Kermes, selected winners in five categories. Four awards were presented to businesses, nonprofits and education programs, while Patrick won an individual award as Conservationist of the Year along with a 75,000-peso cash prize.
In the five years Patrick has made Mexico her permanent home, she has developed El Refugio de Potosí into an animal refuge and research center with a small staff of three to seven. Initially, however, her plan was to simply enjoy "a long winter rest."
Patrick, who owned Hood River Ornamentals Inc. along the Dee Highway until 2007, spent about three months each winter in Zihuatanejo, along with the more rustic locale of Playa Blanca about 15 miles away, eventually building a small house on the beach near the village of Barra de Potosí.
"I started to see, for the first time, an array of plants and animals I had previously missed: wild orchids, bromeliads, flowering plants, bizarre insects, a parade range of birds, and exotic animals previously unknown to me," said Patrick. "I was dumbfounded; after years of visiting the place, I had missed the best parts."
Patrick found that many others seemed to be unaware the creatures were there, or that there was a lot of misinformation.
"When I spoke to the locals, there was a lot of odd feedback, myths that even I recognized, horror stories that defied any reality, and a lot of gaps in the middle," she said. She eventually decided to make Mexico her home and help bring attention to the region's rich biodiversity.
And in 2009, El Refugio de Potosí was born.
With help and inspiration from local biologist Pablo Mendizabal, Patrick developed a plan to create a nonprofit center to increase awareness of the flora and fauna in the tropical dry forest of Playa Blanca, Zihuatanejo, Guerrero.
But the name "El Refugio de Potosí" sent out an unintentional message to both local residents and the Mexican government, and the refuge soon become a safe haven for wild animals.
"There is no other place in the State of Guerrero to receive wild animals in need of sanctuary. This was not my intended mission. But once people started bringing me animals in need, I could hardly refuse," said Patrick. "How can we ask people to care when there are no support facilities?"
With a volunteer veterinarian, the center receives animals that have been injured or orphaned. "We have received everything from coatimundi, jaguarundi, tree porcupines, macaws, parrots of all order, raptors and everything in between from poisonous reptiles to sea turtles to song birds," said Patrick.
The staff consists of locals who, in the beginning, had no interest in the center's mission — they were simply looking to survive. They have since developed what Patrick calls a "passion for the world."
"They came without knowledge or general interest and now I am surrounded by people who care," said Patrick. "These people make the difference."
Patrick was nominated for the Conservationist of the Year by a biologist on staff.
"In reality, I am not the person who has done the most," said Patrick. "I am the person whose story sounds the best. It is a huge surprise and bow from the Mexican government to award this prize to a foreigner.
"I am deeply honored. I believe it will help El Refugio de Potosí accomplish parts of our mission that have been a significant struggle."
For more information, visit elrefugiodepotosi.org.