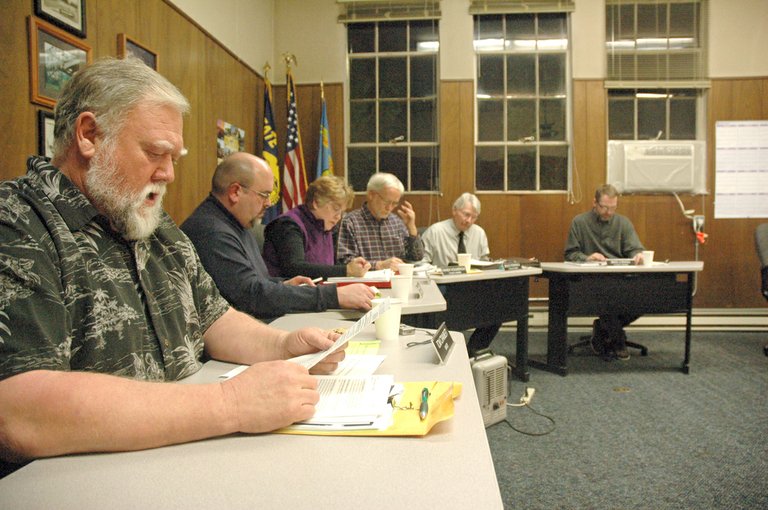 Wednesday, January 23, 2013
The "new" council has abruptly changed in Cascade Locks.
Randy Holmstrom, Mark Storm and Brad Lorang have left the council, submitting their letters of resignation to city hall, one week after their first public meeting with a newly elected mayor and two new council members.
In their letters, Storm, Holmstrom and Lorang cited negativity within city government and among citizens. (The letters are printed in full on page A4.)
"A dysfunctional and destructive system" was the way city government was described by Lorang, a former mayor who was appointed to fill a vacant position in March 2012.
The three resignations bring to four the number of vacant positions on the council; Mayor Tom Cramblett's old council post was still unfilled after his defeat of former mayor Lance Masters in November.
Cramblett said of the resignations, "I guess that's their call, to stay with something or not, and apparently they chose to resign.
"The city will move ahead. We've done it before and we'll do it now," he said.
Along with Cramblett, just two council members — Bruce Fitzpatrick and Glenda Groves — remain officially on council, and both are in their first weeks in office, having been elected in November and taken the oath of office Jan. 14.
The lack of seated council members is a repeat, though by different cause, of the situation facing Cascade Locks in November 2011, following the recall of the then-acting mayor and three council members.
The current council's sudden lack of official quorum will have the effect of streamlining the agenda for the council's next meeting on Jan. 28.
The only action the reduced council can legally take would be to fill one or more of the remaining positions, according to the new city administrator, Gordon Zimmerman, who is now in his third week on the job.
By charter, the three council members can fill the vacancies but make no other decisions.
"We will move forward with due deliberation. This is a council decision," Zimmerman said.
"We'll follow the charter, which says the remaining council members make the appointments," Cramblett said.
Holmstrom in his letter called for a special election to fill the vacancies, rather than using an appointment process.
Cramblett said, "That could be a recommendation, but it's not what the charter says. We'll have to take a look at it, but the charter says the council fills the vacancies."
In the Jan. 14 meeting, Groves and Fitzpatrick shared the dais with Storm, Holmstrom and Lorang for just one meeting, and it was one dominated by disagreement over how to fill the open seat created by Cramblett's advancement to mayor.
Cramblett was on council until his election last year, and in the Jan. 14 meeting seated council could not reach an agreement on how to fill that single open position.
Dying in 3-3 deadlocks were two motions: Holmstrom's, which sought to appoint the 2012 candidate with the next most votes (which would have been Helfrich), and Groves', which sought to solicit applications and have council appoint someone.
With the new council vacancies, the community is looking at a new but all-too-familiar political situation:
In October 2011, voters approved the recall of three councilors: Tiffany Pruit, Kevin Benson and Don Haight, along with Mayor George Fischer.
With their dismissal, that left only Cramblett, Lance Masters and Eva Zerfing on the council. Masters and Zerfing cast votes, over Cramblett's dissent, to appoint Storm, Jeff Helfrich, Randy Holmstrom (who had been on council from 2006-10) and Gail Lewis. (Lewis declined to run for election in 2012 and left the council.)
Masters was ultimately appointed to replace Fischer in November 2012.
Cramblett defeated Masters in the mayoral race in November 2012; Zerfing resigned in February 2012 and Lorang was appointed to finish her term.
"The political climate in Cascade Locks has become increasingly contentious, making it all but impossible to accomplish even the smallest measure of success," Lorang wrote in his resignation.
Storm wrote, "While I have enjoyed moments on the council, a few citizens have been so aggressive in their personal attacks that I have no desire to continue to be involved in city government."
Gary Munkhoff of Cascade Locks filed a petition for recall Friday against Storm and Lorang.
Storm said he was aware a petition might be filed, and that it played "a small percentage" in his decision to resign, which he was already contemplating. Lorang was unavailable for comment.
City recorder Kathy Woosley said Tuesday she is awaiting advice from the Oregon Secretary of State, given that Storm and Lorang have resigned. (Holmstrom was not mentioned in the petition.)
n
Cramblett said Tuesday that "I just see the council as moving ahead. We had our first meeting for the year, and in that meeting we passed all the action items other than vacancy; so from my end of it we appear to be moving ahead well."