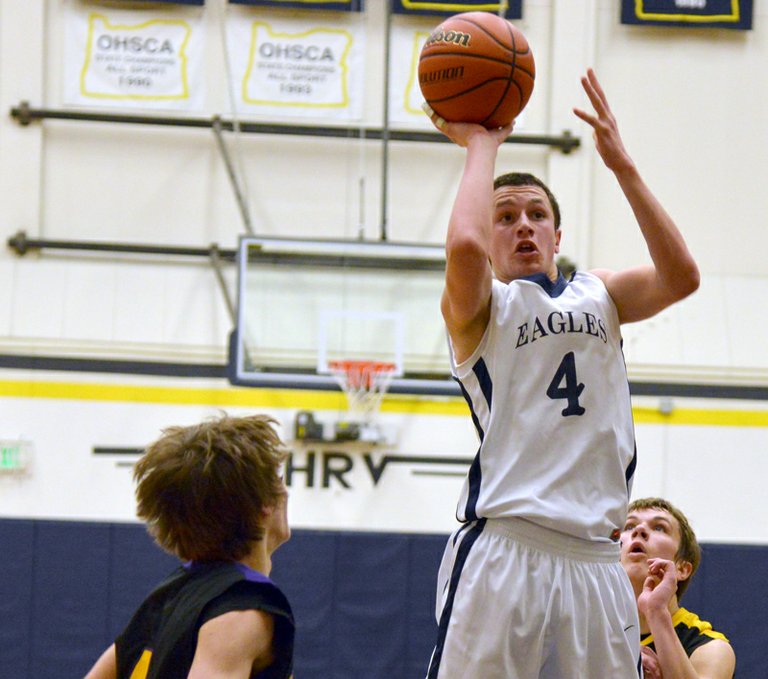 Thursday, January 24, 2013
Friday's loss to Hermiston gave a few peeks into the future of HRVHS basketball.
Freshmen Skylar Hunter and Parker Kennedy both scored, including a nifty fast-break score from Kennedy to Hunter, as coach Steve Noteboom gave his younger players extensive court time in the 64-49 loss to the Columbia River Conference opponent.
Ryan Wheat led all scorers with 24, backed by Eli Fults and Luke Kopecky with eight each.
Junior Wyatt Webber added six points and Hunter scored five, including a three-pointer.
"They went on a 27-11 run in the second quarter. We gave up 11 offensive rebounds in the first half and 16 for the game," Noteboom said.
"On a positive note; we came out with more intensity and we had more movement on the offensive end."
The Eagles got down by as many as 17 in the first half and rallied in the fourth to come as close as nine, but key turnovers and clutch Hermiston shooting got in the way.
Guard Cesar Romero said, "We competed against them pretty well; it's just that when we were trying to come back from (17), we stole the ball away and got a little out of control. We competed pretty well; we just need to be a little more under control on offense."
The loss was the team's second in as many CRC games, going into Tuesday's rematch with Pendleton at Vannet Court (results too late for press time).
"I am looking forward to playing Pendleton again on Tuesday because I think we will be a different team than what was on display at Pendleton," Noteboom said.
Romero said, "My teammates like to compete very hard and I'm looking forward to competing with them; they go hard every game and every practice, and we'll just try to keep getting better."