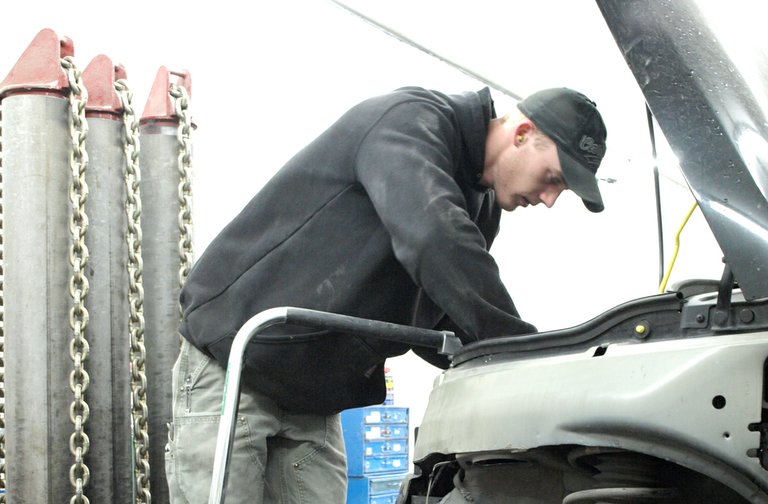 This time of year, cars are sliding into each other, into guardrails and into ditches. And that means plenty of work for Kevin Long.
Long, 24, works as an auto body technician at Apple City Auto Body, on the Heights in Hood River. Each week or so he gets a new "project," and this week it's a Chrysler PT Cruiser with front-end damage.
"The frame is OK, but the core support is damaged," he said.
By the time he gets the vehicle the damage has already been assessed, an estimate is written up and needed new parts have been ordered.
"I tear it down, write a supplemental report (on any damage not visible from the outside), repair it and get it ready for paint," he said. The whole process for this car should take him 38.4 hours, according to the work order.
Right now the Cruiser is up on a frame rack and Long is measuring its "strut towers." He attaches a giant caliper-like tool which is connected to a computer monitor that guides him in bringing all the contact points back to their original places.
When it has been squeezed and pulled back into shape by the other specialized equipment, Long will start putting it back together, his favorite part.
"It's kind of like a big puzzle," he said. "And every car is different."
In the process, some parts will need patching and sanding, while others will be replaced with new ones, but Long and his three fellow auto body techs do it all, start to finish (except painting).
Long has been working for Apple City for four years, having started out there washing cars. His training has been done through a series of "I-Car" classes in Portland. The wall of the company's reception area is filled with the certificates he and the other techs have earned.
While the weather outside may be bringing him more work, inside, life doesn't change much day to day, except for the variety of vehicles he works on. His hours are regular, the shop is well-lit and temperature controlled, and at the end of the day he can go home.
In his off-time the Hood River native can be found volunteering with the Wy'East Fire District in Odell.
Springtime is the busiest time of year in his line of work, he said, which makes sense, given what happens during the winter. So there will be lots of projects coming up, no doubt. But Long derives great satisfaction from making a broken car whole again.
"It feels really good," he said.