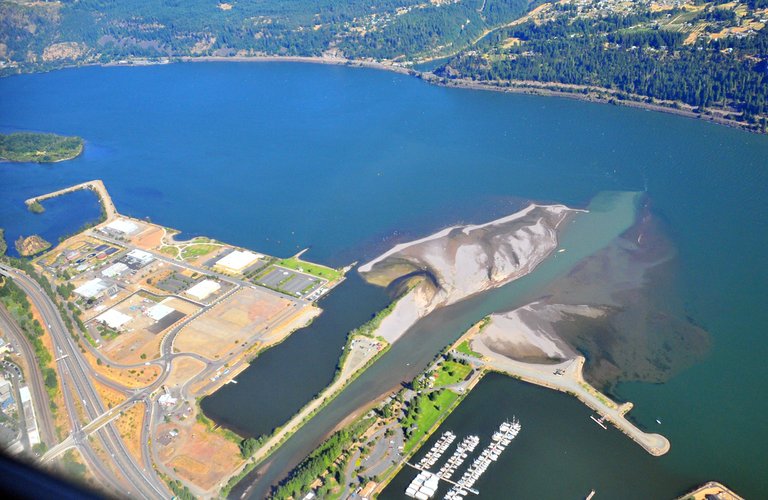 Tuesday, January 29, 2013
After numerous planning commission meetings, and a city council seemingly looking at a split vote, the council decided not to ban residential development on the Hood River waterfront after all.
The planning commission had previously rejected city council requests to develop ordinances for banning residential development in C-2 commercial zones on the waterfront, and spent several months coming up with alternative plans.
Those meetings appeared to be for naught at the last city council meeting, where the council appeared poised for a 5-2 vote in favor of banning residential in C-2 zones.
In the two weeks since that meeting, however, waterfront stakeholders built their case for the city to remain open to the possibility of residential development.
Developer Jeff Pickhardt of Key Development testified before the council at its Monday meeting, telling them he wanted them to consider a "less-radical solution" on residential development on the waterfront.
He proposed a plan allowing possible residential development in conjunction with commercial as long as residential space was not on the first floor of the building.
He read a list of some of the waterfront stakeholders who would be in favor of such a plan, including Naito Development, Turtle Island Foods, Andy von Flotow, Doug Hattenhauer and the Port of Hood River.
Pickhardt referenced Mayor Arthur Babitz's own words during the city budget crisis a few years ago when Babitz said that "the overreaction is cutting things that may not need to be cut and after more time you realize that the pendulum may have swung too far," according to Picard.
"Are you throwing my own words back at me?" Babitz asked with a chuckle.
"In a kind way," Pickhardt responded.
Pickhardt said that he did not want to see flexibility of any future projects in C-2 zones limited by having a potential use banned, and cited the example of buildings going in across the street from the Waterfront Park, which could use residential as a fall-back use if the commercial office market proved thin.
"We want to encourage flexibility in future development which may include a residential component; the intent of this, though, is not to promote residential development but to promote commercial development," Pickhardt said.
He also said that the current path of the zone change was "counterproductive" as it would encourage developers to rush in to get projects submitted under the current code before the ability to put in residential uses expired.
Following Pickhardt's testimony the council began discussing its options and it quickly became apparent new moods had prevailed with several of the council members.
Kate McBride (who attended via telephone) and Mark Zanmiller still argued against banning residential on the waterfront. But where they had been outnumbered at the previous meeting, it was now apparent that Babitz was at least partially persuaded to their view. He was followed by Ed Weathers, Laurent Picard (also attending via telephone) and eventually Carrie Nelson.
Babitz said that his "biggest fear was someone building a dense condo development" on the waterfront, but that ensuring commercial on the first floor would help to alleviate that concern, as well as eliminating the incentive for developers to rush to get projects grandfathered in under the current code.
McBride said she would ultimately prefer a floor area ratio plan similar to the one developed by the planning commission, but said the first floor commercial restriction could work for the time being. She and Babitz also proposed adding a requirement that in addition to first floor commercial, buildings must include at least 50 percent commercial use in relation to the total building size.
The plan appeared to garner the unanimous support of the council members present.
City staff will now write up proposed code language for the zone change to present to the city council at its next meeting.
Additional public testimony will be allowed at that meeting, and written comments on the proposal will be accepted until 5 p.m. Feb. 11, the date of the next council meeting.